Concordia's District 3 backs 12 teams for the IBM Watson AI XPRIZE
Mentorship from the startup incubator brings local social innovators one step closer to a $3 million grand prize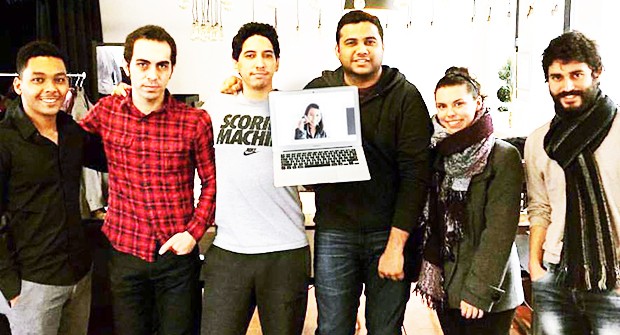 Dataperformers assists with global disaster relief through artificial intelligence. | Courtesy: Dataperformers

Leaders at Concordia's District 3 Innovation Center have reason to be proud.
All 12 local teams they mentored to take on major societal issues through artificial intelligence (AI) have been accepted to compete in the global IBM Watson AI XPRIZE.
The successful startups hail from Concordia, L'École de technologie supérieure, McGill University and Université de Montréal. They include: AICare, AIFred, Canadian Shield MVSS, Cann Forecast, DataperformersX, Eri.AI, InnoVie Health, Mr. Young, Nectar, Prëmo, SenseQuake and Ubenwa.
The IBM Watson AI XPRIZE is a four-year, $5 million global competition inviting teams to develop powerful AI-based applications and demonstrate how humans can collaborate with AI to tackle the world's biggest challenges.
The competition is designed to identify teams with the most compelling and powerful ideas, then challenge them to go head-to-head so that the greatest breakthroughs surface.
A $3 million grand prize, $1 million second prize and $500,00 third prize will be awarded to the top teams as ranked by a panel of independent judges.
An additional $500,000 will be awarded for special accomplishments and milestone prizes over several rounds of competition.

AI XPRIZE ambassadors
D3 is the official XPRIZE ambassador for Montreal and Quebec. The startup incubator will support the teams throughout their multi-year journey, in collaboration with third-party industry partners 500 Canada, Element AI, Hacking Health, InnoCité MTL, IVADO and Real Ventures.
"At Concordia and in Montreal, we have a wealth of researchers leading the world in the AI field, and many want to be accompanied in their journey of discovery to bring about societal change," says Xavier-Henri Hervé, executive director.
"District 3 wanted to bring together the major players in the Montreal AI community, to ensure that teams have a strong base of support throughout the global competition."
Sydney Swaine-Simon, D3 founding member, agrees. "The common thread running through all of our teams is that they're driven to improve living conditions around the world."

AI disaster relief
Dataperformers, a Montreal-based company that helps democratize access to AI, is one example. They build analytics solutions that deliver the hybrid intelligence of data scientists and AI to provide clear and timely answers to complex situations.
The startup's IBM Watson AI XPRIZE project consists of an AI-based Google Maps for global disaster management. It's interactive and supports rescue-operation members in assessing the scale of disasters. To do so, it uses parameters such as the state of infrastructure, movement and flow of people, human needs and more. "We connect with several data sources including cameras, chatbots and aerial images," explains Mehdi Merai, chief executive officer and co-founder of Dataperformers.
"This allows us to gather information and generate recommendations to optimize rescue efforts for those in harm's way."

'Tangible improvements'
"Thanks to the weekly sessions with Sydney and Xavier, we had the opportunity to refine our proposition and we saw incredibly valuable, tangible improvements from week to week," Merai adds.
"And now we've made it into the IBM Watson AI XPRIZE — an incredibly prestigious global competition!"
Stay tuned for more developments during this exciting multi-year challenge. The grand prize will be announced on April 1, 2020.
Find out more about Concordia's District 3.

About XPRIZE
XPRIZE, a 501(c)(3) nonprofit, is the global leader in designing and implementing innovative competition models to solve the world's grandest challenges. XPRIZE utilizes a unique combination of gamification, crowd-sourcing, incentive prize theory, and exponential technologies as a formula to make 10x (vs. 10%) impact in the grand challenge domains facing our world. XPRIZE's philosophy is that—under the right circumstances— igniting rapid experimentation from a variety of diverse lenses is the most efficient and effective method to driving exponential impact and solutions to grand challenges. Active competitions include the $30M Google Lunar XPRIZE, the $20M NRG COSIA Carbon XPRIZE, the $15M Global Learning XPRIZE, the $7M Shell Ocean Discovery XPRIZE, the $7M Barbara Bush Foundation Adult Literacy XPRIZE, the $5M IBM Watson AI XPRIZE, the $1.75M Water Abundance XPRIZE and the $1M Anu & Naveen Jain Women's Safety XPRIZE. For more information, visit the XPRIZE site.
---