Concordia's District 3: 'A welcoming and vibrant community of entrepreneurs'
Transform your idea into impact at this prize-winning startup incubator. It's open to everyone!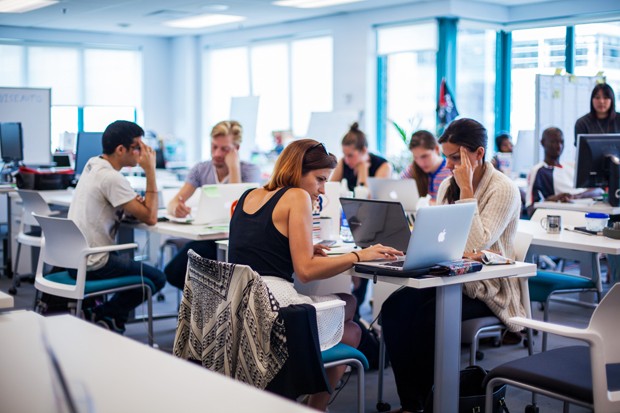 D3 offers a maker space, social events, tools, mentors and coaching programs.

With 230 startups, $12 million in combined sales and financing, more than 200 jobs created and $50 million in startup valuations, Concordia's District 3 Innovation Center (D3) has come a long way in a little under four years.
Since its inception, D3 has also organized over 160 events and created a community of more than 5,300 members. In August, it was awarded Startup Canada's Entrepreneur Support prize for the province of Quebec.
The incubator was launched in early 2013 by engineer, entrepreneur and Concordia honorary doctorate holder Xavier-Henri Hervé (BEng 87, DSc 11). Its name refers to the three principles of innovation, collaboration and entrepreneurship.
Hervé also co-founded Mechtronix, a leading flight simulation enterprise based in Montreal. He established D3 after learning through experience that an entire ecosystem is needed to turn a great idea into a successful enterprise.
"A startup community is a community," he told Concordia's Board of Governors in 2014.
"We called it a district, because it's not one thing. It's a mix of a lot of things — maker spaces, shared knowledge, social events, tools, mentors and coaching programs."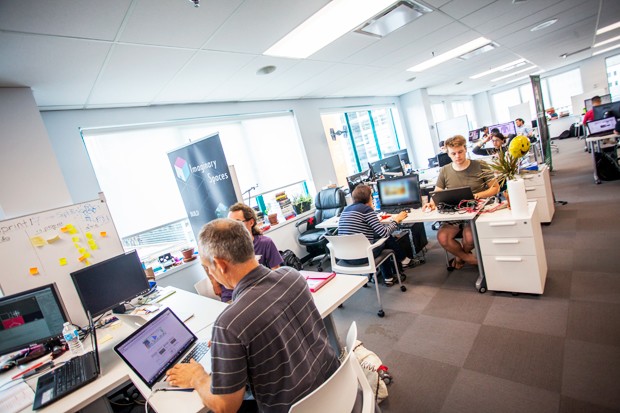 The first round of D3's innovation program began in January 2013 with 30 projects and more than 70 participants. Since then, its offerings have grown to include several multi-week training modules to nurture nascent products and ideas.
D3's programs range from eight to 26 weeks, and are held three times per year (spring, fall and winter). They help entrepreneurs and their teams at various stages of development, by validating their idea, developing their first marketable prototype or creating a product that satisfies the market they're going after.
D3 offers the following programs, which are free and open to Concordia faculty, staff and students as well as the public:
Business Model Validation (BMV), where startups speak to over 100 potential customers to assess the viability of their idea

Minimum Viable Product (MVP), for creating prototypes

Product Market Fit (PMF), for increasing customer acquisition and growth

BMV for Social Entrepreneurs, tailored for those committed to having a social impact

Science and Deep Tech, aimed at research and development startups or researchers and health-care providers who are developing a product, service or idea for commercialization

Fintech, for those looking to develop new tech-driven solutions specific to finance


'The right tools, skills and knowledge to succeed'
Khalil Haddad, communications manager at D3, explains that the programs can save entrepreneurs years of trial and error and help them reach their goals in a shorter time span than if they were working on their own.
"Our immersive training provides startup teams with the right tools, skills and knowledge to succeed," he says.
"Teams have access to seasoned entrepreneurs who provide one-on-one coaching, as well as skills development workshops from experts and a welcoming and vibrant community of like-minded entrepreneurs."
The only catch? Entrepreneurs need to commit a significant amount of time and energy to building their projects.
Examples of successful D3 startups include ANANDA, a micro medical device company; Heddoko, a wearable technology startup that is changing the way we measure and collect full-body biomechanical data; and Revol Technologies, who created the world's first custom-fit earphones.
After participating in the BMV program, Revol founder and Concordia alum Daniel Blumer (BComm 08) said that at D3, he and his business partner Navi Cohen were able to create a team, add legitimacy and learn a lot.
"The support comes from the people that you meet, not just the mentors and advisors, but the other companies too, and the fact that you can bounce ideas off of one another. It's a really cool opportunity and place to work out of."

Don't miss the upcoming District 3 Center info session on December 15. Recruitment for the winter 2017 program cohort is underway — apply by December 19.
Find out more about Concordia's Spotlight on Innovation.
---