Concordia's District 3 wants you! For a multidisciplinary internship
Apply now to develop innovative solutions for top Montreal businesses. PLUS: Attend an info session on April 6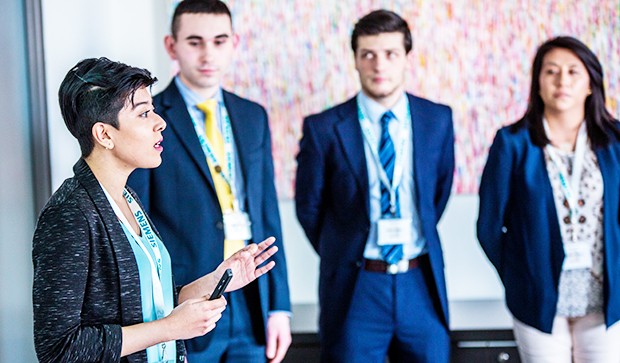 Xavier-Henri Hervé: "In our highly competitive landscape, innovation is the only constant variable."

Concordia's District 3 is once again selecting some of the university's top students to join multidisciplinary teams at established businesses for a three-month internship program, beginning in May.
Aptly named the Innovation Projects, the initiative is sponsored by Quebec's Ministère de l'Économie, de la Science et de l'Innovation.
"These internships enable some of our brightest students to work with industry experts and researchers who will provide guidance, support and mentorship," says Xavier-Henri Hervé, D3 executive director.
The Innovation Projects are open to undergraduate and graduate students from Concordia's four faculties. Participants will gain meaningful work experience, build their portfolios and resumes, as well as immerse themselves in the exciting work of understanding future trends through design, prototyping and testing ideas.

Problem-solving and experimentation
For Diana Horqque Ratto (BFA 14), D3's Innovation Projects offered a head start on an exciting career.
The Concordia grad did her internship in 2014. She now works as a lead designer at Heddoko where she creates wearable technology.
"We worked for three months on a fast-paced project filled with ideation, problem-solving and experimentation," she says.
"I was paired with people from different fields that I had never met before and had to learn how to see from someone else's point of view, which was extremely valuable. This experience enriched my path as a designer."

'Innovation is the only constant'
Hervé is excited that D3 will play a central role in equipping participants for the changing job market due to the exponential pace of technological advances.
"By the end of their internships, Concordia students will find themselves with the knowledge and experience to help them thrive in our highly competitive and global landscape, where innovation is the only constant variable."

Attend an Innovation Projects information session at Concordia's District 3 in the Faubourg Building (1250 Guy St.) on Thursday, April 6, at 11:45 a.m. or 5:45 p.m. The deadline to apply for the program is Friday, April 14.
---