The diabetes epidemic: prevention is key
Simple lifestyle choices can help you stay healthy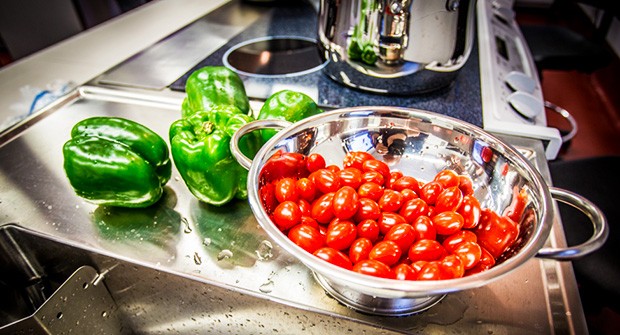 Eating well is one lifestyle choice that can help prevent a diabetes diagnosis. | Photo by Concordia University
According to the World Health Organization (WHO), in 2014 approximately nine per cent of the world's adults had diabetes.
In 2012, approximately 1.5 million deaths were directly caused by the disease.
November 14 is World Diabetes Day. Despite these grim statistics, there are some simple lifestyle choices that can help prevent a diagnosis.
What is diabetes?
Insulin is a hormone that controls the amount of glucose or sugar in the blood. Diabetes occurs when the body either cannot produce insulin, or properly use what it makes.
There are three types of diabetes: type 1 diabetes, where no insulin is produced by a person's body; type 2 diabetes, where a person's body cannot properly use the insulin that is released; and gestational diabetes, which is a temporary condition that occurs during pregnancy.
Diabetes can lead to high blood-sugar levels, which can damage organs, blood vessels and nerves, or to low blood-sugar levels, which can lead to seizures and nervous system damage.
How to prevent type 2 diabetes
Stave off this type of diabetes by eating well, getting regular exercise, maintaining a normal body weight and avoiding smoking.
Find out if you have a higher likelihood of developing pre-diabetes or type 2 diabetes by completing the Canadian Diabetes Risk Questionnaire.
Don't forget: regular exercise doesn't mean you have to go to the gym. Find ways to incorporate activity into your daily routine, such as parking further away from your destination, taking the stairs and getting off the bus or metro a stop or two earlier.

Eating healthy on campus
Concordia's Food Services offers a variety of nourishing food at all their outlets. "We believe that good, nutritious food fuels healthy, active people," says Christina Daoussis, a nutritionist with Aramark, the university's new food service provider.
"We also believe that people are looking to improve their lives through the foods they eat every day."
Visit the Green Beet at the Hall Café 4 on the fourth floor of the Henry F. Hall Building for a variety of tantalizing vegan dishes that can help keep your blood sugar levels in check.
"We strive to provide food and beverage options adhering to established nutritional guidelines," says Daoussis. "We are committed to providing diverse options to accommodate the dietary and cultural needs of our community. We ensure the availability and accessibility to fresh, healthy food at all meal times."

On Friday, November 13, to mark World Diabetes Day, nutritionists from Food Services will be available in the EV lobby to talk about the risk of diabetes and how to prevent it. Check out the event listing!

Diabetes research at Concordia
At the PERFORM Centre, the university's preventive health research facility, the second phase of a project geared toward moms who have had gestational diabetes is under way.
Prevention is key for these women who have an increased risk of developing type 2 diabetes.
The project includes five intervention programs that combine nutritional education, healthful cooking and exercise classes, as well as a care service for children so partners can attend.
After the first phase of interventions, lead researcher Kaberi Dasgupta and her team measured behavioural and biological changes.
"Though there was no decrease in body mass, most participants were able to lower sugar levels, blood pressure and insulin resistance as well as improve their insulin sensitivity — all key factors in reducing the risk of diabetes," she says. "This was consistent with the reduction in eating out, increases in fruit and vegetable intake, and higher step counts."
"Such findings demonstrate that even relatively simple interventions can have an impact."

Make an appointment with a health-promotion specialist in Health Services to find out more about preventing diabetes, eating better, quitting smoking or exercising regularly.
---