Mental health: a Concordia guide
In honour of Bell Let's Talk Day, here is a bird's-eye view of research, services and anti-stigma activity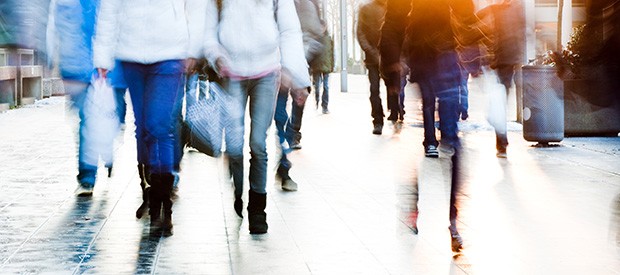 500,000 employed Canadians are unable to work in any given week due to mental-health problems.
One in five Canadians can expect to suffer from mental illness in their lifetime. Two out of three of those will do so in silence.
The national Bell Let's Talk Day — January 27, 2016 — aims to raise awareness and eliminate stigma about mental illness. Here's what Concordia is doing about it.

In Montreal
The Centre for Clinical Research in Health (CCRH) in the Faculty of Arts and Science takes a highly engaged approach to research, training and the provision of mental-health services.
Undergraduate and graduate students can volunteer as research assistants for the CCRH's laboratories; most of these are entirely devoted to the study of mental health problems and their treatment.
The Department of Psychology houses the Applied Psychology Center (APC), a full-service mental-health training clinic that is accessible to all of Greater Montreal.

On campus
For Concordians, Health Services is a one-stop shop. Know someone who is experiencing symptoms of mental illness? The first step is to see a nurse.
According to the 2013 National College Health Assessment, 30 per cent of Concordia students are adversely affected by stress. With that in mind, Health Services offers advice on how to build good mental health, while Counselling and Psychological Services also provides counselling services for students. You can drop-in for a free triage appointment at the Counselling offices at either campus — H-440 at Sir George Williams and AD-103 at Loyola — to be referred to the most appropriate resources available for your needs on or off campus.
For staff and faculty, the Employee Assistance Program (EAP) provides voluntary, strictly confidential counselling, as well as information and referrals.

Let's talk
According to the Centre for Addiction and Mental Health, at least 500,000 employed Canadians are unable to work in any given week due to related problems.
In Concordia's Thinking Out Loud conversation series, Steve Harvey, former dean of the John Molson School of Business, sat down with Mary Deacon, chair of Bell Let's Talk, to discuss mental health in the workplace.
The conversation centres around how organizations are being impacted — financially and operationally — by mental illness and what they can do about it. Watch the full conversation on YouTube.

Concordia research
With Alain Marchand, a professor at the Université de Montréal's School of Industrial Relations, Harvey also released research that addresses job stress and its many causes. The findings showed that mental health in the workplace does not exist in a vacuum; the personal lives of employees are just as significant.
Concordia research in the Department of Psychology focuses on the importance of social interactions. It demonstrated that in order for international students to successfully adapt, they must create a supportive social network.
In the Faculty of Fine Arts, researchers like Josée Leclerc explore mental well-being through art therapies. Leclerc has stated that "art has the power, the potential, to bear witness to emotional dimensions that we are not necessarily aware of."

Bell Let's Talk Day takes place on January 27. Join the conversation by using #BellLetsTalk; Bell donates 5¢ per Tweet, Facebook share, text and call to mental-health initiatives.
Are you worried that your symptoms of sadness or stress are outside the normal realm? Counselling and Psychological Services is holding an event from 10 a.m. to 3 p.m. today in the Atrium of the Engineering, Computer Science and Visual Arts Integrated Complex (1515 St. Catherine W.). Complete short screenings on site and get feedback from a trained professional on the options available to you.
If you're in need of assistance, you can also contact Health Services to schedule an appointment. Staff and faculty can reach out to the Employee Assistance Program (EAP) for confidential counselling.

---