Discover the secrets to aging well
Successful Concordia Globe and Mail conversations now online
Famed American author Truman Capote once said: "A conversation is a dialogue, not a monologue. That's why there are so few good conversations: due to scarcity, two intelligent talkers seldom meet."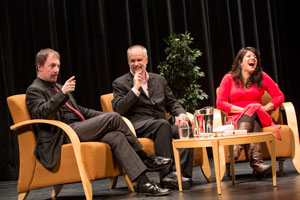 But that was certainly not the case when Concordia teamed up with the Globe and Mail to offer a series of national conversations on aging well. The four events presented smart and engaging dialogues between the university's top researchers and well-known thought leaders.

Moderated by the Globe and Mail's André Picard and Sophie Cousineau, these lively talks brought to the forefront Concordia's increasing focus on research in health prevention, such as helping healthy people from developing diseases, avoiding injuries, or reducing risk factors in managing an illness or injury.

"The connections between our current research and the broader world are at the heart of our mission," says Vice-President, Research and Graduate Studies, Graham Carr. "Finding ways to communicate our research and make it accessible to the public is equally part of Concordia's mandate, and this was the spirit of the conversation series."

Sexual desire and the brain
The series kicked off on February 7 when Concordia Psychology Professor Jim Pfaus discussed sexual desire and the brain with respected feminist author Naomi Wolf. During this animated discussion, Pfaus and Wolf talked about the science behind desire, drawing upon Pfaus' extensive research as well as Wolf's findings from her groundbreaking book, Vagina: A New Biography.

New research is making connections between sexual behaviour and the brain's neurochemicals. Wolf recalled her visit to Pfaus' lab in the Centre for Studies in Behavioral Neurobiology where she witnessed his work on the sexual arousal, desire, reward, and inhibition in laboratory rats and what this may mean for our understanding of human sexual behaviour. Listen to the conversation or watch it here.
Listen to the conversation: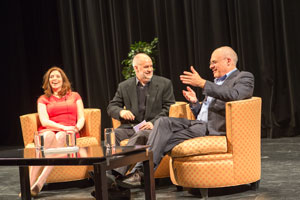 The obesity epidemic
On March 19, Jennifer McGrath, associate professor of psychology, sat down with New York Times food critic and best-selling author Mark Bittman to examine the obesity crisis sweeping North America.

Having covered New York City's attempt to curb obesity through public policy, Bittman provided commentary on — and sometimes biting criticism of — government inaction when it comes to enacting policies meant to curtail the consumption of unhealthful foods.

McGrath offered insight into the conversation by talking about the multitude of factors that lead to obesity gleaned from her research on behaviour, body image and sleeping patterns.
Listen to the conversation:
Mental health in the workplace
Bell Canada's Mary Deacon, chair of the successful Bell Let's Talk campaign, engaged in a conversation with Steve Harvey, dean of the John Molson School of Business, about mental health in the workplace.

Held on April 18, this talk proved to be an illuminating look at a topic that is not only gaining importance but has numerous socio-economic consequences on Canadian society. Deacon recalled her personal and family struggles with depression and how her career path lead her to chair one of Canada's first corporate anti-stigma campaigns on mental health.

Harvey talked about his extensive research in the area of workplace mental health and the need for a culture change among executives and management when it comes to addressing and supporting employees in this area.
Listen to the conversation:

Exercise, lifestyle and aging well
The series ended May 1 with a conversation about exercise, the brain and living a long, healthy life featuring master marathon-runner Ed Whitlock and Louis Bherer, the scientific director of Concordia's PERFORM Centre.

The 82-year-old Whitlock talked about his journey from being relatively inactive in mid-life to becoming a record-breaking senior marathon runner. Bherer spoke about his research findings on the connection between exercise and the brain in older adults. His findings have demonstrated that among seniors who have lived extremely sedentary lives, moderate amounts of exercise can improve attention and memory, and can help alleviate cognitive deficits associated with age such as dementia.
At the end of the talk, Graham Carr announced the creation the Ed Whitlock Fellowship to be awarded to a graduate student pursuing research in the area of preventive health and lifestyle management. The PERFORM Centre will extend this fellowship for an additional year.
Listen to the conversation:
---