Workshops & seminars
Biodiversity and nature at Concordia and beyond
A series of two short workshops
---
DATE & TIME
Thursday, March 16, 2023
11:30 a.m. – 12:30 p.m.
SPEAKER(S)
Jackie Martin and Marc-Antoine Poulin
COST
This event is free and open to the public, in person or remotely via Zoom
ORGANIZATION
Loyola Sustainability Research Centre, Loyola College for Diversity & Sustainability, & 4th Space
WHEEL CHAIR ACCESSIBLE
Yes
---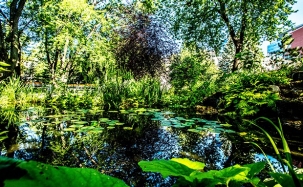 In this series of two short sequential workshops, Concordia Urban Agriculture and Biodiversity Coordinator Jackie Martin and undergraduate Biology student Marc-Antoine Poulin will speak briefly about their work then lead participants through a set of relevant activities.
Nature Positive Concordia
Jackie will begin by introducing and fostering discussion around the Nature Positive Concordia program, focussing on ongoing and planned projects and soliciting ideas and feedback from participants. Nature Positive Concordia is a new university-led program that seeks to enhance biodiversity and urban agriculture on campus. Modeled after the success of the Zero Waste Program, it sets ambitious goals to enhance biodiversity and urban agriculture at Concordia, seeking to achieve these goals through collaborative projects between staff, students and researchers.
The Role of Citizen Science in Monitoring Biodiversity

Marc-Antoine will briefly discuss his work in this area, then lead participants through some work with iNaturalist, empowering everyong to become citizen scientists in their own right.

---
This event is part of:
---
---