Student profile
Jason Sikoak
Pursuing a Bachelor of Fine Arts
Major in Art History and Studio Art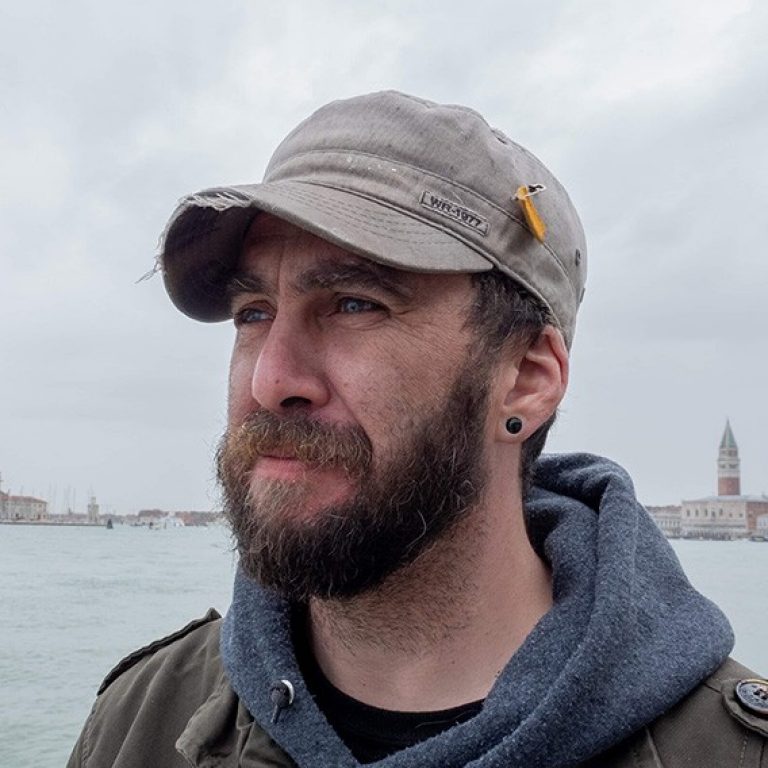 "With Studio Arts, I could choose from a wide range of areas."
How one student found the support he needed to develop his artistic practice
Originally from Nunatsiavut, Labrador, Jason Sikoak has found an artistic home at Concordia.
What was your path to studying fine art?
I've been working my whole life, trying to pretend I'm not an artist. But a severe illness about 10 years ago forced me out of the mainstream workforce. I had the space to sit down and draw and paint. I decided that I love being an artist.
As my health got progressively better, I decided that I wouldn't go back to construction or the oil patch. Instead, I would further my education and look for something directly related to the arts.
What brought you to Concordia?
I'm Inuk and I'm originally from Nunatsiavut in Labrador. I came to Montreal specifically to study at Concordia as I heard great things about the arts programs here. Also, my mentor, Heather Igloliorte, is a professor in the Department of Art History.
How did you meet Heather Igloliorte?
She is from Nunatsiavut as well and I was lucky enough to be a part of her travelling exhibition, SakKijâjuk: Art and Craft from Nunatsiavut. I first met her in the city of St. John's at a print-making workshop. That sparked an interest in furthering my career in fine arts.
Why did you choose to studio arts in particular?
I appreciated the broad spectrum offered by the program. It was what I needed to further my artistic practice. Instead of studying something more specific like drawing or painting, with studio arts, I could choose from a wide range of areas.
What are some of the best things about the program?
I came here as a mature student full of anxiety, but the professors and teaching assistants were all very willing to help me. They encourage open lines of communication. Because of that, the learning experience has been amazing.
How have you grown personally and professionally in this program?
I'm working as part of the Inuit Futures in Arts Leadership Program with Heather. This past summer, I did a mentorship with a local graphic designer and now I'm leaning toward the graphic design field for future work.
When you entered the program, did you have a specific career path in mind?
I want to open a working studio for young artists or artists who don't have a developed portfolio. They could come do a residency and develop a portfolio, curriculum vitae and bio for themselves to put out into the art world. Heather is helping me and I, in turn, want to help other people once I'm through the program.
What resources at Concordia were valuable for you?
The Aboriginal Student Resource Centre helped me through my first year. It became a second home for me. As soon as I walked in, they welcomed me with open arms. It's a very safe place. The staff and support workers there are amazing.