Alumni updates
Alumni with more than one degree from Concordia, Sir George Williams University and/or Loyola College are listed under their earliest graduation year.
78
Inspired by the metaphor of the Stations of the Cross, Frank DiMauro, BA 78, exhibited The XI Stations: The Passion According to Mother Nature at Almance Arts gallery in Graham, North Carolina.
The mixed-media exhibition, which ran from July to August 2021, presented 11 tableaus depicting the quickly deteriorating state of the world's natural habitats and environment.
Pictured: "Mortal Remains," cloth, real bird's nest, simulated bird eggs (2020).
80 David Gibbins, BComm, was appointed inaugural member of McMaster Innovation Park's North America Life Sciences Capital Markets Advisory Council.
Clifford Grossner, BCompSc, MCompSc 82, was named vice-president of Market Intelligence at Open Compute Project Foundation.
Charles-Andre Marchand, BFA, published a new literary series, Arcade et Gail, with Katherine Girard in November 2021.
81 Emilio Imbriglio, BComm, GrDipl 82, was appointed chairman of the board at Equisoft.
J. Roy Pottle, BComm, MBA 85, was featured in CEO Magazine for his work as chairman and CEO of American Messaging Services.
82 Loraine (Popkin) Cook, BA, joined the University of the West Indies as a professor in its Faculty of Humanities and Education.
86 Simon Pedder, MSc, was appointed CEO and director of Nirogy Theraputics.
87 Ken Barnes, BFA, recently completed his feature drama film The Bones on Greenwich Shore, which will be distributed by Bayview Entertainment.
Line Rivard, MBA, was named Quebec's Delegate General in London, England.
88 Jennifer McGuire, GrDip, was named chief content officer of Pink Triangle Press.
89 Tony Cioffie, BSc, was appointed president of Lowe's Canada.
90 Susan Graham, MA, PhD 96, was named scientific director of the Azrieli Accelerator at the University of Calgary.
Lisa Shemie, BComm, was named general counsel and corporate secretary at OANDA.
91 Jacqueline Grossman, BComm, was appointed chief marketing officer at the Just for Laughs comedy festival.
Rhonda O'Gallagher, BA, was named vice-president of Strategic Marketing and Communications at the Montreal Jewish General Hospital.
Anne-Marie Trudeau, BA, was named president and general manager of Trudeau Corporation.
92 Peter Brues, GrDip, was named president and CEO of Transcontinental Inc.
93 Alberto Autmezguine, BA, was appointed managing director, chief financial officer and chief actuary of Global Atlantic Financial Group's Bermuda companies.
Panagiotis (Peter) Sarganis, BFA, presented his inhale - exhale exhibition at the SAMC Gallery at Trinity Western University in fall 2021.
94 François Bourdon, BSc, was named managing partner at Nordis Capital.
Daniel Marchand, BA, was appointed managing director, Capital Raising and IR, at BentallGreenOak.
95 Marie-France Benoit, BComm, was hired as director of National Insights at Avison Young.
96 Edward (Ted) Gallivan, BA, was named executive vice-president of Canada Border Services Agency in September 2021.
Jennifer Hayes, BA, MBA 01, was appointed chairperson of the Canadian Dairy Commission. Hayes is the first woman to hold the position.
Arun Jaura, PhD, was named chief technology officer at Hero MotoCorp.
Jules Koostachin, BFA, contributed to A Perfect Offering: Personal Stories of Trauma and Transformation, a compilation of 31 stories on trauma.
97 Cammi Granato, ATTD, was named assistant general manager of the NHL's Vancouver Canucks.
Eryn Griffith, BFA, was named arts and culture manager for the city of Fort St. John, British Columbia.
Lambert Morvan, BSc, was appointed CEO at ONLIA, a leading provider of car and home insurance.
Gregory Reid, MBA, was named vice-president at PDS Biotechnology Corporation.
98 Giuliano La Fratta, BComm, was appointed senior vice-president and chief financial officer at Aeterna Zentaris Inc.
Louis Vaugeois, BComm, EMBA 06, was named chief technology officer at Andy Transport.
99 Stewart Campbell, BSc, was appointed executive vice-president and president of North America at Ipsen.
Andre Mainella, BComm, GrDip 01, was appointed chief financial officer at PyroGenesis Canada Inc.
Ben O'Hara-Byrne, GrDip, was named weeknight host of Corus Talk Radio's A Little More Conversation with Ben O'Hara-Byrne.
01 Ardem Keshishian, BSc, BSc 03, MBA 06, was named vice-president of Corporate Development at Moneta Gold Inc.
David Mastroberardino, BComm, was appointed CEO of Valsoft Corporation.
Keena Trowell, BFA, GrCert 02, BEng 14, joined McMaster University as assistant professor in the Department of Mechanical Engineering.
02 Ritesh Mukherjee, MCompSc, PhD 05, was named senior vicepresident and general manager of Enterprise Networks at Inseego Corp.
03 Michael Gentile, BComm, is a founding partner and senior portfolio manager at Bastion Asset Management.
Charles Haggar, BComm, GrDip 17, is a founding partner and chief information officer at Bastion Asset Management.
Lina Roessler, BA, directed the film Best Sellers, starring Michael Caine and Aubrey Plaza, which was released in September 2021.
Araz Toukmahji, BSc, was named a youth ambassador by the Armenian Prelacy of Canada.
04 Roberto Santaguida, BFA, presented his First Fifth exhibition at Montreal's OBORO centre in January. The exhibition featured a 15-channel video installation telling the story of human life.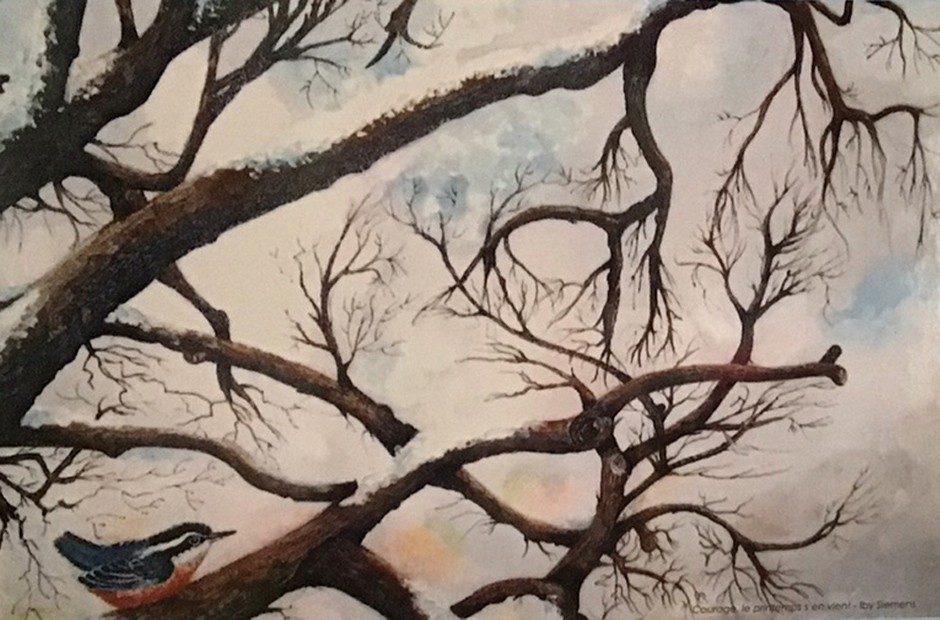 05
Ilsabey Siemens, BFA 05, recently joined fellow artists exhibiting their works on the online platform artistsinmontreal.com.
While Siemens creates many paintings on canvas, her main passion is porcelain painting.
Pictured: "Courage, le printemps s'en vient," acrylic on canvas (2017).
Harley Finkelstein, BA, president of Shopify, co-founded Firebelly Tea, along with DAVIDsTEA founder David Segal.
Nather Jarrar, BComm, was appointed to lead the Boys MLS Prospects program of the Whitecaps FC Edmonton BMO Academy.
Tytus Zurawski, BComm, was named president of Bitume Québec.
06 Arye Weigensberg, BComm, was appointed general manager at Cronos Research Labs, as well as vice-president of Research and Technology and interim head of Research and Development at Cronos Group Inc.
07 Melodie Farkas, BFA, was cast in The (Quarantine) Dream Play, a virtual performance supported by the Toronto Film School.
08 Justin Kausel, BA, was appointed vice-president of Business Development at Laurentian Organic Inc.
Shawn Prodgers, BComm, joined Mako Financial Technologies as vice-president of Operations and Finance.
09 Andria Hickey, MA, was named chief curator of The Shed art centre. Syrine Tlili, PhD, was appointed CEO of Tunisie Telecom.
Fadhl Al-Bayaty, BEng, MEng 13, was appointed director of Product Management at VuWall.
Sherin Al-Safadi, MBA, PhD 14, was named vice-president of Medical Affairs at POINT Biopharma Global Inc.
Jessica Dymond, GrDip, was a core creative (editor) on the National Film Board of Canada's VR experience This Is Not a Ceremony, which celebrated its world premiere at the Sundance Film Festival.
Lauren Scott, BComm, was appointed vice-president, Marketing and Sustainability, Intelligent Spaces Group at Acuity Brands.
11 Antoine Dionne-Charest, BA, was appointed vice-president, Consulting and Development, at Imperium Strategies.
Vanessa Herrick, BA, was named executive director of the English Language Arts Network.
Maxime Joyal, BA, was named coordinator of sports programs at CEGEP de Thetford.
Vanessa Pendenza, BComm, was named partner at Davies Ward Phillips & Vineberg.
Sherry Romanado, EMBA, was appointed Deputy Leader of the Government in Canada's House of Commons.
12 Emily Bourassa Brass, BA, is the host of a new CBC Manitoba podcast called Type Taboo: Diary of a New Diabetic.
Christine May, MA, was named curator at the Kelowna Art Gallery.
Theodros Wolde, BComm, was elected mayor of the LaSalle borough, representing the Mouvement Montréal municipal party.
13 Joey Alfieri, BA, joined the Montreal Alouettes as a content provider, writer and podcast contributor.
Angela Parker, BA, MSc 16, was named as sustainability coordinator for the City of Cornwall, Ontario.
14 Dominic Desjardins, BFA, released his album Maestro in September 2021.
Michael Bramadat-Willcock, BA, joined BlackPress Media as a reporter for its Omineca Express and Caledonia Courier.
16 Fanny Castonguay-Babin, BA, joined the boutique firm SYRUS Réputation as an advisor.
Cindy Phenix, BFA, was a part of Group Chat, a group art exhibition at Julius Caesar Gallery in Chicago, Illinois.
Kevin Victor, BComm, was named vice-president of Sales at Mako Financial Technologies.
17 Jérémie Poirier Pratte, BComm, was named vicepresident at Patrimonica. Charles-Alexandre Vennat, EMBA, joined Wondr Gaming as a special advisor.
18 Adam Perez, BComm, was named operations administrator at PWL Capital Inc.
Ethan Soil, BFA, released the Stunning and Atrocious LP with the Montreal LGBTQ indie band Fleece in September. Soil is the band's drummer.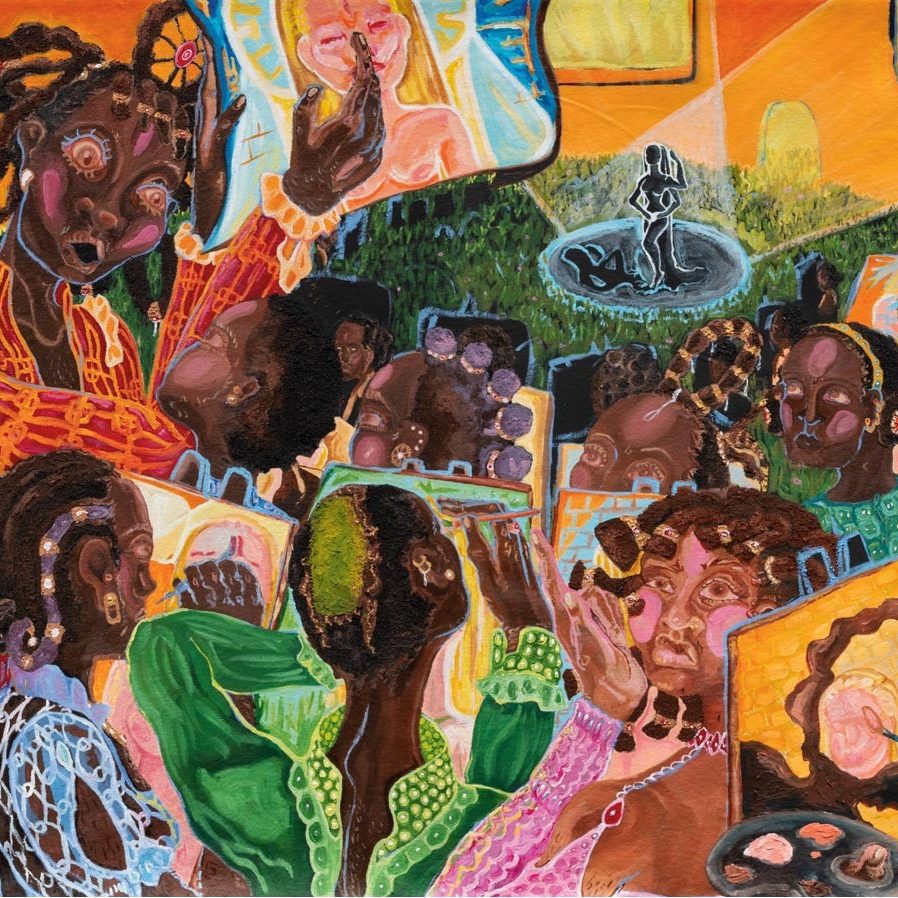 20
Multidisciplinary artist Esther Calixte-Bea, BFA 20 — who goes by Queen Esie on social media — took part in the Dos à Dos, Face à Face exhibition at Institut National Art Contemporain from March 3 to April 17, 2021.
Queen Esie's work can be found at www.estercalixtebea.com and on social media.
Pictured: "The Art of Interpretation," acrylic on canvas (2020).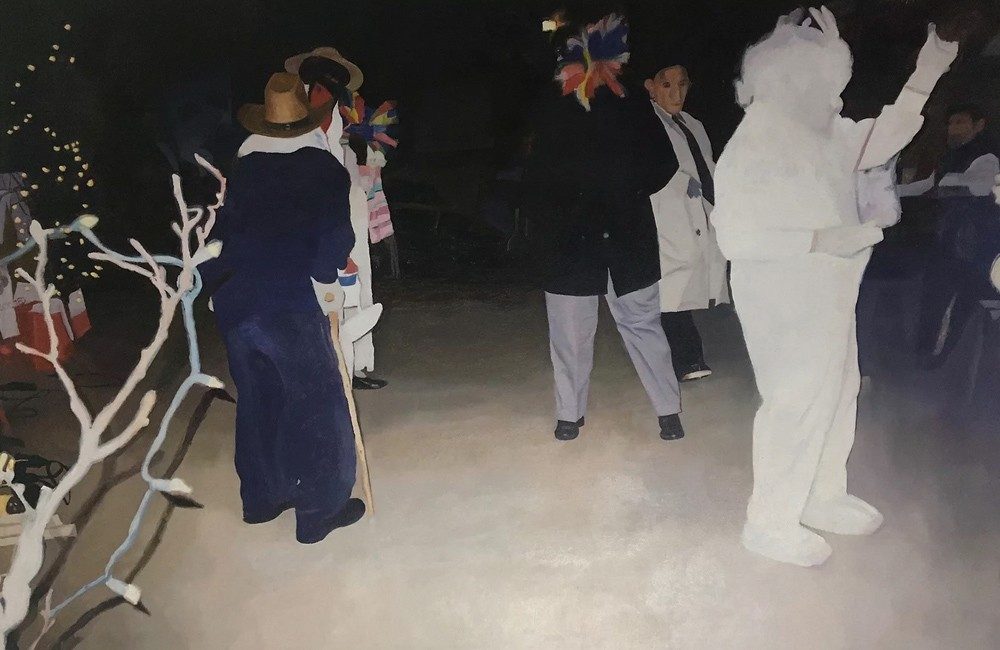 Walter Moodie, BFA 20, is a 2021 grant recipient from the Elizabeth Greenshields Foundation, a Montreal-based organization that supports emerging artists around the world.
"I am extremely grateful for the foundation's generous support, which has been invaluable in helping me pursue my current MFA studies," says Moodie, whose artwork can be viewed at waltermoodie.com.
Pictured: "Party in Larry's River," oil on canvas (2020).
Berirouche Feddal, BFA, was featured in La Presse for his art exhibitions in Toronto and Montreal.
Emmanuel Gendron-Tardif, BFA, directed the film Soumissions, which was released to Quebec theatres in October 2021.
Jonathan Séguin-Forest, EMBA, joined Blain, Joyal and Charbonneau CPAs as new partner.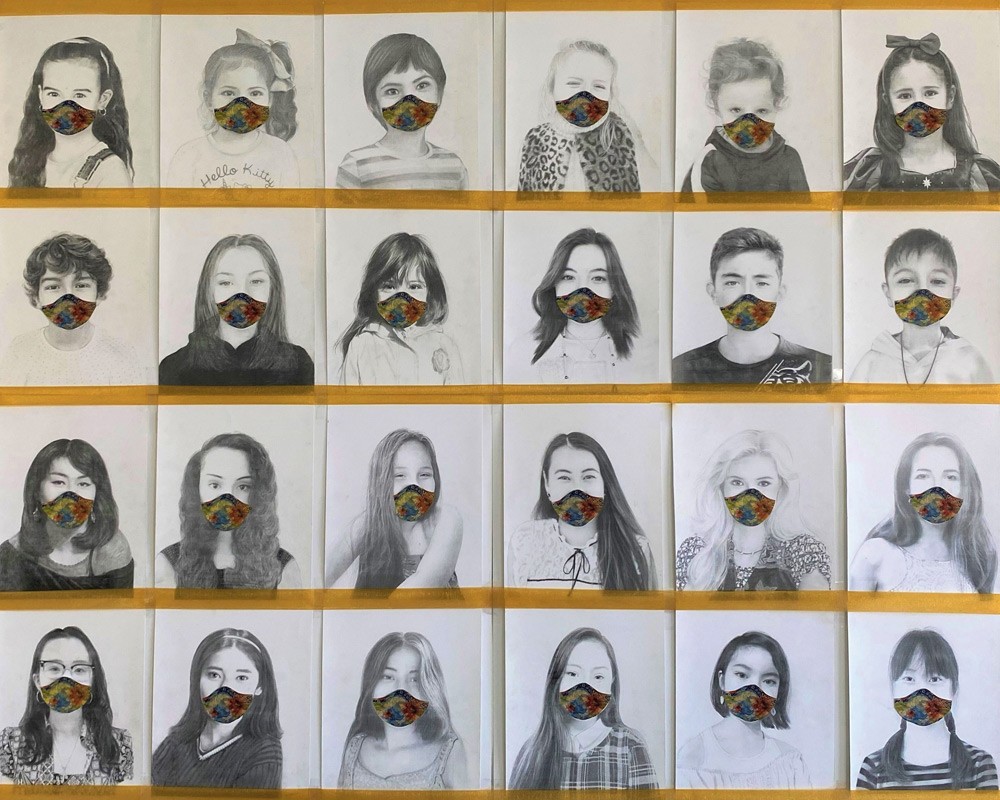 Visual artist and batik designer Avy Loftus, MA 20, presented her drawings at the 14th anniversary of Peace, Love and Hope — an Indonesian batik project in collaboration with schoolchildren — aimed at fighting bullying.
The event took place at Gallery 2903 in downtown Montreal in December 2021.
Pictured above: "We do care," pencil, ink and watercolour with batik on linen paper (2021).
21 Swapnaa Tamhane, MFA, is a contemporary artist whose first solo museum exhibition, Swapnaa Tamhane: Mobile Palace, is showing at Toronto's Royal Ontario Museum until August 1.