Alumni updates
Alumni with more than one degree from Concordia, Sir George Williams University and/or Loyola College are listed under their earliest graduation year.
70 Paul Keens-Douglas, BA (soc./anthro.), former poet laureate of Trinidad and Tobago, received an honorary doctor of letters from the University of the West Indies.
78 Tony Vanvari, MBA (business admin.), was appointed to the University of Toronto's faculty council as an alumni member in the Faculty of Engineering.
80 Luigi (Louis) Falco, BEng, was named vicepresident, engineering and quality, at United Underground Precast in Wallingford, Conn.
84 Michael Di Grappa, BA (poli. sci.), was named vice-president of Services and Sustainability at Concordia.
87 Riccardo Cichi, BA (econ./hist.), was named president and chief sales officer, North America, at Bridgestone Americas, based in Nashville.
Cristine Laforest, BComm (mktg.), became the general manager at Bel Cheese Canada.
89 Charles "Chad" Loeven, BEng (electrical), was named vice-president of marketing at TransientX, a company based in Hoboken, N.J.
90 Valerie Hannah, BComm (fin./acct.), was named managing director and chief executive officer, Distributed Energy, Renewable Power Group, at Brookfield Asset Management in New York.
Madhavi Mantha, BEng (comp. sci./software eng.) was made partner, Technology Strategy and Transformation, at Deloitte Canada.
Mark Rubin, BComm (mgmt. admin.) was named executive managing director at Colliers International, Boca Raton, Fla.
91 Paul Richardson, BA (econ.), was appointed United States Agency for International Development (USAID) Representative to Cameroon.
92 Inder Arya, BA (hist.), was named vice-president and portfolio manager at RBC Dominion Securities.
93 Stephanie Kushnir Chalupa, BA (econ.), was named senior director of Certified Home Health Agency Services at UR Medicine Home Care in Rochester, N.Y.
Charlie Kawwas, BEng (comp. eng.), MASc (electrical/ comp. eng) 99, PhD (electrical/comp. eng.) 07, was promoted to the position of chief operating officer at Broadcom in San Jose, Calif.
Anthony Kiendl, BFA, was named CEO and director of the Vancouver Art Gallery.
Patrick Lauzon, BA (econ.), was named chief marketing and innovation officer, management committee, at Groupe Biron Santé in Brossard, Que.
Samira Nasr, BA (philosophy), former executive fashion director at Vanity Fair, was appointed editor-in-chief of the U.S. edition of Harper's Bazaar in New York.
94 Charmaine Nelson, BFA (art hist.), MFA (art hist.) 95, was named Tier 1 Canada Research Chair (CRC) in Transatlantic Black Diasporic Art and Community Engagement at NSCAD University. Nelson will use the funded, seven-year (renewable) position to work with NSCAD to develop the Institute for the Study of Canadian Slavery.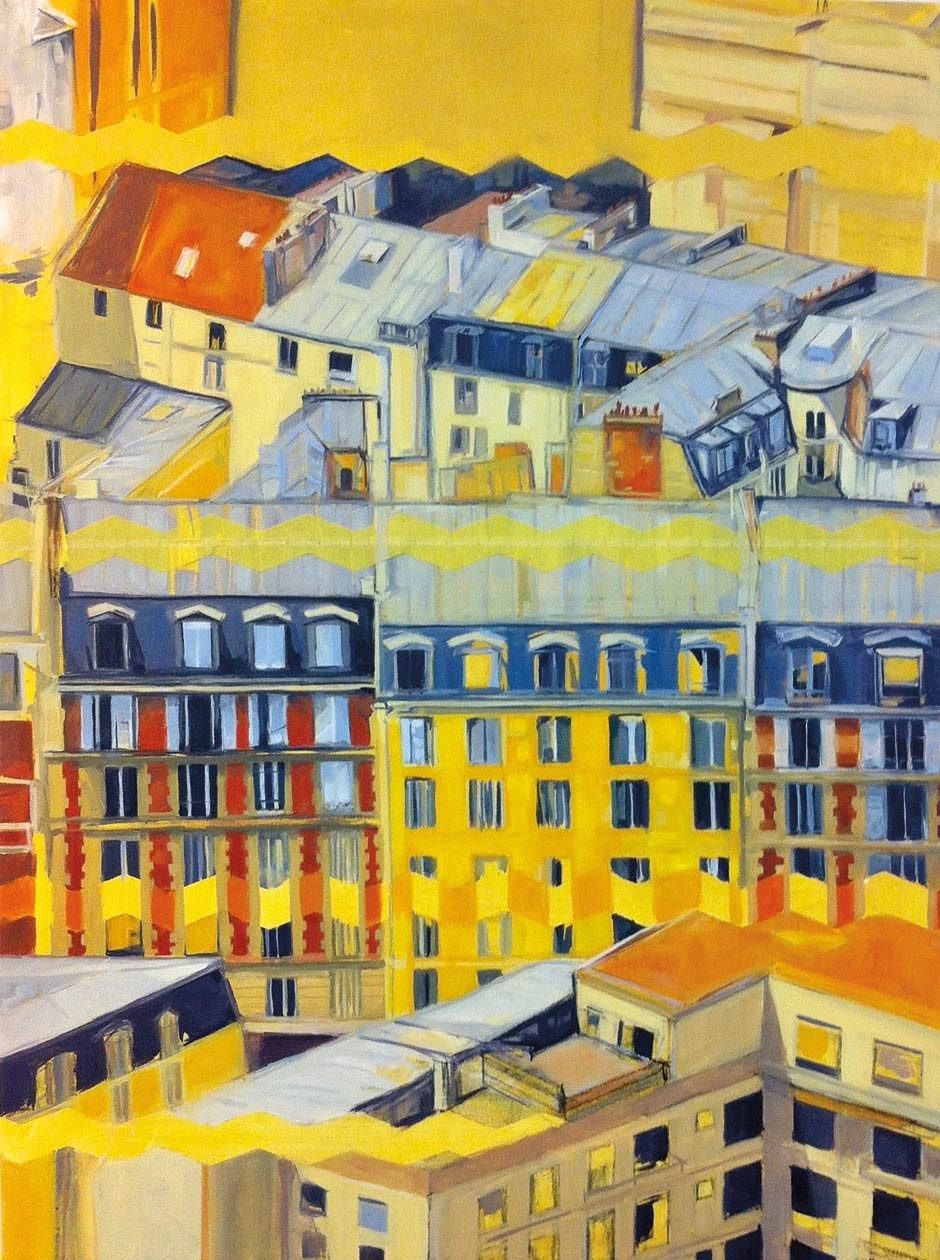 "Cadmium Yellow Paris" Oil on canvas (2019)
1996
Deanna Fogstrom, MA 96, presented a solo show of paintings and photographs at the Britannia Art Gallery in Vancouver, British Columbia.
Her work, inspired by study and travel, is called Paris: Love and Protest, and was shown from July 24 to August 28.
"Cadmium Yellow Paris" Oil on canvas (2019)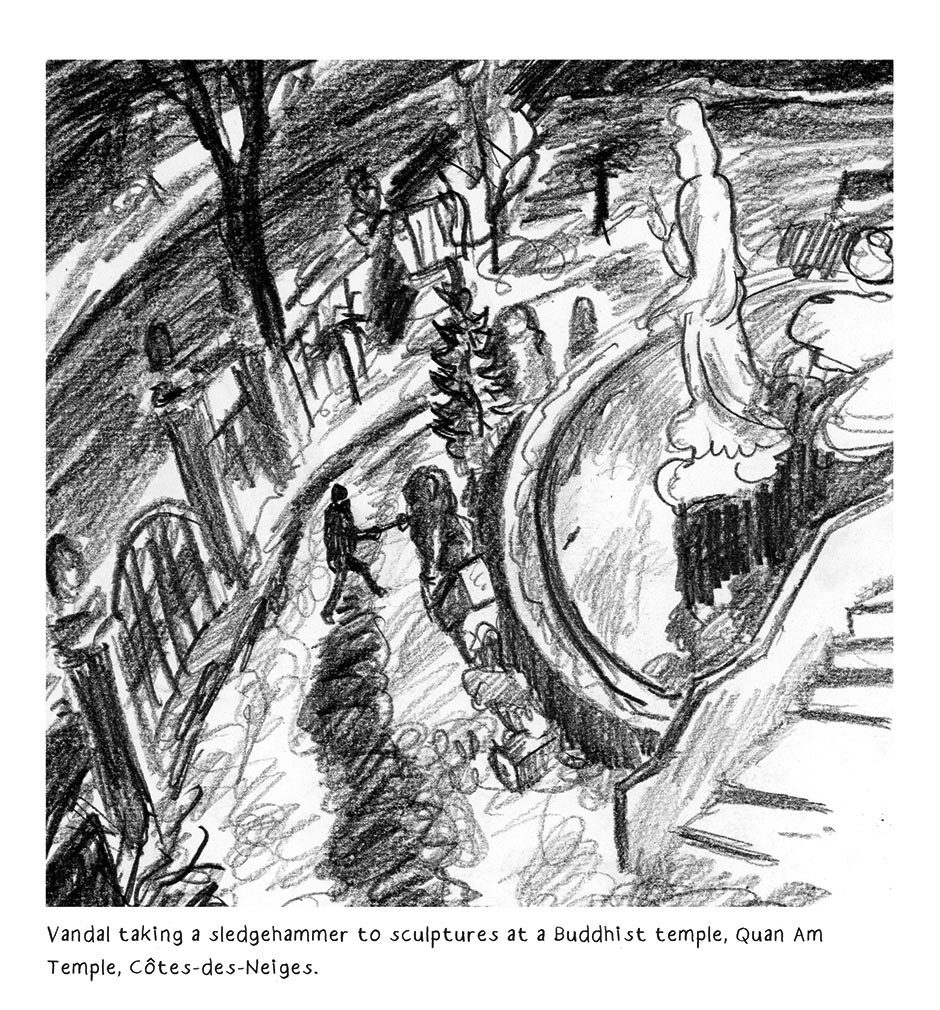 2001
Jenny Lin, MFA 01, part-time faculty member in Concordia's Print Media program, shared her Pandemic Drawings — a series of more than 100 drawings that documents Lin's experience and observations throughout the pandemic.
The series highlights the "strangeness of the circumstances, as well as some of the social injustices and vulnerabilities that have been made highly visible during this period of time."
"Vandal taking a sledgehammer to sculptures at a Buddhist temple, Quan Am Temple, Côte-des-Neiges," graphite drawings and digital text (2020).
02 Efrem Berman, BComm (mgmt. info. systems), was named vicepresident of Global Loyalty and CRM at Radisson Hotel Group, Minneapolis, Minn.
Rosey Edeh, MFA (art hist.), was named co-anchor of CTV Morning Live Ottawa.
Matthew Ross, BA (English lit.), was named Quebec Regional Manager at B'nai Brith Canada.
"People on the Berlin Wall 1989," graphite animation on Mylar (2008)
2003
G. Scott MacLeod, BFA 03, MA 13, presented his After the War with Hannelore exhibition — which included a documentary, animation drawings and graphic novel — at Maison de la culture Notre-Dame-de-Grâce from September 11 to November 8.
The exhibition traced Hannelore Scheiber's experience of the Cold War on the occasion of the 30th anniversary of the fall of the Berlin Wall and the reunification of Germany.
"People on the Berlin Wall 1989," graphite animation on Mylar (2008)
04 Paul Karwatsky, BA (journ./poli. sci.) was named head of marketing and communications at Giant Steps Foundation, which supports autism education at Giant Steps School, Montreal.
05 Sara Lopez Assu, BA (urban studies) was named executive director of the Campbell River Art Gallery in British Columbia.
Harley Finkelstein, BA (econ.), former chief operating officer at Shopify Inc., was promoted to president.
Ananda Kautz, BComm (admin.), was named head of innovation, digital banking and payment at the Luxembourg Bankers Association (ABBL).
06 Patrick Gagnon, BComm (acct.), GrDip (attendee), was appointed vicepresident, corporate controller, at Héroux-Devtek, a key player in the aerospace industry.
Hakim Hajoui, BEng (comp. eng./software eng.), was named Morocco's ambassador to the United Kingdom and Northern Ireland, based in Casablanca and London.
07 Dominic Godard, BComm (fin.), was named senior investment assistant, wealth management, at National Bank Financial.
Eric Guraieb, BEng (industrial), was made a partner with Bain & Company's Energy and Natural Resources and Performance Improvement practices, based in Dubai.
Katie Seline, BA (comm. studies), was named account and project manager at Music Rights Clearance in Montreal.
Milan Stefancik, BComm (internat. bus.), was named director of sales and marketing at Christina Lake Cannabis Corp. in Vancouver.
08 Phillip Gingras, BA (anthro.), MA (social and cultural anthro.) 10, was named interim executive director with Brock University's Brock LINC (Learn, Innovate, Network and Collaborate) initiative.
Emile Kinuma, BComm (fin.), MSc (admin.) 11, was made Rwanda Country Manager at credit risk management firm TransUnion.
09 Allan Vicaire, BA (poli. sci.), was named project coordinator at Concordia's Office of Indigenous Directions.
10 Jalana Lewis, BA (psych.) became director of African Nova Scotian community engagement at Dalhousie University.
11 Marie-Claude Bourgie (MBA) was named interim CEO at Quebec-based Dominion Water Reserves Corp.
14 Adam Prizio, BEng (aerospace), was appointed head of engineering, research and development, and innovation at Quebec-based M1 Composites Technology.
15 Emily Lynch, BA (poli. sci.), joined the Montreal office of Osler, Hoskin and Harcourt as a lawyer/associate.
Marianne Tremblay, BComm (fin.), was named chief of staff to the CEO at Alpha Blue Ocean Investment Fund in London, U.K.
18 Adrienne Huard, BFA (art hist.), was named editor-at-large of Canadian Art magazine.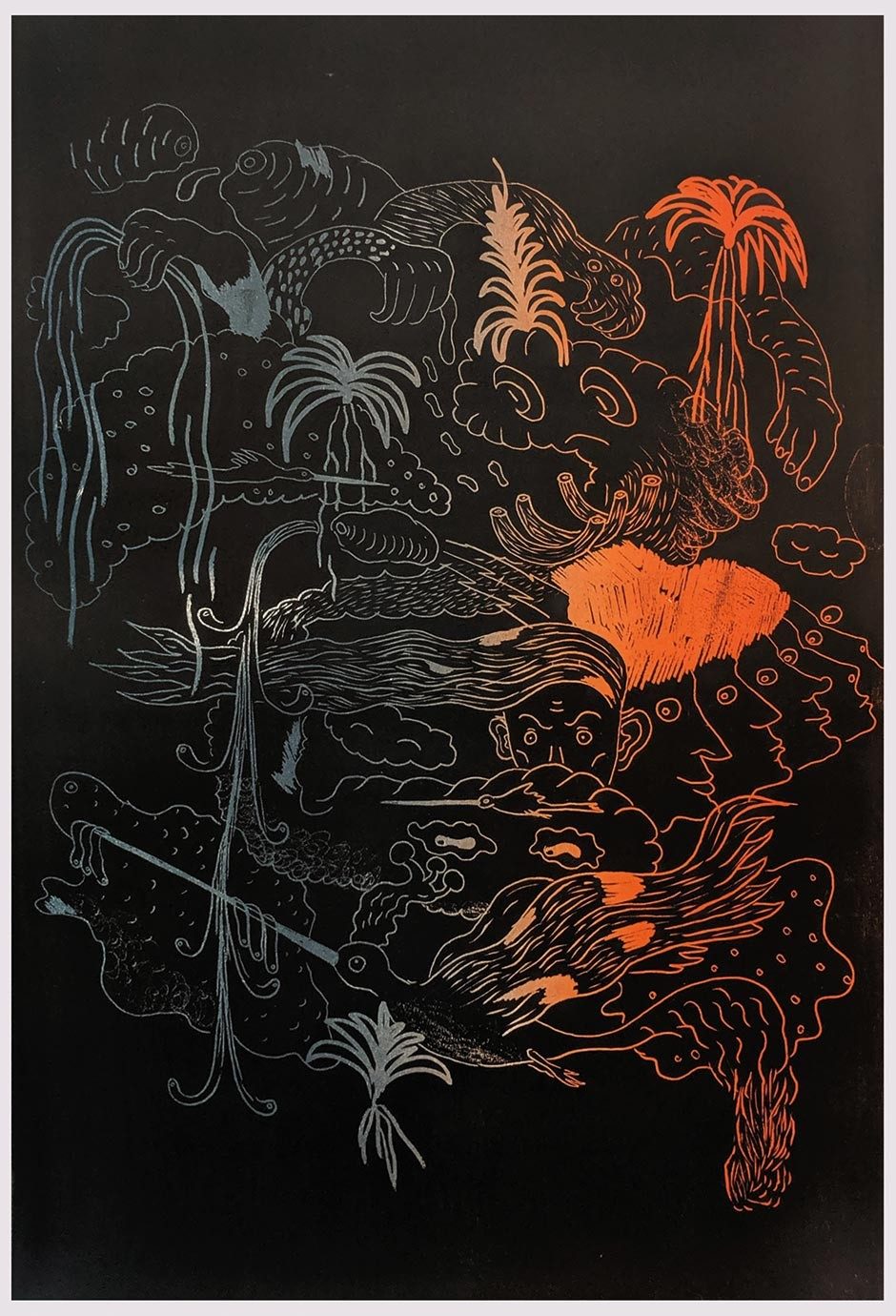 "Untitled (It May Be Windy Today)," multicolour woodcut print on Arches paper (2019)
2019
Alexey Lazarev, BFA 19, exhibited his woodcut print at the fall 2020 edition of Les Encans de la quarantaine, a Facebook-based online auction launched to support Montreal-based artists during the COVID-19 pandemic.
"Untitled (It May Be Windy Today)," multicolour woodcut print on Arches paper (2019)
20 Reham Al Azem, GrDip (visual journ.), joined the Toronto team at OMNI News: Arabic Edition as a video journalist.