Our Goal
To raise our game by providing our women's hockey players with the best environment and experience possible. Your contributions can help increase the number and value of our financial awards, fund full-time assistant coaching staff, and allow us to travel to non-conference competitions and games hosted by NCAA institutions to challenge our skills against the best teams in North America.
In support of this plan, in the spirit of Giving Tuesday every gift will be doubled thanks to the generosity of an anonymous benefactor who will match donations up to a total of $5,000.
The Concordia Stingers women's hockey team is composed of elite athletes who devote an enormous amount of time to the pursuit of excellence in their sport and in their academics.
The work ethic and success are a direct result of head coach Julie Chu's team-first philosophy. In recent years, the program has risen to the upper echelons of U SPORTS competition. In 2019-20, the team was ranked No. 1 in the country for 14 consecutive weeks and won the RSEQ regular season title.
The Stingers are currently being coached by Olympian Caroline Ouellette while Chu is on maternity leave. This year has brought challenges for Ouellette and the team, but they are still working hard and hope they can safely compete soon. In the meantime, the players are focusing on developing individual skills on the ice and getting stronger in the weight room.
The women's hockey program remains committed to building a perennial powerhouse and becoming the team every top recruit wants to play for.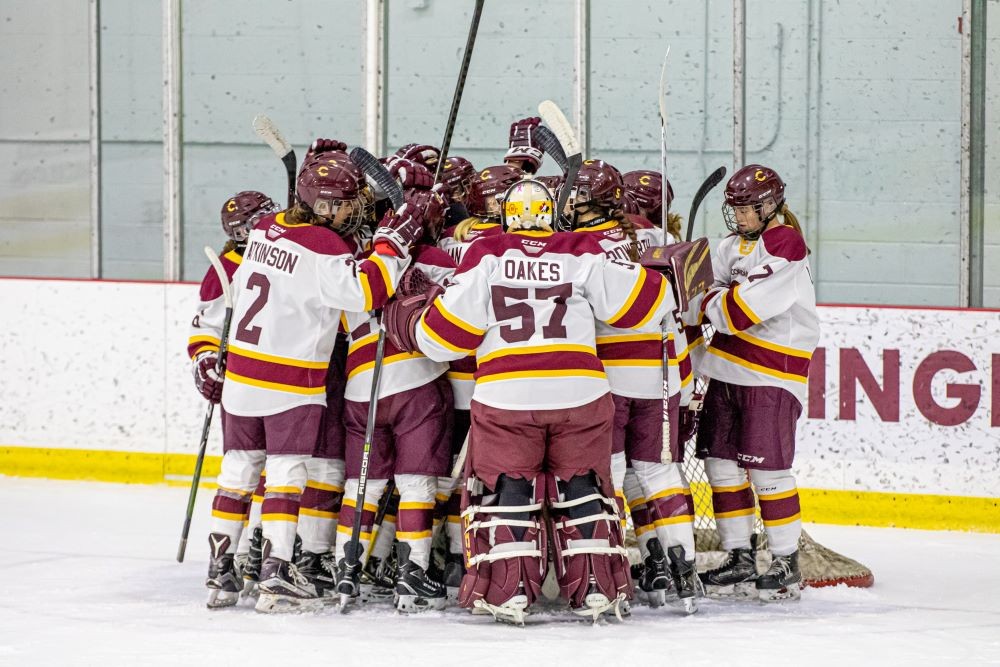 The Stingers celebrated a remarkable season that saw them ranked No.1 in Canada for most of the year.
Contributions will make a lasting impact on our Stingers women's hockey experience. Your donations will provide financial support through athletic awards, a major incentive to attract and recruit first-rate student athletes. You will also help provide invaluable opportunities by covering the cost of travel to tournaments and exhibition games in the United States. Funding will also allow us to engage a full-time assistant coach.
A recurring gift will set our team up for long-term success. Automatic contributions help provide a reliable source of funding which helps us better plan for the future.
Rise to the challenge and give generously today!
(Left to right): Head coach Julie Chu (currently on maternity leave) and Interim Head Coach, Olympian Caroline Ouellette.
"We are extremely grateful for this matching gift. We believe strongly in the direction of our program and it's wonderful to know that other people feel the same way.
This gift and the donations it encourages will help us provide the best experience and resources possible for our student-athletes to grow and to excel as players and great citizens in our community."
— Caroline Ouellette, Interim Coach, Women's Hockey
Get to know members of our team:
Rise to the challenge and help us raise our game to the next level!