Our goal
To maintain our competitive edge by recruiting top athletes and providing opportunities for our team to train and compete across North America.
Help us build a championship team!
$ 5,511 of $15,000 raised
Meet the team
We are the Concordia Stingers Varsity Baseball Team and we are proud to represent our university. We work hard, we are focused, and we are determined. We never stop challenging ourselves and one another, but most importantly, we are a close knit family.
The Stingers Baseball Team was born in 1995 and Head Coach Howie "Skip" Schwartz has been our only skipper. He has led our team with passion and devotion. His career coaching record stands at 206-168, for a .551 winning percentage. Under his leadership, we have evolved from a modest expansion team to a consistently winning program, earning a berth in the National Championships 10 times in the last 15 years (this includes the last two years when all official play was suspended due to COVID-19).
Skip does not run the program alone. We are proud that all six of our assistant coaching staff members are former Stingers:
Edwin Archer, BA 07: Third base coach

Fabien Dunstan, Attendee 04: First base coach

Alex Kechayan, BA 15: Pitching coach

Matthew Adams Whittaker, BSc 16: Bench coach

Nat Thomas, BA 05: Assistant Pitching Coach

Michael Pantin, BA 06: Infield and Defence Coach
Their dedication and devotion to the baseball program have played a major role in the program becoming one of the most successful and respected ones in Canada.
Due to the COVID-19 pandemic, all sports programs were cancelled for the 2020 season and we were limited to non-travel, unofficial exhibition games in 2021. However, we are hopeful that it will be safe to officially get back on the field in the fall of 2022.
Despite the restrictions we have experienced in the last two years, all coaches have been very active recruiting for the 2022 season. We have now been given medical clearance to resume our winter training and strength and conditioning programs in our indoor dome facility, which is very exciting news for us!
We are definitely going to be ready to get back on the field this fall and get back to our championship ways.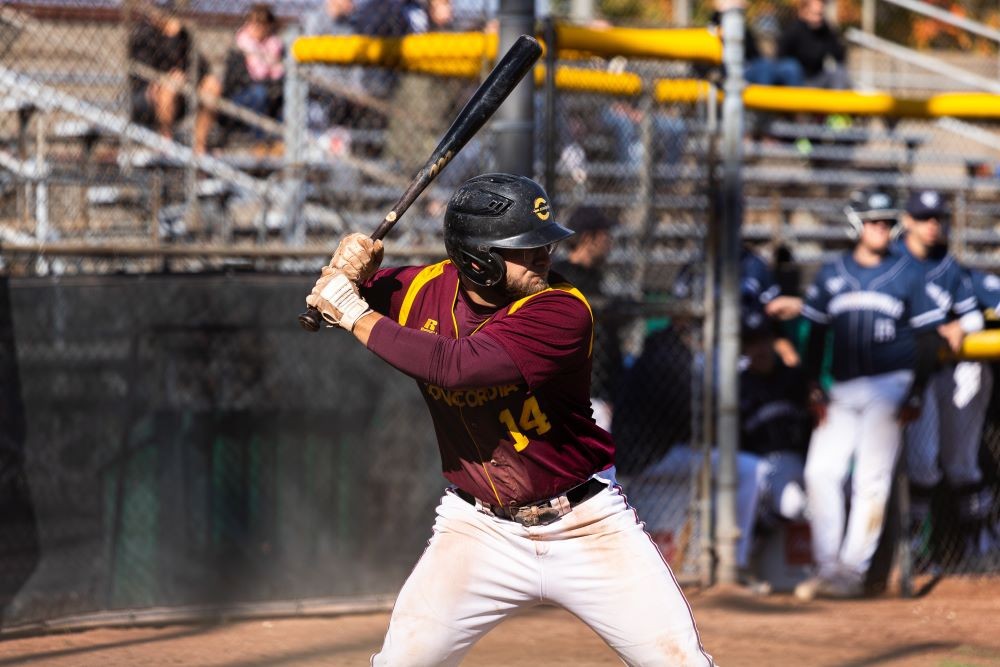 Photo credit: Ryoma Martin
Why we need your help
All Stingers are full-time students in good academic standing. We dedicate our time and energy to both our training, competition and studies.
We built our highly-competitive team through progressive recruitment practices — within Canada and the United States — and expanded off-season training. We believe this is what has led us to so many achievements over the last 15 years: National Champions in 2009, three-time National Finalists and four-time Semi-Finalists.
Our coaches are committed to increasing the range of our recruiting program and we believe a financial awards program will be a major incentive to attract bright student-athletes. Your support can help Stingers' baseball players focus on their game and their education by allowing us to create new bursaries.
Donations will also help offset expenses for training camps and competitions in Canada, the United States and beyond.
Setting up a recurring gift will make a lasting impact on the team. Automatic contributions help provide a reliable source of funding which helps us better plan for the future.
You can help us build a championship team!
"I am a loyal donor to Stingers Baseball because they are one of Concordia's great sport programs. The team started with an idea and rose to be a National Champion.
Coach Howie Schwartz's knowledge and love of the game is legendary and he has volunteered his time and leadership since the beginning. Go Stingers!"
— Thomas Filgiano, BSc 76, Friend of Concordia Baseball
"Giving to Concordia Stingers baseball is tremendously important to me as I still cherish my time as a former member of the team. All the experiences, lessons and friendships learned on and off the field still carry with me to this day.
I know that every time I donate to the Stingers baseball, everything is being done to ensure that current and future generations of baseball student-athletes are receiving a first-class collegiate baseball experience."
— Bradley Thomas, BComm 03, former Stinger
Help us continue to bring home the wins!