Concordia's District 3 offices are being transformed to reflect the changing nature of work
The innovation hub has partnered with the university's Next-Generation Cities Institute to prototype layouts that prioritize collaboration and flexibility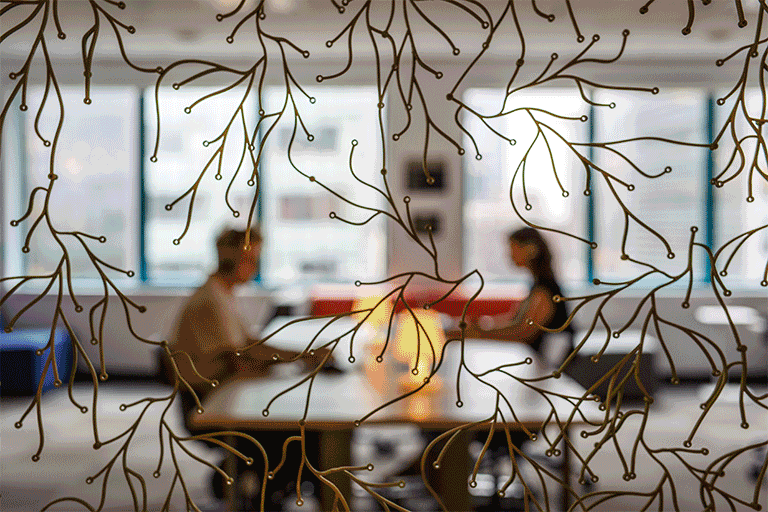 Anna Ehrhardt: "The pandemic gave us the opportunity to rethink how people engage with each other in our space."
Concordia's District 3 Innovation Hub is undergoing a transformative redesign, carving the path for the future of workspaces. The office overhaul isn't just about aesthetics — it's about changing the way we learn, work and collaborate.
Spaces for innovation and collaboration are necessary to offer cross-disciplinary training and mentor the decision-makers of tomorrow. Current studies indicate that workspaces play a crucial role in shaping work culture.
The way a space is laid out can define organizational mindsets and allow for transformation. Since Canadians spend approximately 90 per cent of their lives indoors, interior space design can significantly influence productivity, creativity, well-being and comfort.
District 3 is a space where multidisciplinary teams can innovate for impact. Through entrepreneurship, the hub helps people solve local and global challenges to build a more just and sustainable world.
The hub has partnered with Concordia's Next-Generation Cities Institute (NGCI) to create a prototype and test different office layouts that prioritize collaboration and flexibility. District 3's spaces, located on the sixth floor of the Faubourg Building, now stand as a dynamic site for innovative spatial solutions tailored to the needs of the office's users.
At the helm of this project is Ivona Bossert, knowledge mobilization advisor at NGCI. Bossert has a professional background in interior architecture and design management. She is also behind NGCI's recently redesigned office spaces on the 14th floor or the ER Building.
Bossert, working with District 3's dedicated "space team" led by Andrea Betts, is experimenting with various workspace layouts and adjusting them based on user feedback. Through this iterative design process, the office layout and visual impact are being continuously improved.
"The minute you start seeing design as a process that is continuous and living rather than a project with an end date, not only do you build sustainability into every discussion, but you also enable space users to inform and be represented in the space that is being built around them," says Betts.
The new space is prototyped, tested and tweaked before the cycle repeats. This continual cycle will culminate in District 3's revamped workspace.
The goal of the project is to create a network of spaces for innovation at Concordia. These kinds of spaces help bridge silos, create spaces for collaboration and strengthen transdisciplinary research.
"A next-generation university should offer cross-disciplinary training; integrate real-world experiences through real-life projects; foster a caring, supportive community; and train the game-changers and decision-makers of tomorrow," says Bossert. "These are the people who will tackle the greatest challenges of our time."
Re-thinking the post-pandemic workspace
District 3 provides a distinctive place where people from different backgrounds can meet, collaborate and benefit from sharing their experiences. Startup founders, students, coaches, researchers, academics, industry and government collaborators frequently gather at its offices.
But when the COVID-19 pandemic began in 2020, District 3's spaces were suddenly empty.
"The pandemic gave us the opportunity to rethink how people engage with each other in our space and how to improve people's well-being," explains Anna Ehrhardt director of administration at operations at District 3.
In a post-pandemic reality, work can happen anywhere — in the park, on the sofa or at the neighbourhood café. According to Bossert, today employees require for a more pleasant and comfortable work setting than before. This shift will encourage collaboration and attract workers back to the office.
The design principles Bossert puts into practice reflect the New Work approach, first conceptualized by philosopher Frithjof Bergmann in the 1970s. This new approach accommodates the evolving demands of the modern workforce, which include flexible working time models, the use of co-working spaces and hybrid work.
"The goal is to create a pioneering space in the university context, which will demonstrate what future innovative spaces can look like," asserts Bossert.
Part of New Work also involves offering employees an attractive, functionally flexible workplace and designing offices to allow for both collaborative creative work and more focused work. Workspaces should also maintain well-being and allow for serendipity.
District 3's Ehrhardt says that the redesign process is already showing promising outcomes. "We are close to pre-COVID attendance most days of the week," she reports.
"People are more relaxed and engaged in the space. There is excitement around in-person events and being part of a thriving community once again."
Get a glimpse of the District 3 Innovation Hub design in process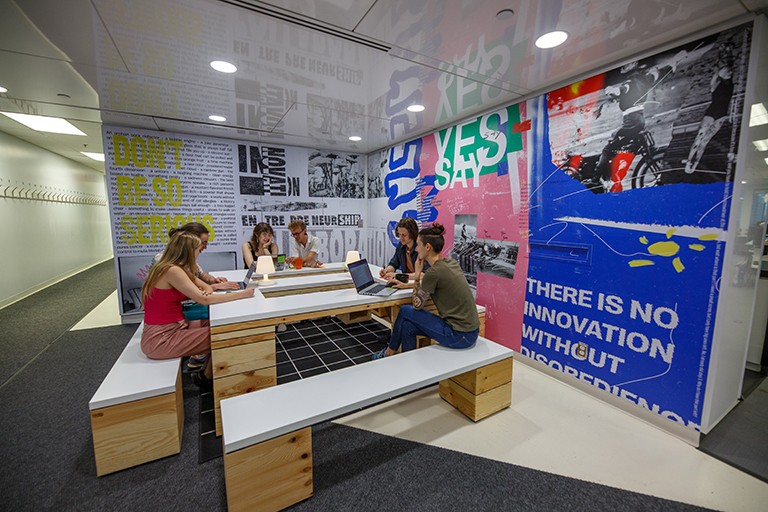 People entering District 3's offices are greeted with a dynamic, creative atmosphere thanks to the new murals reflecting the unit's spirit. Modular elements can be reconfigured into many different layouts, allowing people to use them in the ways that suit them best.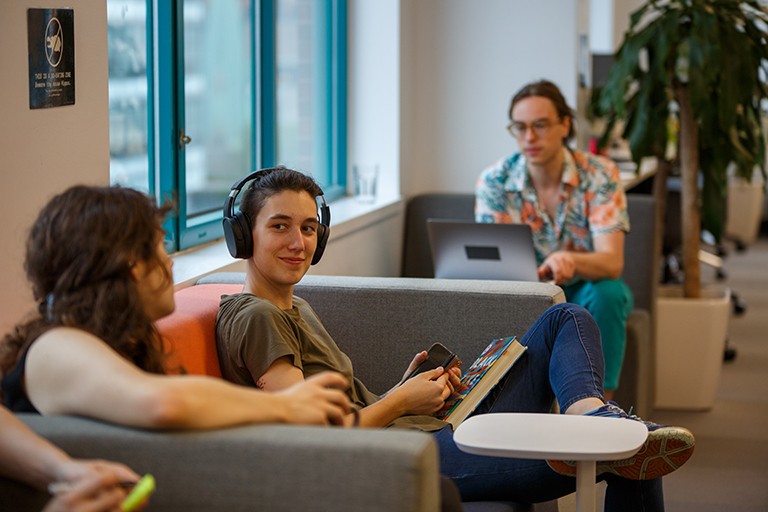 One of the space prototypes is designed to increase both formal and informal interactions. People can select whether to sit at a table or on an armchair, according to their needs and interaction setting.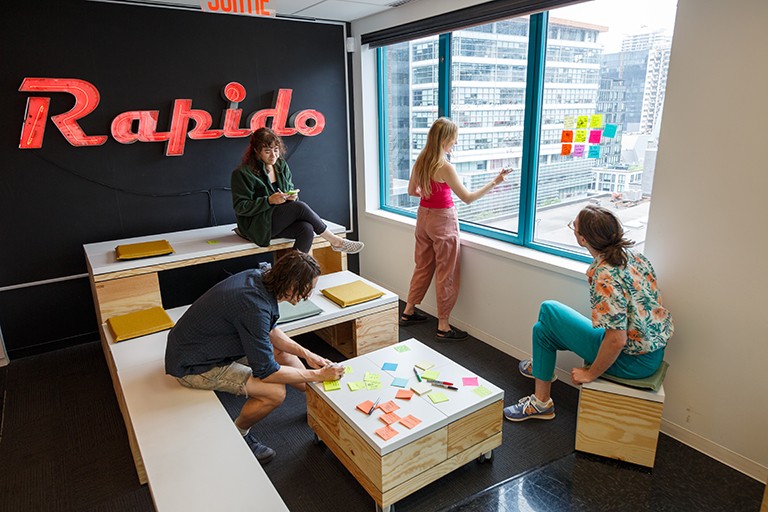 Re-use is a big part of implementing solutions during the design process. The "Rapido" sign on the wall is a part of the Montréal Signs Project. The sign brings a feature of the local urban landscape into the interiors and is the space's namesake, now known as the Rapido Lounge.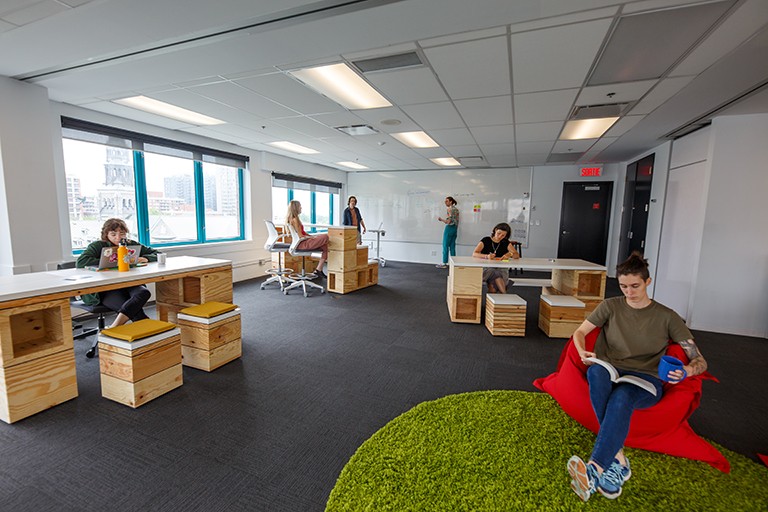 The District 3 offices encourage co-working and have shared desks. Shared spaces are flexible and equipped with flipcharts, whiteboards, and other tools.
"In creating floor seating on plush carpets we can harness an entirely different creative mindset than we would experience seated at a desk. In this way we have tried to push ourselves to use the space to its fullest potential, moving from seated, to standing, to sprawled on a beanbag chair throughout the day," says Betts.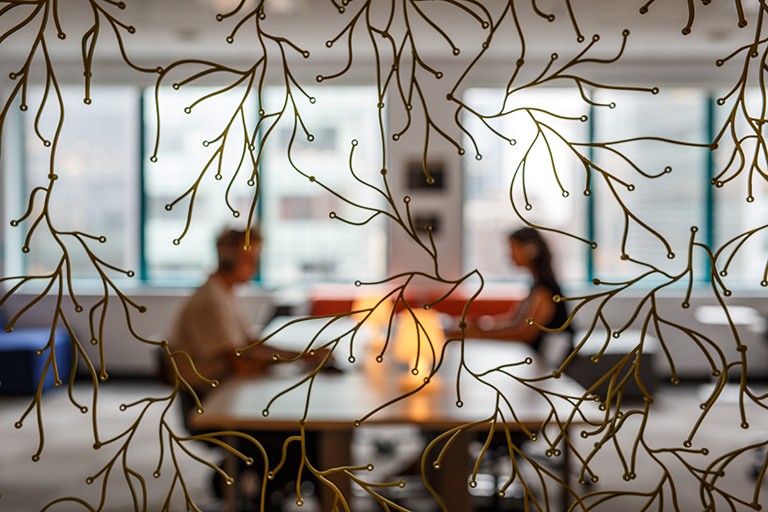 Plants and materials resembling nature, such as real wood surfaces and grass-like carpets, recall the natural environment. These elements facilitate stress reduction, increase productivity and enhance well-being. The space also has sounds from nature. Bird chirps are projected every hour for a few minutes.
"We created a space focused on the future and not the past," says Ehrhardt. "We created a home for dreamers, doers, thinkers, leaders and entrepreneurs — a space where art, science, design and engineering meet at the crossroads of innovation."

Explore the innovative new workspaces at Concordia's District 3 Innovation Hub and Next-Generation Cities Institute (NGCI).
Connect with District 3 online or with NGCI's Ivona Bossert at ivona.bossert@concordia.ca to learn about possibilities for collaboration.
---