Concordia prof and PhD candidate are part of a team awarded $1M for their research on genetic disease treatments
Canadian Institutes of Health Research are funding the work of Nawwaf Kharma and Nicholas Kamel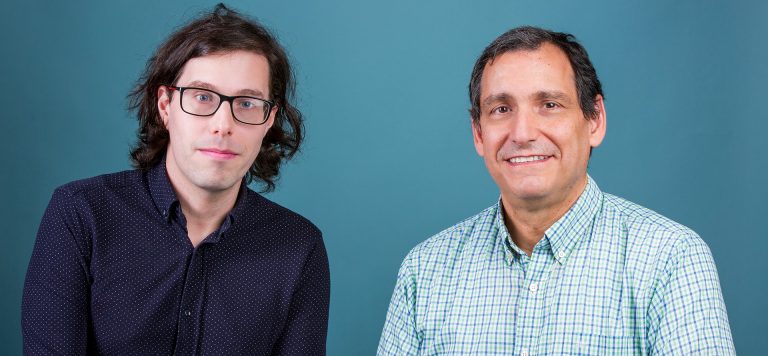 The Canadian Institutes of Health Research (CIHR) has awarded $1 million to a team of cross-disciplinary researchers for their work on potential treatments of three genetic diseases. Nawwaf Kharma, professor in Concordia's departments of Electrical and Computer Engineering and Biology, is among the researchers.
He will collaborate with Jonathan Perrault and Kessen Patten from the Institut national de la recherche scientifique (INRS) and Guy Rouleau, director of the Montreal Neurological Institute-Hospital (the Neuro). Patrick Dion from McGill University and Alex Parker from the Université de Montréal round out the team.
Their ultimate aim is ambitious: to treat diseases caused by repeat expansion disorders. This type of disorder is due to the mutation of inherited genes.
The mutation results in genes producing longer and harmful protein strands by repeating a three-letter code in their messages, known as tri-nucleotides. These disorders lead to diseases like oculopharyngeal muscular dystrophy (OPMD), Machado-Joseph disease (MJD) and Huntington's disease (HD).
The goal of the research is to silence the mutated gene that causes these diseases by using RNA enzymes, or ribozymes, to target the mutant mRNAs. Working with his PhD student Nicholas Kamel, Kharma re-engineered certain ribozymes to detect the length of repeats in the targeted mRNA strands.
Together, they cleaved the longer (or mutated) mRNA strands while leaving shorter strands intact. This should lead to a proportionate drop in the production of the aberrant proteins responsible for these diseases.
Kamel, who's pursuing his doctorate in electrical and computer engineering, developed the AI-powered algorithm and the web service, TriCleaver, that computationally evolves those selective ribozymes.
"Should our work on the algorithm be successful, it could have a tremendous impact on the treatment of these genetic disorders," Kharma says. "We remain cautious but optimistic about the outcome of this research."
Kharma's lab is responsible for the computational design and optimization of the selective ribozymes. Some of the in vitro vetting of the most promising ribozymes is performed at his Loyola Campus lab.
More intensive vetting will be carried out at the INRS. Then the ribozymes will be properly "packaged" for delivery into cells and model organisms (mice and worms) at the Neuro and Université de Montréal .
"It fills me with pride to see a respected colleague like Nawwaf working on this major grant," says Mourad Debbabi, dean of the Gina Cody School of Engineering and Computer Science, and professor and Honorary Concordia University Research Chair (Tier 1) at the Concordia Institute for Information Systems Engineering.
"It has the potential to radically improve the challenging task of treating these genetic diseases. This grant is a perfect example of how engineering and computer science can be used to better society in areas like healthcare. Dr. Kharma's collaboration with the Institut national de la recherche scientifique and the Montreal Neurological Institute-Hospital will undoubtedly open doors for the Gina Cody School to further its impact on healthcare research."
Kharma specializes in AI, including pattern recognition and classical machine learning, particularly evolutionary and heuristic algorithms. He is a member of the Centre for Pattern Recognition and Machine Intelligence (CENPARMI) and co-director of the Centre for Applied Synthetic Biology (CASB), both at Concordia.

Discover more about Concordia's Department of Electrical and Computer Engineering.
---