Concordia Public Scholar Aristofanis Soulikias explores the possibilities of handmade animation for urban design
'I really want the city to remain a place we enjoy as physical beings'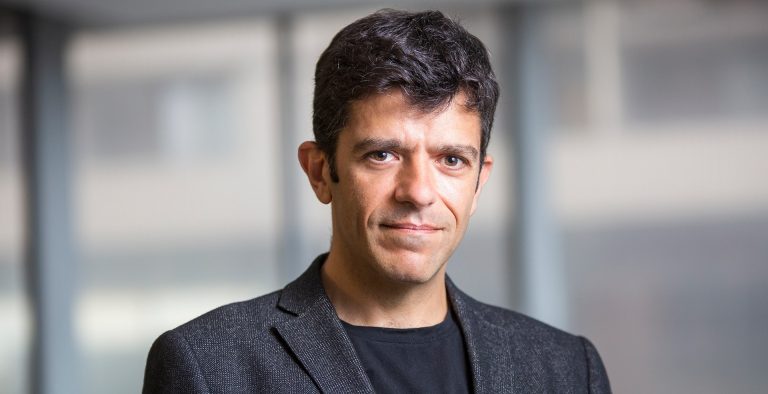 Concordia Public Scholar Aristofanis Soulikias, BFA 15, is exploring how cinema — in particular, handmade film animation techniques — can impact the way we imagine and design cities.
As we move toward an increasingly digitized world, Soulikias wonders how computer-generated images influence our perception of the built environment. By exploring various urban themes through handmade animation techniques, such as papercut silhouettes or drawn animation, he hopes to demonstrate new ways of designing and perceiving cities that are more humane.
Soulikias is a doctoral candidate in the Individualized Program (INDI), where he brings together his experiences as an architect and his skills and training in film animation.
While studying at the Mel Hoppenheim School of Cinema at Concordia, he created the animated documentary Last Dance on the Main, which was selected as one of Canada's Top 10 at the Toronto International Film Festival. The documentary highlighted the precarity of historic buildings on Montreal's Lower Main (Boulevard Saint-Laurent) and the resilience of its communities.
He was also awarded the prestigious Jorisch Family Artist Residency in Salzburg, Austria in 2019. There, he projected a handmade animation on a neo-medieval tower, with the goal of revealing the history and materiality of the building.
Soulikias will host a discussion with experts in the field of animation and public art, and showcase various film animation techniques at a roundtable event, While the Animated City Still Breathes, at Concordia's 4TH SPACE on March 21 from 4 to 6 p.m.
His research is funded by the Social Sciences and Humanities Research Council (SSHRC).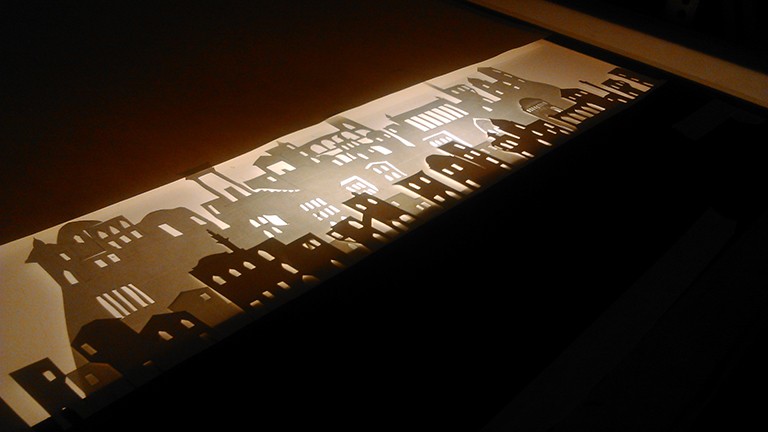 Soulikias assembles papercut silhouettes for a scene in his animated film "In the Shadow of Mount Damavand."
'We have been distancing ourselves from our built environment and from tactile ways of making things'
What are you hoping to accomplish through your research?
Aristofanis Soulikias: I'm trying to show that handmade or tactile ways of representing cities may have an actual impact on their built environment.
Scholars have long suggested that cinema has been the ideal means to express the life and materiality of the modern, fast-paced city. New research is also pointing to the fact that through drawing we have a better sense of what we're designing and how we build.
So, I'm suggesting cinema that is drawn meticulously frame by frame, namely film animation, could be the perfect medium to sense, express and communicate the city. If not perfect, it is definitely a different way of doing it, a way where the body still has an important place in our world, which is becoming more and more virtual.
We have been distancing ourselves from our built environment and from tactile ways of making things. We tend to do everything on the computer. What I'm saying is that the way our cities are becoming may have to do with the way we're designing them using computers. If we stop neglecting handmade practices in making images or designs of our cities, then perhaps cities will become more humane and closer to our bodies.
What methods are you using to conduct your research?
AS: I'm currently exploring various urban themes — the park, the mall and the festival, for example. I'm making various attempts to use handmade techniques, such as the papercut silhouette technique, drawn animation and charcoal animation.
By exploring these various ways of making animation, I may demonstrate new ways of designing, but also perceiving our cities. What do we perceive about a city in an animated film with a strong handmade component that we don't perceive in a computer-generated image (CGI)? There's a lot of hype around CGI and its exactitude, its photorealism. But maybe that's not the point. Maybe it is about our more visceral feelings about what a city really is. The tactile element in handmade visualizations somehow seeps into the viewer. My hope is that we can appreciate tactile ways of understanding space and cities. I love the city. I really want the city to remain a place that we enjoy as physical beings.
Are there any common misconceptions about your research?
AS: One may accuse me of being reactionary or nostalgic. On the contrary, I am looking to the future and how technology is not an obstacle but, instead, can facilitate these handmade techniques and, by extension, bring forth the very things that are worthy in the organized yet messy business which is the city. The distinction is that I want to use technology as a tool, rather than have technology limit our senses and, ultimately, our sense of place.

Join the roundtable event, While the Animated City Still Breathes, at 4TH SPACE (1400 De Maisonneuve Blvd. W.) or watch online on March 21 from 4 to 6 p.m.
Learn more about Concordia's Public Scholar Program.
---