Concordia is offering a summer public artwork course in partnership with the Réseau Express Métropolitain
Professors Kelly Jazvac and Juan Ortiz-Apuy will support students in creating sustainable projects in downtown Montreal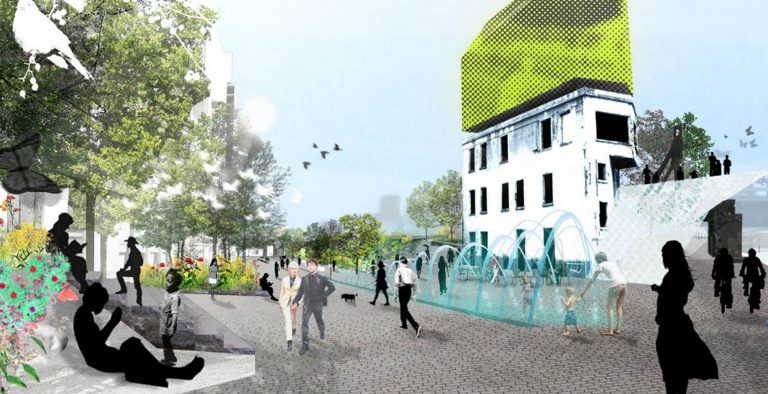 Students from Montreal's four main universities will work together next summer to build temporary public art works along a crucial portion of the new Réseau express métropolitain (REM) rail line as it enters the Griffintown neighbourhood.
Public Art and Sustainability is a Concordia course offered as part of the REM network's deployment and the Government of Quebec's Programme d'intégration des oeuvres d'art aux bâtiments et lieux publics. It provides a hands-on learning opportunity for students to create public art works and ground their creative practice in theoretical knowledge on public art as well as critical understandings of site specificity.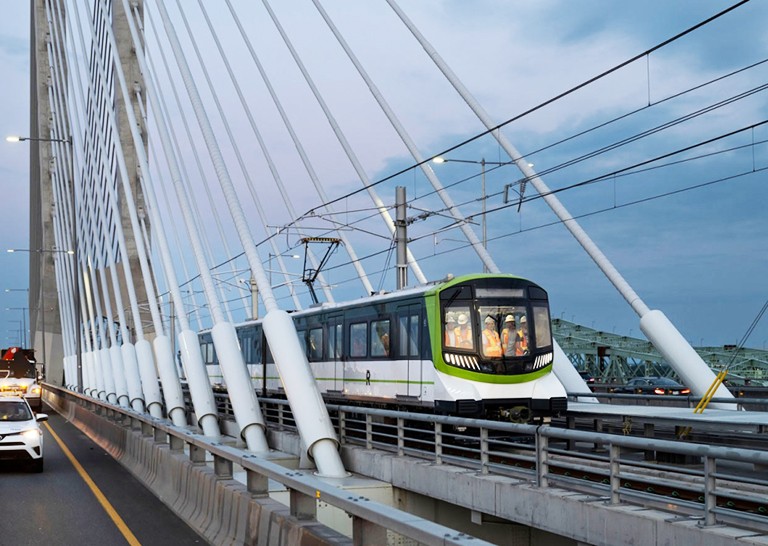 A link between the means of transportation and the identity of a place
Marie-Justine Snider, curator of the art collection of the Caisse de dépôt et placement du Québec, is responsible for the REM art program. She reports that all public infrastructure projects related to transportation have artistic projects tied to them.
"It's really a way to create a link between the users and the means of transportation. It's really to mark an identity of the place," Snider says.
"And this is one of the most beautiful places in the whole history of industrial Montreal, so it's quite a rich place to start with."
Including Montreal's universities in the art-making process is a new twist, though. After having participated in many public art competitions, Snider saw a knowledge gap: many working artists do not have the experience or proper skills to develop public art proposals.
"I thought it would be great to integrate that into school curricula to learn how to navigate a project with all the components of the public space," she adds.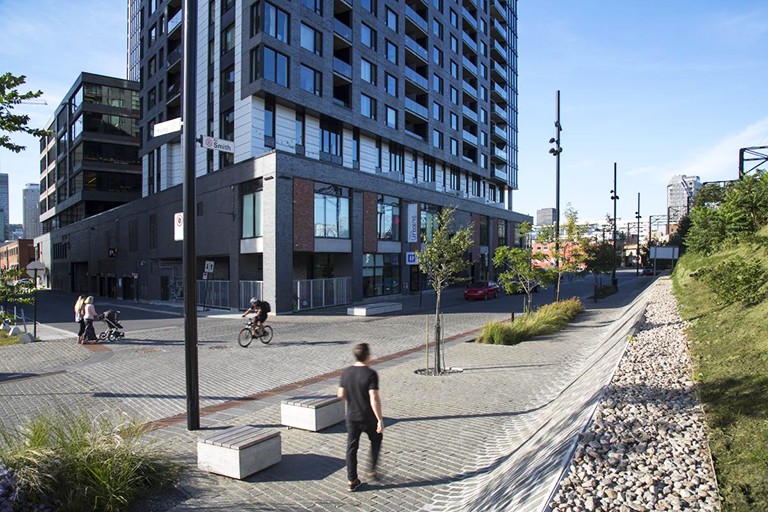 Smith Promenade, Griffintown. | Image courtesy of NIP Paysage
A professional opportunity that gives students an entry into the public art world
Kelly Jazvac, associate professor of sculpture, is co-teaching the course with Juan Ortiz-Apuy, assistant professor of sculpture. Ortiz-Apuy says that the course will provide an opportunity for students to develop an art project in a real public space and receive expert support throughout the entire process.
"People will collaborate, work in teams, manage a budget and they will work with technicians at Concordia," he says. "They'll have access to our facilities, and they'll learn about the responsibilities of working safely in a public site."
Starting in May, students will break into groups to develop multiple projects that will be on display in August 2023. Each team will feature students from design, architecture and art backgrounds, highlighting the interdisciplinary element of the course, which is open to students from Concordia, UQAM, McGill University and Université de Montréal.
"This is an exciting professional opportunity that gives students an entry into the public art world," Jazvac says. "It will become something they can use on their CV to secure public art commissions in the future."
Learning the responsibilities of an artist to make public artwork sustainably
The focus on sustainable art practices reflects the research interests of the instructors. Students will take into consideration the land, site and materials, and environmentally friendly working practices will be a requirement for all artworks produced during the course.
"The theme will help them think about the planning and the execution and also how to dismantle the piece responsibly, both in terms of their responsibilities as an artist making public artwork but also in terms of sustainability," Jazvac explains.
During the course students will explore alternative material possibilities to typical public art materials. Instead of concrete, for example, they will build using plants, natural plasters or recuperated materials.
"What we don't want is students making a temporary public artwork and then taking it to the landfill afterwards," she says.
Part of a four-year project between Montreal universities
The course is part of a four-year project with the REM. While this first iteration will be hosted by Concordia, in subsequent years UQAM, McGill and UdeM will offer their own versions of the summer course. Concordians will be eligible to take those courses as well.
The deadline to apply for Sustainability and Public Art is April 10, 2023. The course starts May 22 and include a field trip to New York City and non-synchronous group work during the summer. The works will be installed and on display in August.

Find out how to apply for Concordia's Public Art and Sustainability summer course.
---