Bouclair's new Galerie B showcases Concordia student artists
'This project proves there are opportunities for us'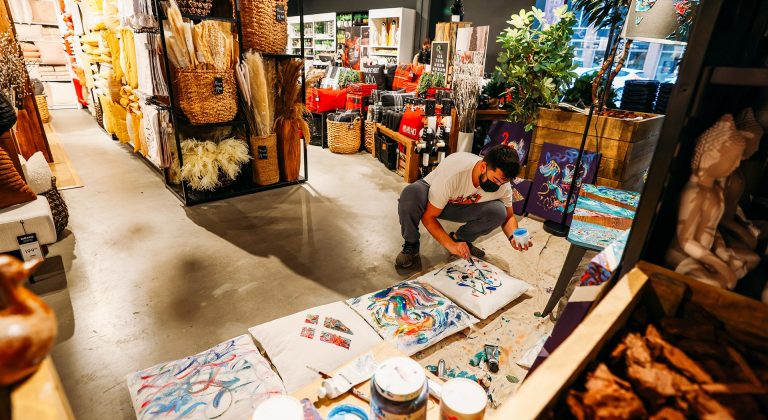 Home furnishings retailer Bouclair's new Griffintown store in Montreal includes a space called Galerie B, which showcases the work of up-and-coming local artists in a variety of disciplines and is curated by the creative firm LNDMRK.
Five Concordia fine arts students have been featured at Galerie B to date, and they are part of a group exhibition on now until February 6.
The students are Paulina Bereza, Studio Art (fibres and material practice); Alice Zerini-Le Reste, Studio Art (ceramics); Diane Roe, Art History and Studio Art (print media), Octavious Jones, Studio Art (sculpture) and Emiliano Moreno Quesada, Studio Art (sculpture). Bouclair produced videos of all the artists and received media coverage in such publications as the Journal de Montréal.
Roe says her work with Galerie B has given her prospects a boost, including helping her earn a contract with MU, the charitable organization aiming to transform Montreal into an open-air mural museum.
"Galerie B was great exposure," she notes. "I've been getting a lot of contacts and people messaging me for more projects. It has opened up doors."
Jones agrees the Galerie B collaboration has been a great experience. "I've had opportunities presented to me as a result," he says. "I've met a lot of people who are interested in my future work. This Galerie B project proves there are opportunities for us."
'We wanted to provide emerging artists with a platform'
Bouclair owner, president and CEO Peter Goldberg hopes Galerie B will not only inspire and support emerging artists but also encourage other businesses to do the same.
"We were inspired by Art Basel and Times Square. We wanted to launch Galerie B in our new Griffintown store to provide emerging artists with a platform to showcase their work and share their art with the city," Goldberg explains.
"At the core of our business is creativity, and we are pleased to support and encourage up-and-coming talent. We do not necessarily know where this project will take us, but I believe that if we are successful we might be able to inspire other companies to launch similar efforts as well as entertain the community."
LNDMRK worked intensively with the students on their contracts, selection and presentation.
"Bouclair wanted to support the next generation of emerging student visual artists, and we knew that Concordia has a really good art school, so we got in touch," says LNDMRK president and founder Alexis Froissart.
"Everyone was really excited about this initiative. We really liked that Bouclair wanted to help start a new journey for these students, help them make the transition from doing academic stuff to commercial stuff. I'm very proud of this project and we will continue to push for similar collaborations."
Marc Wieser, supervisor of the strategic initiatives portfolio in Concordia's Faculty of Fine Arts, says he's also thrilled with the results.
"Our students have had a positive experience with Bouclair, working with professional contracts, giving live demonstrations of their practices and exhibiting their art at Galerie B," he says.
"This is another example of our commitment to hands-on experiential learning in the Faculty of Fine Arts. We believe it is essential for students to pick up professional skills from real-world opportunities as they prepare to launch their careers."

Find out more about Concordia's Faculty of Fine Arts.
The group exhibit at Galerie B (1040 Wellington St.) featuring five Concordia students runs until February 6.
---