Concordia graduate course hits the streets to study Montreal's new light-rail network
Students in the Master of Environmental Assessment program will hear from stakeholders for and against the Réseau express métropolitain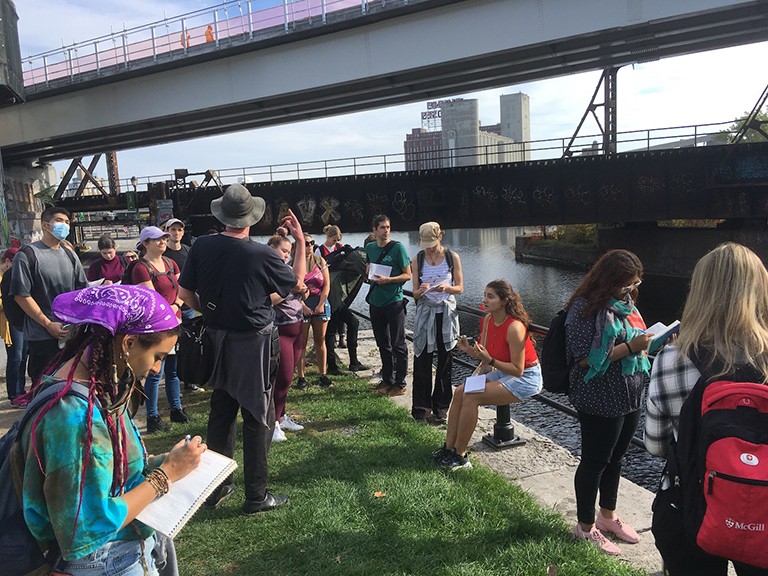 If you're like many Montrealers, you've already heard a lot about the new Réseau express métropolitain (REM) public transit project.
The automated light-rail network is the largest transit project undertaken in Quebec in 50 years. And with 26 stations and 67 kilometres of tracks, it's set to transform the landscape of the city and its neighbouring municipalities.
The new trains will be rolling out over the next two to three years — connecting passengers from Deux-Montagnes to Dorval to Brossard.
The project is not without controversy, however.
The range of stakeholder opinions, many of them polarized, inspired Sébastien Caquard, associate professor of geography, planning and the environment in the Faculty of Arts and Science, to modify an existing course to focus on the REM. Caquard is director of the Master of Environmental Assessment (MEnv) program at Concordia as well as co-director of the Centre for Oral history and Digital Storytelling.
Pivoting during a pandemic
Since 2016, his course took students to Abitibi, Quebec, to study the environmental and social impacts of mining projects. But last year the COVID-19 pandemic rendered that impossible. So this year, Caquard is keeping things closer to home.
"I decided to study a project that could be accessible on a daily basis with public transportation. The REM was an excellent candidate," he explains.
"This is a highly relevant project for a field course in environmental assessment since it will have — and already has had — very important economic, social and environmental impacts. These impacts are extremely complex and will affect Montrealers for decades. It makes it even more exciting to study from a pedagogical perspective."
The course focuses on the first segment, REM de l'ouest, since it has already gone through an environmental-assessment process.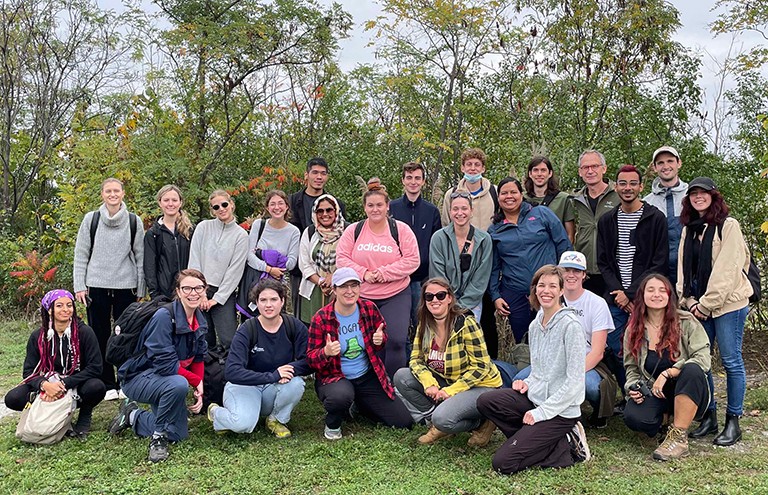 Hearing different perspectives
Caquard has assembled a diverse array of guest speakers, each of whom offered a unique perspective on the project and on their professional practices related to environmental assessment.
"We met with individuals who are involved in the project at different levels, including representatives from developers CDPQ Infra and from the Bureau d'audience publiques sur l'environnement du Québec, individuals who study the project and its impact, including a lawyer, public transportation expert, hydrogeologist and biologist, and individuals who oppose the project, such as activists and NGOs."
The class met speakers at different locations along the REM route, including in the Griffintown neighbourhood and at Technoparc Montréal.
"The idea is to expose the students to the diversity and the complexity of the impact and perspectives on such a large project," Caquard says.
Going beyond the campus
Caquard adds that it is important to be able to bring students outdoors again.
"This field course was implemented with the idea of taking students outside of the walls of the university, to make them experience what people say and how they feel about development projects and their environmental and social consequences."

Learn more about Concordia's Master of Environmental Assessment program.
---