Concordia's Early Childhood and Elementary Education program celebrates 50+ years of innovation
'Our students are a viable presence in school systems around Montreal, across the country and internationally'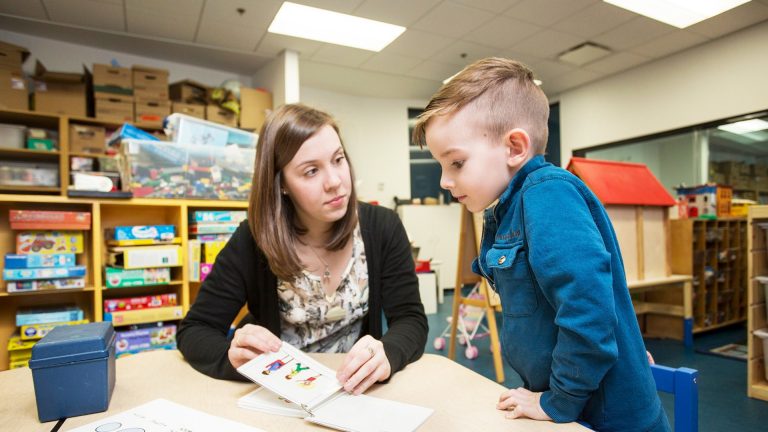 The Early Childhood and Elementary Education (ECEE) program at Concordia is looking back on five decades of success.
The groundbreaking program launched in 1971 in the Faculty of Arts and Science's Department of Education at Sir George Williams University, one of Concordia's founding institutions. It initially focused on pre-kindergarten education, expanding over the years to cover educational training for children aged two to 12.
The program offers electives on topics such as values, second languages and human, social and natural sciences. Its observational nursery, hands-on fieldwork and close-knit community are also all important aspects of the program.
Teaching based on child development
Ellen Jacobs, distinguished professor emerita, founded the program. "At the outset, there were just a few of us, and most were part-timers," she recalls.
The program quickly grew.
"The ECEE program was designed around theories of child development and the curriculum was a reflection of this," Jacobs reports.
"We also believed that our students should have hands-on classroom experiences early in the program and so there was an internship associated with each year of the program, which was quite unusual at the time."
A proven track record
Retired professor Nina Howe was also involved with the program from early on. She is quick to point out its proven track record in producing childhood educators.
"We've had great success," she says. "Our students are a viable presence in school systems around Montreal, across the country and sometimes internationally."
Howe and Jacobs have co-authored a chapter on the anniversary for an upcoming book on Concordia's 50th anniversary. As Howe explains, "It will cover all the changes that have gone on over the years — curriculum changes, changes to faculty, as well as ideas on what we could do to keep making the program stronger."
From Lebanon to Concordia
Dana Naoufal, MA 17, is head teacher at the program's observation nursery.
Originally from Lebanon, she relates that her experiences working with children in refugee and war situations informed her focus on the impact of immigration on children.
These days, Naoufal says she's enjoying her role at the nursery. "It's nice, because you can work with each child, and you can observe interactions that you might not observe in a bigger classroom," she notes.
"And I really like learning through play and how we follow the children's interests."
A friendly environment for continuing education
Kelly Crowdis-Brissette, BA 95, BA 12, MA 21 enrolled in the Early Childhood and Elementary Development program as a mature student. In 2021 she earned her master's degree in child studies and now works as a teacher.
Crowdis-Brissette credits Concordia's friendly approach to continuing education, including evening classes, with helping her complete her degree.
"The program is phenomenal as far as supporting working students and students who are parents," she says. "If you had a particular reason for being absent from class or needing an extension on a deadline, they were always very understanding."
Nonetheless, she adds, the bar is set very high. "So, it's not a program that you can just float through either," Crowdis-Brissette says. "You have to work hard, but at the end of the day, you know you've earned every piece of your success."
'When they graduate, they are ready'
Nathalie Rothschild is the program's current director. "We always tell students, it's competitive to get in. But once you do, that kind of disappears," she shares.
"There's a lot that makes the program special, but the students and how supportive they are of one another is something that always impresses me."
Rothschild took over the position when the previous director, Sara Weinberg, MA 79, passed away four years ago. An award was subsequently established in Weinberg's name.
"Sara was incredibly warm and kind," Rothschild recalls. "I think those are some of the elements that make our program very close-knit."
She adds that the program's unique offerings and atmosphere prepare students for a career in education, so much so that many will begin working the day after their last internship.
"When they graduate, they are ready," Rothschild says. "I feel really good about the teachers who are coming out of this program."

Find out more about Concordia's Early Childhood and Elementary Education program.
---