Concordia launches the Accessibility Hub
The new website provides information on university services, resources, policies and more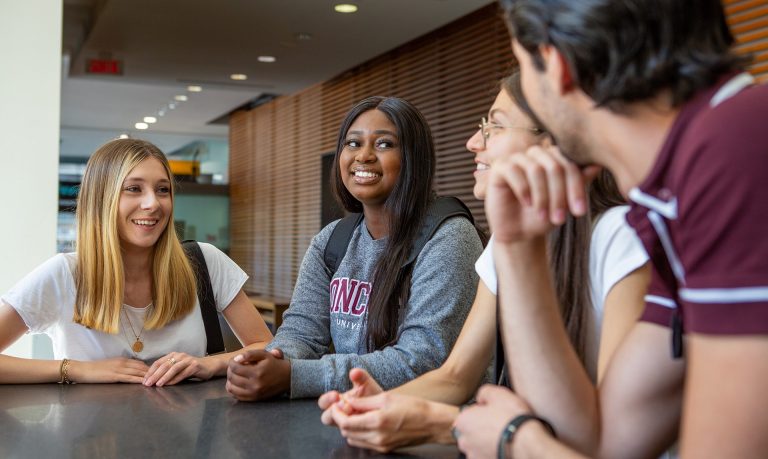 Ahead of the International Day of Persons with Disabilities on December 3, Concordia has launched a new Accessibility Hub. The hub is a one-stop online resource on accessibility and disability at the university.
"Accessibility is a collective responsibility, and the successful launch of the hub is the culmination of months of work of the Accessibility Advisory Committee chaired by Anna Barrafato, the accessibility change lead at the Equity Office," says Lisa White, executive director of Concordia's Equity Office.
"I commend their efforts and the support of senior leaders towards this incredibly meaningful initiative."
In addition to providing all Concordians with information on accessible event planning, facilities management, instructor resources and more, the hub also highlights the Policy on Accessibility and Accommodation for Students and Employees.
The policy is inclusive of all Concordia community members and outlines the university's commitment to preventing, identifying and/or removing barriers for persons with disabilities. It aims to ensure access to services, events, activities, facilities, premises and buildings, employment, digital structures and university processes and accommodation.
Anna Barrafato says she hopes Concordians will integrate accessibility and disability awareness and action into all that they do. She launched an accessibility learning series last term as a means of bringing awareness to the campus community.
"I'm confident the hub will serve as an invaluable tool for those seeking information on accessibility resources on one site, without needing to search through numerous webpages," Barrafato says.
'Opens pathways to learning and mutual respect'
Irene Feher, part-time faculty member in Concordia's Department of Music, has lived with low vision all her life. She describes the hub's launch as meaningful for her both professionally and personally.
"Having a resource that communicates information supported by stories of lived experiences promotes awareness and understanding of disability," she says. "Bravo to Concordia for confronting ableism and stigma with a project that opens pathways to learning and mutual respect."
The hub and Concordia's new accessibility policy are part of the university's renewed commitment to Universal Design for Learning, an educational framework that guides the design of learning goals, materials, methods and assessments while keeping the diversity of learners in mind.
Concordia is also committed to making its website accessible to everyone regardless of disability, device or technical constraint. To help reduce barriers on campus, the university has also introduced several new measures, including priority boarding and reserved seating on its shuttle buses.
Not all disabilities are visible
Elana Bloom, director of Campus Wellness and Support Services — which includes the Access Centre for Students with Disabilities — says it's important to be mindful that not all disabilities are visible.
"There are many Concordians with invisible disabilities, so one of the first steps to becoming more inclusive and removing barriers is building awareness of the hidden disabilities that exist," she notes.
"The hub will provide Concordians and campus visitors who live with invisible and/or visible disabilities with resources to help them better navigate the digital or physical campus and further improve their university experience. I support the university's commitment to this work."
Sarah Fakhri, a second-year Business Technology Management student who lives with an invisible disability, says she hopes fellow students can become increasingly mindful of some of the challenges Concordia staff, faculty and students with disabilities can face on campus.
"Living with a disability means that you have to find ways to make the world around you work in ways that others might not understand. This could be incredibly challenging and finding the right support system is key," she points out.
"It is important to spread awareness about creating more inclusive spaces which accommodate those with disabilities. The hub is a great resource for accessibility and strives to do such a thing."

Explore Concordia's Accessibility Hub and learn about the new Accessibility Policy.
---