Concordia Public Scholar Arwa Hussain explores why her community's Muslim women choose to wear the hijab
'The aim of my research is to break stereotypes'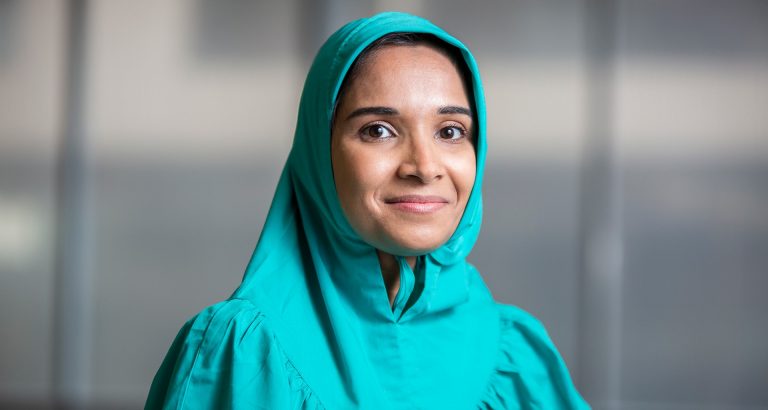 Concordia Public Scholar Arwa Hussain wants people to know that, for most Muslim women, wearing the hijab is a choice — not an obligation. Through her research, Hussain aims to show that Muslim women have complex and multifaceted lives and often embrace religious traditions.
The PhD candidate in religion is investigating why the women of a small Islamic community, the Dawoodi Bohras, choose to live religious lives and wear a type of hijab called the rida.
The research is deeply personal for Hussain, who is herself a member of the Dawoodi Bohras, and will be the first of its kind to shed light on the women of this community.
Her research is supported by the Fonds de recherche du Québec – Société et culture and Concordia.
Hussain will be discussing the role social media plays in both empowering Muslim women and exposing them to online abuse at 4TH SPACE on December 8. The public is invited to watch the roundtable event, Representation, Identity and Experience, in person or online.
'Men and women in my community are seen as equal'
What got you interested in studying why Muslim women choose to adopt religious identities?
Arwa Hussain: I am a Muslim woman who covers and who is from a small Muslim community. I've always had questions from people about me and certain assumptions that come with looking at me. As a woman doing a PhD in Quebec, people don't understand why I still choose to wear a religious symbol as an educated woman.
My research focus is centred on the women in my own Muslim community, called the Dawoodi Bohras. The aim of my research is to break stereotypes. We are a very educated, forward-thinking community where women have a lot of freedom to make their choices. And one of those choices is to live a religious life and wear religious dress.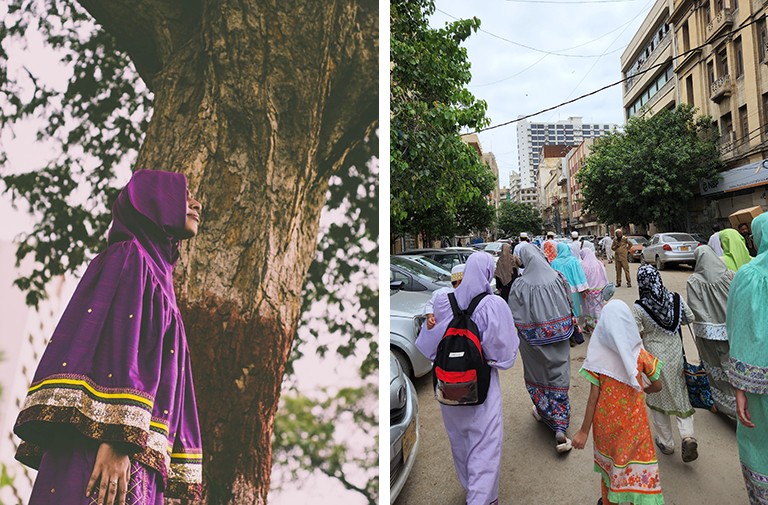 "The rida inspires a lot of curiosity because it's very different from other hijabs." | Photos by Arwa Hussain
Can you tell me more about your community?
AH: We are a sect of what is called Fatimi Isma'ili Islam, but we have our own culture, customs, way of life and language. Our sect has an estimated one million members in North America, India, Pakistan and Africa.
Education is a big deal for both men and women. In my community they are seen as equal. We're a very entrepreneurial community. Often, it is women who will set up and run businesses, either from home or online.
The rida is a unique kind of hijab to our community. It's very distinctive and is generally very colourful and embellished. From personal experience, the rida inspires a lot of curiosity because it's very different from other hijabs.
How are you conducting your research?
AH: Because social media has become such an important way to connect, I'm contacting members of the community through those channels and we're going to do virtual interviews.
Life stories are my primary methodology. We're going to talk about why they decided to start wearing the rida — because it's not compulsory, not all women wear it. I'm looking at women who have made the deliberate choice to wear it in their lives full time. What led them to their choices? What are their ideas about gender roles, marriage and motherhood?
What kind of impact do you want your research to have?
AH: I really want to start the dialogue on why we should be highlighting the voices of Muslim women. So often, we're erased from conversations. Living in Quebec, Bill 21 is a very stark reminder that Muslim women are viewed as not having agency despite us screaming from the rooftops that wearing the hijab is our choice.
Wearing the hijab doesn't affect who we are as people, how we think or how we live our lives. My intention is to show that our lives are much more complex and multifaceted than just this one outward identity marker people fixate upon.

Learn more about Concordia's Public Scholar Program.
Join the roundtable event, Representation, Identity and Experience, at 4TH SPACE (1400 De Maisonneuve Blvd. W.) or watch online, on December 8, 4 – 5:30 p.m.
---