Montreal Chamber of Commerce report confirms higher education's significant economic impact
The CCMM found that higher-ed institutions increased the city's GDP by about $26.2 billion in 2019-20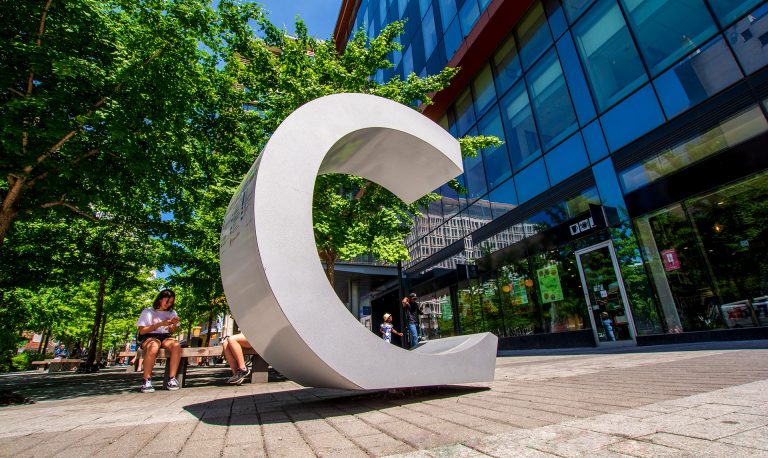 A newly published report by the Chamber of Commerce of Metropolitan Montreal (la Chambre de commerce du Montréal métropolitain, CCMM) reaffirms the findings of its 2016 study: higher education's economic benefit to the city is measurable and substantial.
"By contributing to the development of human capital through the knowledge transmitted to their graduates and the creation and dissemination of knowledge, universities increase the productivity of society as a whole," the report says.
The CCMM study, called "The contribution of universities in Greater Montreal to the Quebec economy," found that institutions of higher education increased the city's GDP by about $26.2 billion in 2019-20. Economic spinoffs related to university spending added $4.3 billion and that of international students reached $3.4 billion.
Universities don't only transmit knowledge. "They play a fundamental role in its creation, by conducting 40 per cent of research and development activities in Quebec," the report adds.
"The CCMM report validates what we've known for a long time: that Montreal's universities are major contributors to the economic well-being of our city, but also that through our world-class research, innovation and experiences we offer to students we contribute massively to the positive identity of Montreal around the world," says Concordia President Graham Carr.
Contributions and spinoffs
The CCMM examined data from the 2019-20 academic year, the latest available, when students were still mostly on campus immediately prior to the COVD-19 pandemic.
The report updated the main findings of the CCMM's 2016 study. It considered two angles:
• The contribution of universities, through the creation and transmission of knowledge, to prosperity in a knowledge society
• The economic spinoffs related to the size of the student pool, especially international students, as well as university spending, particularly in research and development
According to the report, more than 173,000 students lived in Greater Montreal in 2019-20, about four per cent of the total population. That included a significant increase of international students — nearly 35 per cent more — compared to 2014-15.
Counting undergraduate and graduate students, international students made up about 18 per cent of the student population, "a proportion that increases sharply within master's and doctoral programs and has increased by three per cent since the last study published in 2016."
Montreal's reputation as the top Canadian destination for international students, reiterated in the QS Best Student Cities Rankings 2022, certainly helps. "Greater Montreal stands out favourably from several other regions of the world when it comes to attracting international students," the report says.
It adds that international students benefit the economy through, among other ways, their spending, job creation and taxes paid.
However, it notes that even with a 35 per cent increase, Quebec lagged behind Ontario and British Columbia. The two Canadian provinces saw jumps of international students of 66 per cent and 44 per cent, respectively, over the same period.
Concordia actually fared better than the Quebec average. From 2014-15 to 2019-20, the total number of international students at the university climbed by 44.6 per cent. The number of international graduate students rose by 74.6 per cent — 81.6 per cent for international PhD students.
The report emphasizes that governments must continue to properly fund universities and support their efforts to attract international students.
"In order to prosper, large metropolitan areas such as Montreal must be able to count on an educated population with a solid knowledge background. Academic institutions are at the very heart of the knowledge-transmission mechanism," the report concludes.
"In order to support long-term economic growth, Quebec must continue to promote and support its universities."
Advancing prosperity
The CCMM report's findings underline the relevance and timeliness of two recent announcements at Concordia.
Starting this fall, the university will offer every incoming undergraduate student a chance for at least one course-based experiential learning opportunity during the course of their degree. And beginning in 2025, Concordia aims to make two-experiential learning opportunities available to new students.
"We're committed to providing all our students with the tools necessary to make a smooth transition to life after university," Carr says.
"Through work-integrated learning, study-abroad opportunities, research, community-based or co-curricular experience, we want our students to be future-ready in terms of pursuing their own careers, but also in terms of contributing their talent and commitment as citizens to the changing needs of society."
And Concordia's Mel Hoppenheim School of Cinema, already one of the leading film schools in Canada, will triple the capacity of its film production programs, up to 220 students, by 2024.
"The school's expansion is the direct result of the great demand by the film and television industry for our highly trained students," Carr says.
"Our commitment to experiential learning and to growing our cinema school make good on the CCMM's call for continued investment in 'la connaissance et le savoir'," he adds.
"We're committed to deepening the value of university education both for students and for society, and we believe these outcomes will also contribute to the future prosperity of Quebec and Canada."

Learn more about experiential learning at Concordia and the Mel Hoppenheim School of Cinema.
---