Concordia's newest Public Scholars will spend the next year showcasing their doctoral research
The successful program has expanded its media partnership to include Le Devoir and The Conversation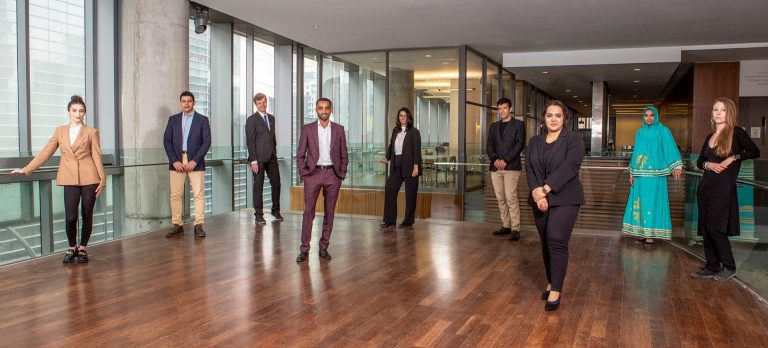 Concordia has selected its 2022-23 Public Scholars. The 10 talented doctoral candidates represent the university's very best graduate researchers and were chosen for their academic excellence, diversity of research and community engagement.
The Public Scholars are tackling a wide range of subjects, from sustainable buildings to the role of race in gentrification to the use of artificial intelligence to discover powerful new antibiotics.
Launched in 2016 in partnership with the Montreal Gazette, Concordia's Public Scholars program is expanding its media partnerships to include Le Devoir and The Conversation. These highly respected media organizations will help the Public Scholars engage with more communities in Quebec, Canada and beyond.
"We're thrilled to partner with these top media organizations to help further showcase the outstanding research being conducted by our graduate students," says Faye Diamantoudi, interim dean of graduate studies.
"The goal of our Public Scholars program is to share the exciting and meaningful research happening at Concordia with our broader communities and these new partnerships will greatly enhance our ability to do so."
This year for the first time candidates had to complete eight weeks of communications training to be eligible to apply. The Public Scholars will spend the next year putting what they learned into practice by giving media interviews, publishing blogs and op-eds, hosting public events and much more.
The 2022-23 Concordia Public Scholars
Andréa Cartile, Mechanical Engineering
How can we better support the complex interactions between people, process and product in aircraft design and development?
Aristofanis Soulikias, Individualized Program (INDI)
How can the city be sensed, understood and expressed in film animation techniques that involve handmade physical material?
Arwa Hussain, Religions and Culture
Why do women's choices to live religious lives need to be understood and what role has social media played in shaping this choice?
Ghalia Shamayleh, Marketing
How do the affordances of digitized therapy impact the delivery of mental-health services for both providers and consumers?
Hone Mandefro Belaye, Sociology and Anthropology
How do residents of condominium houses describe their relationship with their new material, social and institutional environments?
Mieko Tarrius, Geography, Planning and Environment
To what extent does tech-led gentrification intertwine with race and white privilege?
Mostafa Saad, Building Engineering
How can we create a robust and quick method to increase building decarbonization practices?
Scott DeJong, Communication Studies
How do the media literacy concepts we teach about educational games translate to the practices of users online?
Vrinda Nair, Physics
Can we find new powerful antibiotics using artificial intelligence?
Varda Nisar, Art History
Where do museums in Pakistan fit within the larger political upheavals that the country has experienced?

Learn more about Concordia's 2022-23 Public Scholars.
---