A Concordia journalism project in Inukjuak explores the first hydroelectric dam in Arctic Quebec
Aphrodite Salas travels north with her students to learn directly from Inuit 'clean energy leaders'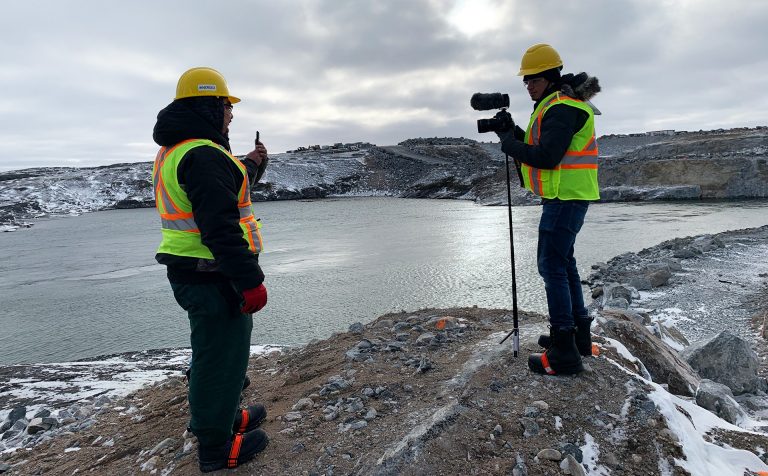 Aphrodite Salas (MA 99), assistant professor of journalism in Concordia's Faculty of Arts and Science, travelled to Inukjuak with her students in November on a collaborative project exploring the first hydroelectric dam in Arctic Quebec.
"While I am technically teaching the students how to do journalism, the community members are teaching us so much more," says Salas, who is also graduate diploma program director in the Department of Journalism.
"Overall, the experience is one that demands a lot of deep thinking — about the disastrous effects of colonialism, the historically racist and stereotypical Indigenous representations in Canadian mass media and what our role is as journalists as we move forward."
The trip to the Inuit community of Inukjuak has been two years in the making. Before leaving, the students received training through the organization Journalists for Human Rights (JHR). JHR arranged for The Globe and Mail reporter Willow Fiddler to talk about how to approach assignments in Indigenous communities as non-Indigenous journalists.
They focused on readings including the final report of the Truth and Reconciliation Commission of Canada and its calls to action regarding journalism, the history of Inukjuak, the impact of colonialism in Nunavik, and reflections on the students' own positionality and perspectives regarding media and reconciliation.
"In Inukjuak, the story itself is impressive," Salas says. "They are clean energy leaders, and it is a privilege to work together and train journalism students to report responsibly and collaboratively on this topic."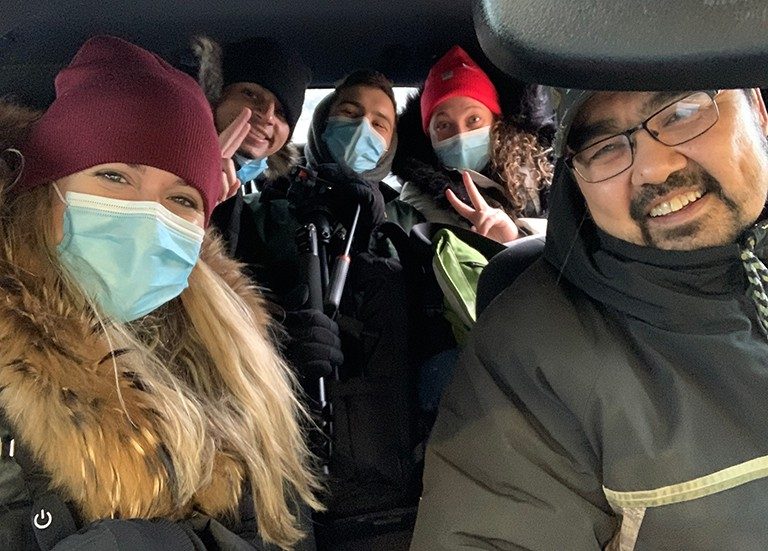 'A spirit of reciprocity and trust'
Eric Atagotaaluk from the Pituvik Landholding Corporation was their main community contact, giving the team specialized training before their trip north.
"It was well planned in advance before their arrival to our community in order to gather the most information as possible and to be able to speak to the most people as possible about the project," Atagotaaluk says.
"I believe the length of their stay was necessary in order to get the facts right and to be able to gather as much insight about the project as well as the people involved in the project. We certainly appreciated the time they took to learn as much as possible about our community, the project and the people."
Atagotaaluk shared a story of perseverance and climate leadership, one that has developed in Inukjuak over almost 20 years. When the community decided to move away from diesel energy, they investigated several clean power alternatives and decided the most feasible option was hydroelectric power, which they would create by building Arctic Quebec's first dam.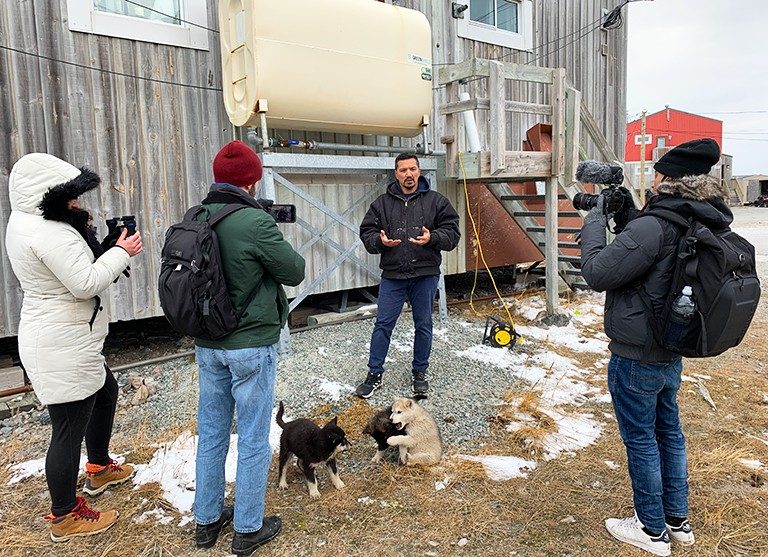 The community partnered with Quebec clean energy developer Innergex to build the project. The goal is to generate both clean power and revenue that will provide long-term development opportunities in the region.
Salas and her students will produce a documentary film on climate leadership in Inukjuak that will be published on the CTV Montreal website this spring, along with multimedia elements that will highlight different aspects of the story. The process is collaborative and involves consulting with community members throughout.
"This is really a story of a community wanting to stand on its own feet, depending less on the limited regional and government assistance to create jobs and badly needed services for its growing community as well as taking its part in the fight against the climate crisis," says Tommy Palliser (BCom 03), a community leader and executive director of the Nunavik Marine Region Wildlife Board prominently featured in the documentary.
"I truly appreciated the Concordia team's involvement and support to share our stories, our challenges and issues with the rest of Canada."
The project is part of Salas's research into conciliatory and collaborative forms of journalism. It began in 2018 when she travelled to Kiashke Zaaging Anishinaabek-Gull Bay First Nation with a small group of journalism students to produce a documentary and multimedia feature story on a cutting-edge solar energy project.
The piece was published on the CTV Montreal website and won two awards for excellence in electronic journalism from the Radio Television Digital News Association in 2020. Salas continues to collaborate with the Kiashke Zaaging Anishinaabek-Gull Bay First Nation, and will be screening the documentary together with community leaders at the Renewables in Remote Communities 2022 conference in Whitehorse, Yukon, at the end of April.
"Professor Salas's research is creating very important opportunities for journalism students to engage with mobile journalism, climate change and reconciliation," says David Secko, professor and chair of the Department of Journalism.
Salas is planning another trip to the Métis community of Île-à-la-Crosse in Saskatchewan in early summer and the coastal community of Heiltsuk First Nation in British Columbia in the fall. She will bring new teams of students, including Indigenous students from Concordia.
"This project comes from a place of wanting to understand how to make things better and I hope to continue learning about and working in this area for many years to come," Salas says.
"I believe it's one small step forward and works on creating deeper partnerships between Indigenous and non-Indigenous people in a spirit of reciprocity and trust."
'A resounding effect on how journalism is done in Canada'
Three students accompanied Salas on the trip: Kaaria Quash (GrDip 18), Luca Caruso-Moro and Virginie Ann.
Quash is a master's student whose thesis is on climate change reporting in Indigenous communities.
"One of the highlights of the trip was getting to practice journalism in a completely new environment," he says. "This trip really gave me more experience in making documentaries in Indigenous communities, something that I hope to continue doing in the future."
Luca Caruso-Moro is pursuing a BA in journalism. He believes Salas's efforts to progress how conciliatory journalism is practiced in this country is long overdue.

"It's been an honour to participate in the project," he says. "Her work inspires me, and I believe it will have a resounding effect on how journalism is done in Canada."

Find out more about Concordia's Department of Journalism.
---