Wayne Larsen and Francine Pelletier to helm Concordia's Institute for Investigative Journalism
The new co-directors bring with them years of award-winning journalism and teaching experience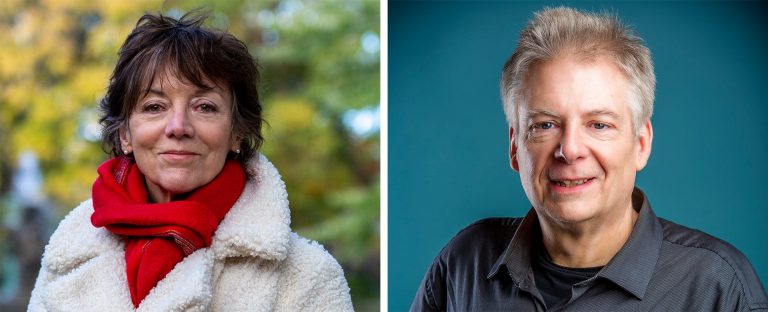 Concordia's Institute for Investigation Journalism (IIJ) will soon be led by veteran journalists Wayne Larsen and Francine Pelletier.
Larsen is an award-winning newspaper editor and journalist who has been teaching in the Department of Journalism since 2003.
He will be joined by Pelletier, renowned journalist in both the French and English milieux.
Pelletier won a Michener-Deacon Foundation Fellowship in Journalism Education in 2014 and began teaching journalism at Concordia in 2015. She was named journalist-in-residence, documentary option, in September 2020.
"I'm excited to continue this great work," Larsen says. "Supporting our students in participating in investigations with real social impact is an incredibly rewarding experience. I look forward to working alongside Francine, our partners and students to serve the community with in-depth investigations in the public interest."
For Pelletier, matching student minds with seasoned professionals across Canada to investigate crucial and timely subjects is a thrilling and critical endeavour.
"I think everyone who has been part of the IIJ thus far can see what a privilege and a thrill it is to do this kind of meaningful work," she says.
"I'm very much looking forward to diving in."
'Dedicated to its mission of producing high-impact journalism'
Since its creation in 2018, the IIJ has formed a network of partnerships with media companies and journalism schools in 10 universities and colleges across Canada. It's an unprecedented collaboration that brought political attention — and action — on issues of concern to Canadians.
To date, the IIJ has given dozens of students the chance to work alongside professional journalists to produce award-winning stories about issues such as tainted drinking water in communities across Canada. The institute is currently pursuing its investigation into the poor water quality in Indigenous communities.
The IIJ became the first educational institution to be nominated for a Michener Award as a finalist for the 2020 honour for meritorious public service journalism. That same year, its investigative work was recognized in two categories at the prestigious Radio Television Digital News Association Awards.
It also won the Grand Prix Judith-Jasmin, the jury prize awarded by the Fédération professionnelle des journalistes du Québec.
"We can count on the commitment of the dedicated staff and faculty in our Department of Journalism to keep up the excellent work of the IIJ," says Pascale Sicotte, dean of the Faculty of Arts and Science.
"Concordia remains dedicated to its mission of producing high-impact journalism."

Learn more about Concordia's Institute for Investigative Journalism.

---