Concordia's Institute for Investigative Journalism coordinates a major project looking at Indigenous communities' water and health
More than 30 articles stemming from the experiences of 122 water-plant operators will be published in the coming weeks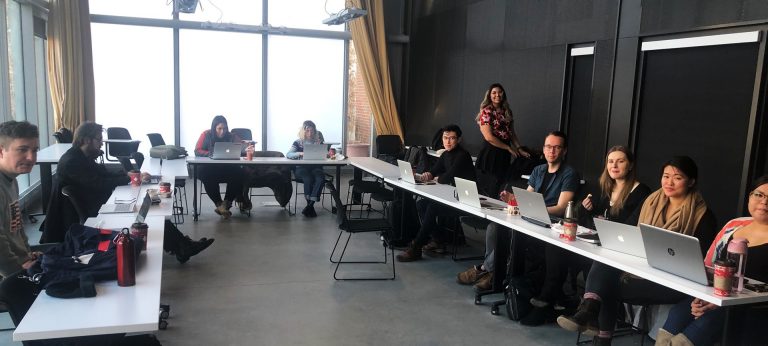 Concordia's Institute for Investigative Journalism (IIJ) has launched its Clean Water, Broken Promises project, a collaborative investigation focused on water systems in Indigenous communities across Canada.
The initiative involves 75 students from 10 universities and colleges nationwide as well as nearly two dozen journalists from six news outlets.
Journalism schools and departments at Carleton University, Concordia, First Nations University of Canada, Humber College, MacEwan University, Mount Royal University, Université du Québec à Montréal, University of British Columbia, University of King's College and University of Regina combined resources and contributed reporting.
About 30 articles are being released from collaborators APTN News, Global News, Le Devoir, the Saskatoon StarPhoenix, Canada's National Observer and The Tyee.
"I am extremely proud of everyone's tireless efforts in this investigation," says Patti Sonntag (BA 00), director of the IIJ.
"This reporting brought together Indigenous and non-Indigenous journalists, students and educators to carry out in-depth reporting in the public interest. The Truth and Reconciliation Commission has called on journalism programs to teach reporting with and for Indigenous communities, and the members of this group devoted countless hours to learning and reporting together for more than a year," she says.
"We are deeply grateful to the hundreds of Indigenous leaders, researchers and engineers, and community members who shared their experiences and expertise with our reporters. There is much work ahead for all of us."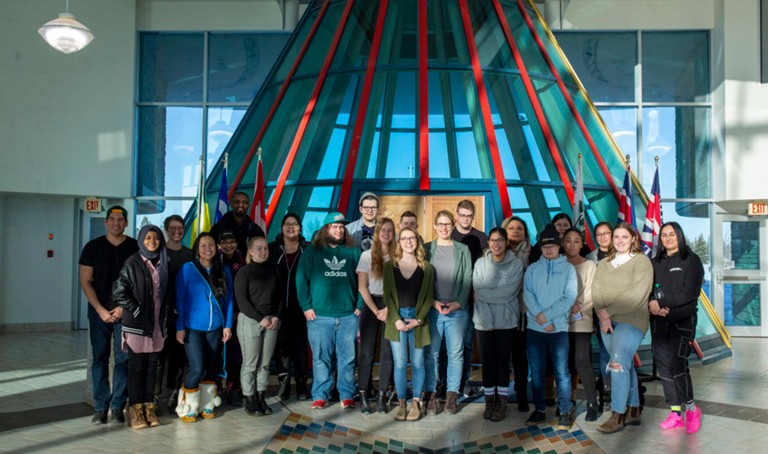 First Nations University of Canada and University of Regina. | Photo by Kaitlynn Schropp
Lack of information
The investigation is based on standardized interviews with water operators developed by the IIJ and its collaborators.
"Data on water systems in Indigenous communities is scant at best," says Annie Burns-Pieper, the project's managing editor. "We started by going to the people who are dealing with these failing water systems on a day-to-day basis."
The project began with an investigative research class taught in fall 2019 by Patricia Elliott at First Nations University of Canada in Regina. Students researched the history of water infrastructure and water quality in nearby First Nations communities.
Next, students from across the country met in Montreal to design their investigation, based on First Nations University's findings and the advice of a council.
Council members included Karyn Pugliese, a citizen of Algonquins of Pikwakanagan and assistant professor of journalism at Ryerson University; Duncan McCue, an Anishinaabe journalist, adjunct professor at the University of British Columbia School of Journalism and visiting professor at Ryerson University; Martha Troian, an award-winning independent investigative journalist from Obishikokaang (Lac Seul First Nation); and Jamuna Galay-Tamang, a Nepali, Dene-Métis and Ukrainian journalist.
Between January and March 2020, 75 students from 10 universities and colleges reached out to approximately 600 First Nations communities in Canada. Individuals responsible for water systems in 122 of those communities responded through in-depth, standardized interviews.
In those interviews, about half of water operators said they are managing an ongoing challenge, from frequent boil-water advisories to plants whose capacity was inadequate to meet community needs.
Some interview subjects also said that, despite having multi-million dollar systems, they did not have adequate operations and maintenance budgets to run them properly. And still others said their systems were deteriorating before their eyes.
Burns-Pieper adds that the impossibility of face-to-face interactions brought on by the COVID-19 pandemic posed serious challenges to the investigation.
"Our reporters were able to overcome the impersonal nature of phone calls and nurture strong relationships and build trust," she says.
Clean Water, Broken Promises stems from the IIJ's Tainted H2O project, an award-winning collaborative national investigation into Canadian drinking water standards.
"I am inspired and excited by the partnerships that are taking shape through this investigation," Sonntag says.
About the Institute for Investigative Journalism
Launched in June 2018, the IIJ is the first institute of its kind in Canada, bringing together students, researchers and journalists across the country to carry out investigations in the public interest, with the goal of providing quality information for underserved communities.
Sonntag is an award-winning journalist and producer, a former managing editor in The New York Times' News Services division and Concordia's first journalist-in-residence.

Learn more about Concordia's Institute for Investigative Journalism.
---