Concordia's Institute for Investigative Journalism launches a Canada-wide COVID-19 data project
The national effort will assist news organizations by providing free up-to-the-minute maps, audience engagement tools and other resources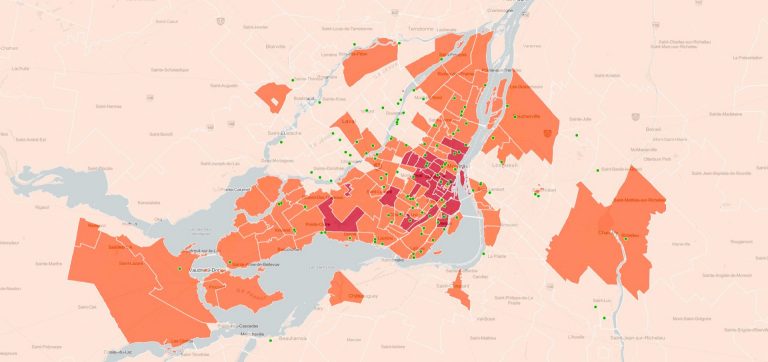 Concordia's Institute for Investigative Journalism (IIJ), with the support of journalism schools nationwide, the Canadian Association of Journalists (CAJ) and Esri Canada, has created a cooperative designed to provide free reporting support, maps and audience engagement tools.
Project Pandemic will help Canadian news organizations to inform audiences about the COVID-19 pandemic and its aftermath.
This week, the IIJ hired 10 student reporters and recent graduates from across the country to help gather information in support of member news organizations: Angela Amato, MacEwan University; Jaida Beaudin-Hearney, First Nations University of Canada; Laurence Brisson Dubreuil, Concordia; Erica Endemann, Carleton University; Noel Harper, Mount Royal University; Lila Maitre, UQAM; Carol Park, University of British Columbia; Anukul Thakur, Humber College; Emma Wilkie, University of King's College; and Karina Zapata, Mount Royal University.
Nova Scotia Community College's Centre of Geographic Sciences will provide technical assistance.
The reporters will help with requests from small and large news organizations in their provinces that want to tap into the resources being made available. Particular effort will be made to support local outlets reporting in rural, remote and Indigenous communities.
At a time of great financial stress on the media industry, member news organizations receive free access to all the co-op has to offer:
Up-to-the minute local maps (zoom in and out!) that draw upon reporting and information provided by provincial governments, regional health authorities, IIJ journalists and member journalists, and surveys
An ever-expanding national pool of information and data gathered by IIJ journalists, enabling fast, accurate comparisons with cities and provinces across the country
Technical support by text message and phone
Interactivity between news organizations and their audiences: Journalists can use a simple app to post new information to the map embedded on their news organizations' websites.
Community engagement: Audiences are invited to share their stories about the crisis with their news organizations. Easy-to-use templates are available on a growing list of themes, from celebrating health workers who went the extra mile to filling out a survey on their own health status to tributes to those who have died. Member news organizations may choose to ask the IIJ to curate these feeds, which can appear as markers on embedded maps.
Access to data analysis and expert opinions and quotes
Opportunities to take part in a series of collaborative COVID-19-related reporting projects focused on a specific topic or theme.
All news organizations, no matter their size or capacity, are invited to join and access these tools by submitting their information.
National effort
The co-op brings together 13 universities and colleges and the national broadcasters Global News, CTV and APTN, along with news organizations from coast to coast, including National Observer, Regina Leader-Post, Hamilton Spectator and La Presse.
"During the school year, the investigative reporting we did in class and then published sparked national dialogue," says Concordia student Laurence Brisson Dubreuil, who has been hired to one of the IIJ reporting positions in Quebec. "I look forward to spending this summer working with journalists from news organizations across the province."
The co-op is open to all Canadian media, explains Patti Sonntag (BA 00), director of the IIJ. "In response to feedback from media companies, we developed Canada Reports, which is in essence a data co-op for media, and all the tools for reporters and audiences that go with it," Sonntag says.
"Everyone in Canada, no matter how small and large their community, deserves the same access to quality information."
The universities and colleges coordinated by the IIJ have a history of working with news organizations. Most recently, in 2019, the IIJ and its media and university partners produced a series about potable water and lead levels across Canada that prompted municipal and provincial governments to address the matter.
At First Nations University of Canada, Patricia Elliott, an investigative journalist and professor of journalism, will guide student journalists in sharing the information with radio stations and publications serving Indigenous communities.
"It's essential that we reach all members of the public at this critical time," Elliott says. "Access to information should not be determined by where we live."

Follow news and updates about Project Pandemic through Concordia's Institute for Investigative Journalism.

---