Concordia's Indigenous Student Librarian Program pushes for more diversity in the field
The tri-university collaboration is now in its fifth year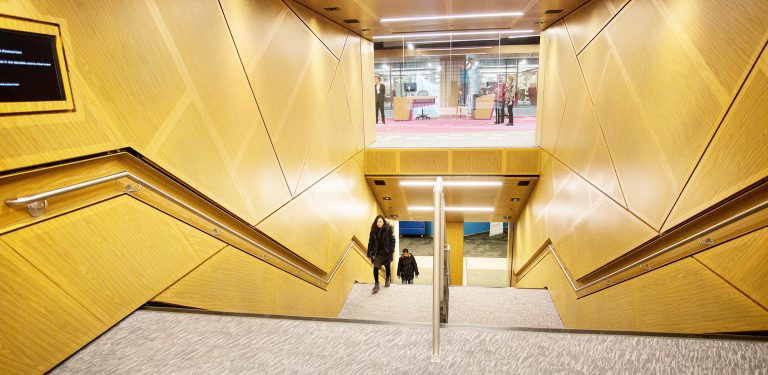 For the fifth consecutive year, Concordia Library is collaborating with McGill University and Université de Montréal on a program for Indigenous students in the library and information studies field.
Through the program, a First Nations, Métis or Inuit graduate student from McGill or Université de Montréal gets access to a two-year paid position at the Vanier or Webster library.
Indigenous students Chloe Belair-Morin and Sarah Monnier have been working at Concordia Library since September 2020 and both are completing their Master of Information Studies at McGill.
"The professional experience that I accumulate during this two-year position will help support my strong interest in the maintenance and preservation of artworks and documents," Belair-Morin said last year after she was accepted into the program.
Joining them this year is Indigenous student Kevin Laloche-Morin, who has been working in the program at Concordia Library since the start of the fall term. He is also pursuing a Master of Information Studies at McGill.
Part of broader decolonizing work at Concordia
Guylaine Beaudry, Concordia's university librarian, believes the program is contributing to advancing some of the university commitments outlined in the Indigenous Directions Action Plan.
"Decolonizing our library is an important part of the broader actions being taken at Concordia — from supporting more Indigenous students to improving the cultural safety for all Indigenous people accessing our spaces and catalogues," she says.
Beaudry also points out that Montreal is the only Canadian city with two library and information studies programs. She believes there should be more projects like this one, which she says is an impressive example of a tri-university collaboration leading to increased diversity within academia.
Experiential learning at its best
The selected Indigenous student works on several activities in an academic library setting, with mentorship from professional librarians, while completing their master's degree.
From reference and instruction to special collections and projects, the student gets to contribute to the library and the wider Concordia community while strengthening their professional skills. They also receive funding to attend one Indigenous librarianship conference and are supported by the Otsenhákta Student Centre.
Some students choose to stay within a university setting beyond graduation; others may go on to work in public schools or cultural centres within their communities. Beaudry adds that beyond diversifying the Concordia Library, the program is designed to support Indigenous people in playing an active role within the profession, wherever they want to practice librarianship.
Who can apply
To apply, students must be accepted into the Master of Information Studies Program at McGill or the Maîtrise en sciences de l'information at Université de Montréal and begin their studies in the fall term. Applications for next year are open now until February 11, 2022, at 5 p.m.
The position guarantees 15 hours of work per week from September to April and 30 hours per week from May to August, for two years. Tuition and student fees are also waived by the host university.

Applications may be submitted in either English or French as a single PDF file to Rajiv Johal at lib-admin@concordia.ca.
---