Adamina Partridge is named interim coordinator of Concordia's Otsenhákta Student Centre
'It is very much possible to take full advantage of what a university has to offer'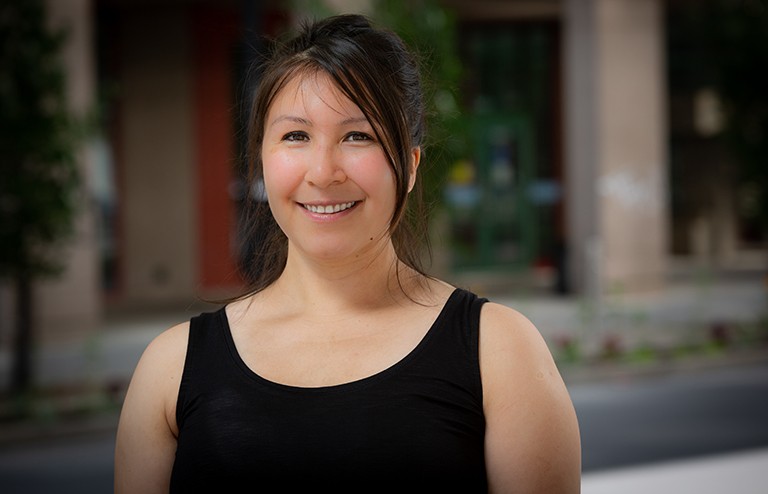 Adamina Partridge: "It was important that I connect with community to help guide me through my studies."
Adamina Partridge has recently joined the university's Otsenhákta Student Centre (OSC) as its new interim coordinator.
Originally from Kuujjuaq, Nunavik in northern Quebec, Partridge started her academic career at Concordia where she studied biology. She eventually transferred to Western University in London, Ontario, where she pursued social sciences and received a degree in interdisciplinary studies.
It was at Western that Partridge discovered how accessing student services could help on her academic journey.
"It was important that I connect with community to help guide me through my studies. I found this community at Western's Indigenous Services."
She would go on to work at Indigenous Services as an event organizer in various roles to support Indigenous students, conduct outreach to the Indigenous community and organize events and programs. She also joined the Access Transition Opportunities team, which provides students with academic, cultural and personal supports during their first years of study.
After she graduated, Partridge moved to Kingston, Ontario, where she worked at the Four Directions Indigenous Centre at Queen's University. She organized cultural events and programs, including an Indigenous powwow dancing and a traditional Anishinaabe hand drum–making workshop.
"These roles have given me a broad picture and have allowed me to understand the different contexts in which students come to university and what they need to thrive," Partridge says.
'Attending a large university can be intimidating'
Now in her role at the OSC, she wants to contribute to the education of Indigenous students by helping them use the various services offered by Concordia to their advantage.
"For some Indigenous students, moving to a big city like Montreal and attending a large university like Concordia can be intimidating. There are some misconceptions that institutions are not accessible, and this can lead to isolation," she points out.
"My experience is that it is very much possible to connect and take full advantage of what a university has to offer."
For Manon Tremblay, senior director of Concordia's Indigenous Directions, the breadth of Partridge's experience and professionalism makes her the ideal fit for the role.
"I am very pleased to welcome Adamina as part of our growing Indigenous community at Concordia. She comes to Concordia with a background in Indigenous student services and has already shown a depth of compassion and understanding about the various issues and barriers faced by Indigenous people seeking a postsecondary education," Tremblay says.
"I look forward to collaborating with her on many future initiatives. I believe she will be a tremendous asset to Concordia."

Learn more about Concordia's Otsenhákta Student Centre.
---