Concordia prepares students for careers in a fast-changing aerospace industry
MARCH 16: FutureReady and the Gina Cody School collaborate with experts from CAE, Optima Aero and Polytechnique Montréal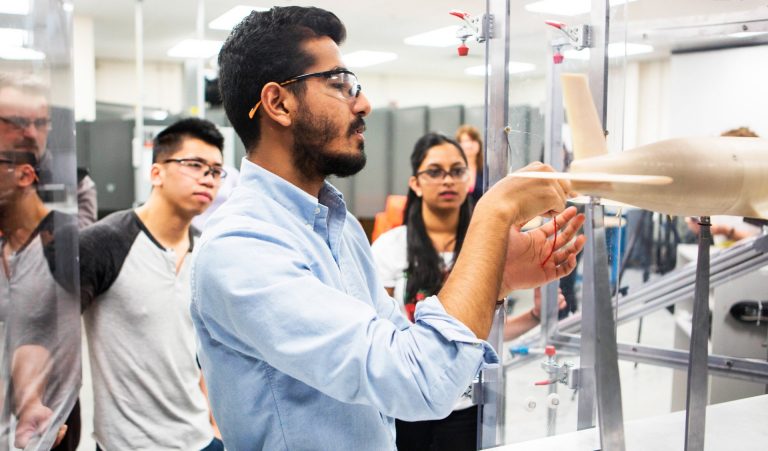 The COVID-19 pandemic has brought attention to challenges in the aerospace industry. To adapt and thrive, the field has seen change and innovation from new and existing sectors.
"New technologies are emerging and becoming prominent research fields such as hybrid combustion, alternative fuels and the application of artificial intelligence in the sector," shares Carole El Ayoubi. She is a lecturer and the education director at the Concordia Institute of Aerospace Design and Innovation (CIADI), as well as aerospace engineering undergraduate program director in the Department of Mechanical, Industrial and Aerospace Engineering at the Gina Cody School of Engineering and Computer Science.
"Students looking to start a career in this rapidly transforming aerospace sector will have to demonstrate an ability to adapt and self-learn."
Upcoming panel discussion
On March 16, panelists from Concordia, CAE, Optima Aero and Polytechnique Montréal will discuss the diversity of opportunities within the aerospace industry at the Thriving in the Aerospace Industry event, open now for registration.
Students can look forward to a frank conversation about how they can position themselves for success as the industry grows and evolves. Topics include:
How to showcase interpersonal skills, self-learning abilities and a growth mindset during an interview and on a resumé
How to emphasize soft skills, business lexicon and adaptability
The importance of diversifying academic portfolios to include extra-curricular experiences and professional development interests
A platform for success
The panel is part of the Developing Leadership Agility in Aerospace program that was launched in January 2021 to provide students with a platform to cultivate their growth mindset and develop their ability to adapt. It is a collaboration between CIADI and FutureReady, an undergraduate skills development program run by the Student Success Centre.
The program consists of three workshops, a case competition sponsored by CAE and a panel discussion. It is open to anyone interested in starting a career in the aerospace sector, and registration is free.
Not just another panel
The organizers have brought in panelists who can speak to the current realities and talent needs of the industry. Both CAE and Optima Aero are actively recruiting for future experts and are looking at students from the Gina Cody School to feed their talent pool.

Sign up for the Thriving in the Aerospace Industry panel discussion.
Learn more about the Concordia Institute of Aerospace Design and Innovation.
---