Concordia launches the Task Force on Anti-Black Racism
The university answers global and local calls to examine and address systemic issues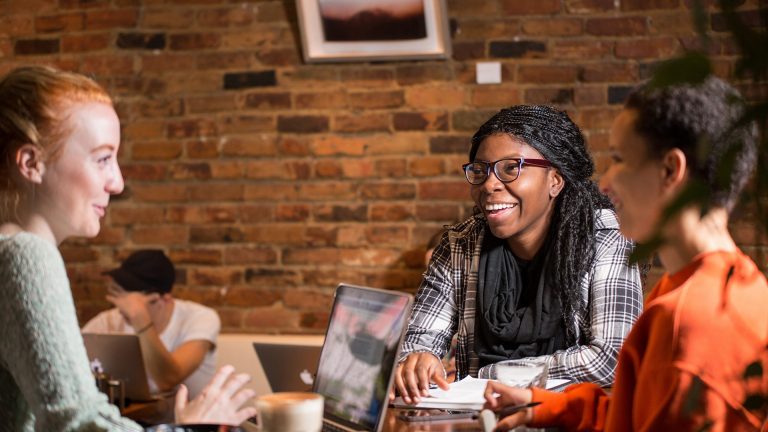 In May 2020, following the murders of George Floyd, preceded by those of Breonna Taylor and Ahmaud Arbery earlier in the year, the world began hearing renewed calls to address and end systemic anti-Black racism aligned with Black Lives Matter (BLM).
The same concerns were voiced by Montrealers, including community groups and Concordians who called for institutions to listen to their constituents and take action to help eradicate systemic racism.
As a responsibility to its community members, in recognition of the status quo being unacceptable and in anticipation of the type of future it wants to create, Concordia launches its President's Task Force on Anti-Black Racism.
"Over summer 2020, I began meeting with Black faculty, staff, students and alumni," says Anne Whitelaw, interim provost and vice-president, Academic.
"Echoing sentiments similar to those heard globally from BLM and Concordia's soon to be released report of the Working Group on Equity, Diversity and Inclusion — it was clear that the university experience was not one of equitable access for many of our Black students, faculty and staff."
"Stemming from those meetings, several of which included President Graham Carr, we knew it was necessary to launch the task force to ensure that Concordia lives its professed ideals as a diverse and welcoming university for members of the Black community," says Whitelaw.
Engaging in dialogue to bring about positive change
Since those initial meetings, Whitelaw has continued to consult widely and work collaboratively to develop the President's Task Force on Anti-Black Racism which comprises three co-chairs, a 15-person strong leadership team and eight sub-committees.
The task force's mandate is to oversee and coordinate the work needed to generate recommendations that will address systemic anti-Black racism as it occurs across the university — in employment, policies, teaching and learning practices, rooted in the experiences of faculty, staff and students.
The task force will work in conversation with the Indigenous Directions Leadership Council and ultimately with Concordia's Equity Office to make recommendations that address systemic racism intersectionally.
Cross sectional task force composition
Three co-chairs
Angélique Willkie, associate professor, Contemporary Dance, Faculty of Fine Arts
Stéphane Brutus, professor, Management, John Molson School of Business
Annick Maugile Flavien, founding coordinator, Black Perspectives Office
15-person leadership team
Undergraduate and graduate students: Harvin Hilaire, undergraduate student, Lisa Ndejuru, graduate student
Alumni and union representatives: Evan Pitchie, Concordia alumnus, Linda Dyer, Concordia University Faculty Association, Jacqueline Peters, Concordia University Part-Time Faculty Association, Sarah Mazhero Concordia Student Union
Black Caucus of Concordia (BCC) representative: Jamilah Dei-Sharpe, BCC coordinator
Leads of the eight sub-committees
Eight sub-committees and their leads
Campus security: Lisa White, Office of Rights and Responsibilities
Anti-racist education: Sharon Nelson, John Molson School of Business
Concordia's history and relations with Black communities: Annick Maugile Flavien, Black Perspectives Office
Curriculum and educational resources: Françoise Naudillon and Angela Kross, Faculty of Arts and Science
Student services: Lisa Ndejuru, PhD student, Faculty of Arts and Science
Faculty development: Linda Dyer, John Molson School of Business and Roch Glitho, Gina Cody School of Engineering and Computer Science
Employment initiatives: Jacqueline Peters, Faculty of Arts and Science
Fundraising: Andrea Clarke, Office of Community Engagement
The task force will finalize the sub-committees' membership, define their terms of reference and present a workplan to the interim provost by November 30, 2020.
In April 2021, the provost will receive a progress report on the work of the sub-committees that identifies immediate action items.
By April 2022, the president will receive a comprehensive set of recommendations and action plans to combat anti-Black racism at Concordia
Co-chairs Stéphane Brutus, Annick Maugile Flavien and Angélique Willkie shared their thoughts, experiences and hopes for the task force
How do you define anti-Black racism?
Annick: Loosely, anti-Black racism is prejudice, violence, beliefs, and discrimination that is directed at Black communities. In the context of the university, anti-Black racism works on the interpersonal level in interactions between university members and more vastly within institutional policies and practices that push out and alienate Black communities and perspectives while normalizing and invisibilizing anti-Black racism to non-Black communities.
I say this is a loose definition as it is important to realize that anti-black racism is ever-changing and adaptable. This is how it has managed to survive since the first incidents of Black enslavement and the many offshoots since.
What's most exciting about the Task Force?
Angélique: Both its 'now moment' and the daunting dimensions of the task itself.
It's about knowing that this moment is historic and feeling honoured and proud to bear this responsibility on behalf of my community. For me personally, it's also the idea of being able to actually make a difference in the lives of Black students, staff and faculty across the university.
It's a chance to look squarely at our institution through the eyes of its Black community and question its tenets. For me it's very much about making sure that we are seen and heard and considered — not simply made invisible. And last but not least, in my case, it makes having tenure as a Black professor count for something other than simply my job security. 
Annick: On a small scale that is specific to Concordia, the President's Task force on Anti-Black Racism is an exciting venture as it breaks the silos between the many phenomenal Black members of Concordia's community, as well as our allies, who have been tackling anti-Black racism in our different areas across the university and allows us to vision a strategy from the very core of the university, which will inevitably ripple throughout our university.
On a larger scale, the task force represents an important shift in dialogue where Black perspectives are being heard as true, valuable, and worthy of attention, resources and action, which is an important shift from generations of violence against Black communities and the erasure of Black experiences.
Stéphane: It's about engaging the institution in a conversation that is current and so necessary. At the same time, it's about leveraging Concordia's great intellectual capital and unique academic space to push the conversation into concrete actions.
How did you determine the areas of focus for the Task Force sub-committees?
Annick: The task force co-chairs have been consulting with Concordia's Black community for several months. The subcommittees are a reflection of the needs, desires and demands of the community which were formulated in conjunction with the Black Caucus of Concordia.
Overall, how would you characterize the present university life of Black students, staff and faculty at Concordia?
Angélique: In all honesty, I haven't personally had any negative experiences at Concordia related to the fact of being Black. However, I've witnessed insensitivities that could certainly have been experienced as micro-aggressions and I think that's the place where discomfort lives most and where there is the greatest need for awareness and change.
Again, I think it's related to the blindness and presumed universality of experience that comes from being part of the racial and cultural and economic "norm". As much as that might not be a deliberate intention, that "norm" and the presumed universality that makes us invisible, impose a power dynamic that is felt and real.
In my five years at Concordia, on two occasions I've had Black students in my department mention that they had never had a Black teacher before and that one of the issues they faced was not being able to see themselves in what was projected either by my particular discipline (contemporary dance) or by the university. It's significant that both those students ultimately left the university!

Annick: Isolated. Our community is siloed, under-represented and our perspectives are largely erased from the university landscape. The personal successes of Black community members across the university are very much personal and often depend on our ability to endure anti-Black racism and perform hegemonic norms. Many members have confided that though they may very much enjoy being a part of the university community they feel they need to check their Blackness at the door in order to fully participate and are unable to foster a true sense of belonging.

Stéphane: Like Angélique, in my 20 plus years at Concordia, I cannot recall the colour of my skin ever being an issue. However, I am cognizant of the fact that 'my Concordia' is not generalizable.
There are thousands of Concordia experiences, and in some of them, there are issues to address. The reason why I agreed to serve on the Task Force is that I wanted to better understand the experiences of different members of the community and do my best to help them have an experience similar to mine.
Is it enough to simply hire more Black staff and faculty?
Angélique: Absolutely not. It's essential that more Black staff and faculty be present, but it's also important some of those also be in positions of authority in the university. The work on educational resources around micro-aggressions is another key. I also think the contributions of Black scholarship shouldn't require Black professors! Black knowledges need to be part of the curriculum across faculties regardless of the existence or not of various forms of Black Studies programs.
Annick: Hiring more Black staff and faculty is a necessary step towards a larger step of incorporating Black knowledge and perspectives at all levels of the university. This is important beyond a need for representation but rather a shift towards a university mindset that isn't 'colourblind' and impartial to the injustices of the world. As an active member of society, the university must challenge systemic racism which requires an in-depth engagement with the realities, perspectives and knowledges of Indigenous, Black, and POC communities.
Stéphane: We have to look at racism broadly. This is a complex, multi-faceted issue and, yes, Concordia has to be representative of the society in which it is embedded but there is a lot more to the taskforce — such as acknowledging history, raising awareness of this issue within and outside the university via education, and things like that. Basically the work of all eight sub-committees.
Do you fear that institutions are waiting for Black Lives Matter to fade from news headlines so they can return to the status quo?
Angélique: Of course! It's one of the reasons I stepped up to the plate! I wouldn't normally consider myself an activist even if my convictions are clear. But I'm aware that if this moment isn't seized — at Concordia as well! — the opportunity will be missed. It is essential that the pressure be maintained, and the task force is a key element in that pressure.

Annick: As with all movements, time has a way of showcasing the true depth of one's engagement and we are bound to see a gradual fade out from institutions that are engaged at more of a performative level. This isn't an issue I foresee at Concordia because our Black community is deeply and widely anchored across the university. We haven't been hired to perform representation, we are all longstanding members of Concordia's community who have always been dedicated to its future and have no intention of moving backwards.
Stéphane: I do not think so. One of the most interesting aspects of this movement is how broad it is. Compare pictures of the first civil rights movement with marches in the BLM manifestations.
This movement spans many segments of society: race and age for one. It is also world-wide. Once awareness is raised and you finally 'know' something, it's hard to 'unknow' it. One has to be optimistic about the future.
How would you envision a university where an anti-Black Racism Task Force is no longer necessary?
Angélique: One in which students at all levels can recognize themselves in the staff, faculty and services that surround them. One in which the specificity of their historical and social experience is acknowledged. One in which the numbers of Black staff and faculty reflect their proportion of Montreal's population. One in which the contributions of Black thinkers, researchers and scholars are named without having to create specific programs in order to acknowledge that work in the academy. 
Annick: The reason we need an anti-Black Racism Task Force isn't because anti-Black racism exists in the world but rather because up until this moment the university did not have administrative systems in place to hear, address support, advocate against anti-Black racism within its own structure and beyond.
The university cannot be colour blind and impartial to injustice. It has a responsibility to actively participate in dismantling racism on all levels whether interpersonal or systemic. Once it has fully taken on that responsibility there will no longer be a need for an anti-Black racism task force as our perspectives will be justly considered in all areas.

Take a moment to learn more about Concordia's new Black Perspectives Office.
---