At-home kits allow Concordia fine arts students the full remote-learning experience
Many courses will provide safe in-house workspaces for the fall and winter terms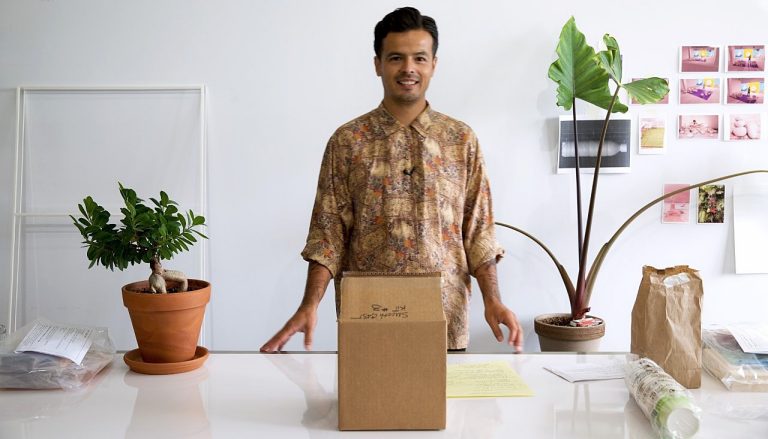 Artists will set up their studios almost anywhere — backyard sheds, shared corners of warehouses, basements or garages. But rarely would they choose a 500-square-foot apartment they share with their partner and baby border collie.
That's the situation Robyn Anderson, a fourth-year studio arts student at Concordia, finds herself in. And she's not alone. Every course in the Faculty of Fine Arts has moved online for the fall 2020 and winter 2021 terms.
"I'm sure it must be weird for first-year students who haven't had a studio experience yet to be doing studio from home," she says.
Anderson is one of more than 352 students in the Department of Studio Arts who have picked up take-home studio kits to use as part of their online classes in ceramics, sculpture, fibres and material practices, and printmaking.
'How to equalize the playing field at home'
It has been no small feat to develop the kits and adapt studio-based classes to a home environment. Without access to Concordia's facilities, fine arts students lack communal workspaces where they can learn to use special equipment, handle hazardous materials and experiment safely.
"Shared studio spaces and facilities are an equalizer at Concordia — everyone in the class has access to them," says Kelly Jazvac, associate professor in the Sculpture program. "Given this, a big challenge in planning for online studio classes was how to equalize the playing field at home."
Jazvac was part of a team of faculty instructors and technicians who spent the summer hammering out technical details for the kits to ensure a high-quality visual arts curriculum could be delivered remotely to students.
Creating take-home kits required everyone to reimagine materials and methods from the ground up, explains ceramics and sculpture technician Marie-Pier Laverdière.
"We had to order new materials, test them, as well as make sure they are compatible with our facilities — firings, for example — and then have discussions with our instructors to rethink the teaching."
'I know what to expect when I am working at home'
Current students can find details about the kits on the Moodle portal. The price and contents of each kit are detailed and photographed; safety equipment needed for use with the kit is listed, as well as links to any health and safety training or related training modules.
All kits have been tested to meet safety standards and students have to take the health and safety training before starting their courses.
"We've made sure with the suppliers, before we got them, that everything is non-toxic to work from home. We had to adjust some of the materials," Laverdière explains.
Juan Ortiz-Apuy, assistant professor of sculpture, has also created a series of "unboxing videos" that show off his program's kits so prospective students can see them on YouTube.
Anderson says that the system seems like a good arrangement. While her apartment might be a little crammed, she has been working on keeping it clean and safe.
"I think it's a good way to be able to interact with the materials from home," she says. "We had to do safety-training courses online, so I feel prepared. I know what to expect when I am working at home."
'It's all about creative problem-solving during the pandemic'
Laverdière and her fellow technician Joé Côté-Rancourt have spent the last few weeks handing out sculpture and ceramics kits from the unused foundry in the Visual Arts (VA) Building. Clay, metal, woodcarving and mould-making kits, stacked on pallets for easy delivery, sit alongside custom-built worktables that students can drill and hammer on.
Students have been really excited to get their materials.
"It feels like Christmas," Laverdière says. "Everything was a bit blurred before, so getting a pack of clay, getting different colours, getting tools, really makes it more real and ready to get your hands working with the materials."
For Ortiz-Apuy, the kits are an expression of the collective resourcefulness that the pandemic has brought out among the faculty, staff and students in the fine arts. Since March, he's seen many other examples sprouting from Concordia's arts community.
"For some students, that has meant banding together to rent a studio. For others it has been about repurposing materials or making public installations on their balconies and windows. It's all about creative problem-solving during the pandemic."

View all the unboxing videos. Find out more about Concordia's Faculty of Fine Arts.
---