Concordia leads the construction industry's digital transformation
A new centre for innovation aims to optimize public spending to improve civil infrastructure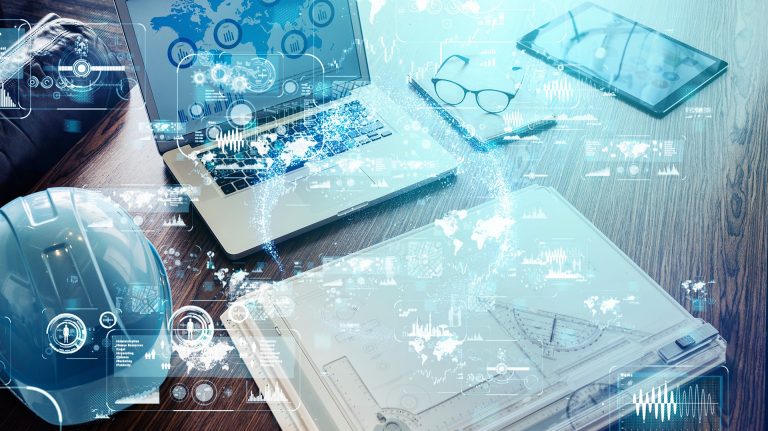 Although it's still early days, the construction industry has begun to automate and digitize.
It's also starting to use sensing technologies, big data and deep learning, among other things, and the results could revitalize our cities' infrastructure — roads, water, power — and the way it's managed.
Concordia is driving that transformation in Canada.
With the leadership of Osama Moselhi, a pioneer in infrastructure engineering management, the university is front-of-mind for anyone in the field.
The professor in the Department of Building, Civil and Environmental Engineering is director of Concordia's new Centre for Innovation in Construction and Infrastructure Engineering and Management (CICIEM) at the Gina Cody School of Engineering and Computer Science.
"Here at Concordia, we have a critical mass of expertise in sustainable and resilient civil infrastructure systems," says Moselhi, who is known throughout the field for his patented use of artificial intelligence (AI) in the diagnostics of sewer defects and his work on value-driven methods for optimized asset management in this field.
"We want to be an agent of change that helps transfer the traditional construction industry into the digital age. The innovation centre, as an entity, formalizes and declares our intentions."
The CICIEM is working with an advisory board comprised of executives from Hydro-Québec, Canam Group, Hatch and SNC-Lavalin.
"These companies are visionary leaders in their fields who have influence on the entire industry," says Amir Asif, dean of the Gina Cody School.
"We are in discussions with them now to establish their needs and discuss collaboration opportunities."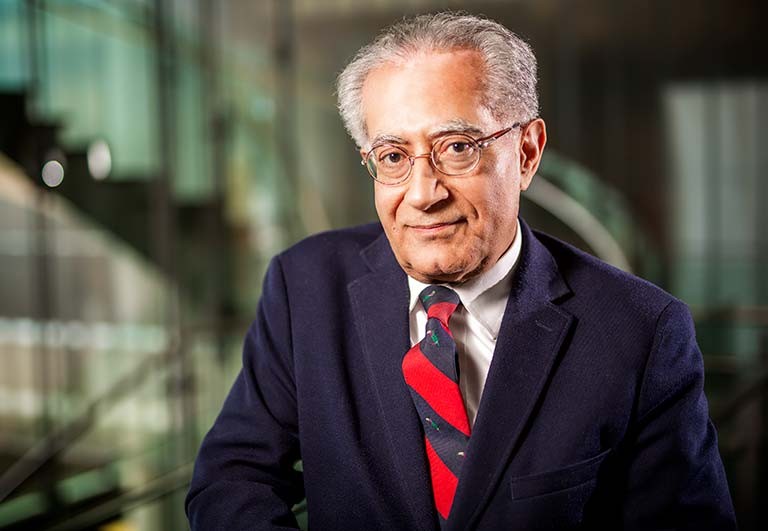 Osama Moselhi: "We want to help transfer the traditional construction industry into the digital age."
Taxpayers have a stake
Civil infrastructure intersects with the construction industry whenever a project is approved by governments at the municipal, provincial or national level.
The CICIEM embraces the principles of Industry 4.0 — leveraging smart systems, such as remote sensing technologies and digital imaging, among other things — to improve safety, productivity and competitiveness in the construction industry.
At the same time, it wants to develop solutions to optimize municipal governments' budget allocation for maintenance, rehabilitation and/or renewal of civil infrastructure assets.
"The goal is to develop creative methods for condition assessment and asset management that are non-destructive and non-invasive," Moselhi says. "It all leads to cost efficiency — our tax dollars invested wisely — and better safety and productivity on job sites."
For Moselhi, a key outcome is the protection of our collective investment in the existing infrastructure. As taxpayers, we all have a stake.
"There is a saying that politicians don't want to spend money below ground because the public can't see it. So we have a deficient investment in that kind of civil infrastructure," he explains.
"But if you want to keep the same water pressure in your shower and kitchen sink, we need to continuously invest."
Drones, semi-robotic excavators, utility tunnels and more
As a hub with more than 17 faculty members and five laboratories, the CICIEM has five main areas of research:
big data analytics
automation and robotics in construction
sensing technologies and Internet of Things (IoT) applications in construction engineering and management
industrialization of construction
reliability analysis and condition assessment
Amin Hammad, the CICIEM's associate director, believes there's a better way to manage work on construction sites and civil infrastructure.
"We have projects that use deep learning for equipment detection and activity recognition, as well as safety monitoring. In the area of asset management, we have projects to optimize the energy usage in smart buildings based on occupant requirements," he says.
"We also use virtual and augmented reality to improve building inspection and maintenance operations."
As an example of the promising potential improvements in the area of municipal asset management, Hammad advocates for the adoption of multipurpose utility tunnels to host cities' pipes, sewers and cables underground in high-density areas.
These are major upgrades from today's chaotic underground "spaghetti systems" of pipes and cables that require roads to be dug up frequently for repairs.
"In the current move toward smart cities, it only makes sense to have smart utility tunnels which can be fitted with a multitude of sensors for better operations and security," Hammad says.
"Granted, the initial cost is several times higher, yet every time a road is dug up, what's the associated cost and collateral damage, in terms of noise, environmental footprint, traffic and local business revenue?"
The new era of 4D building models
For Mazdak Nik-Bakht, communication and outreach director of the CICIEM, the future of construction is digital twinning — something called building information modelling (BIM).
"BIM is a 3D model of a building plus additional relevant information such as time, making it a 4D model, and cost, making it a 5D model," explains Nik-Bakht, assistant professor in the Department of Building, Civil and Environmental Engineering.
"A 4D model, for example, is an animation created in the planning stage that tells me what's expected to happen on each day at the job site. When construction begins, we can create another digital model at the job site using laser scans, digital images and drones fitted with cameras and scanners," he says.
"Those two models can be mapped and compared to show progress. At the end of construction, the BIM can be handed over to the facilities manager for monitoring and managing building operation, using sensing devices and IoT devices, linked back to the digital model."
One of the goals of the CICIEM is to collaborate with industry to learn what kind of IoT devices are needed and suggest how big data can help detect latent patterns in all the feedback.
"We need to raise awareness of the digital world and how to take advantage of big data for running construction better, which in turn revitalizes the city's physical backbone," he adds.
Training days
Another raison d'être of the CICIEM is to train highly qualified personnel.
"We have the largest graduate program in construction and civil infrastructure in the country," says Moselhi. "We have a large pool of motivated, talented and hardworking graduate students and professors with diverse expertise to guide them."
That training environment is enriched even further by the interdisciplinary nature of the hub, which is accessible to faculty and researchers from across the Concordia community.
"By all means, we would welcome researchers from the Faculty of Arts and Science, for instance, who want to look at the social aspects of infrastructure and how it impacts quality of life," says Moselhi, whose door is always open for discussion with colleagues. "I encourage you to reach out."

Contact Osama Moselhi if you are interested in joining Concordia's new Centre for Innovation in Construction and Infrastructure Engineering and Management.
Learn more about the Gina Cody School of Engineering and Computer Science.
---