Conversations about our communities: University of the Streets Café unveils its upcoming season
Starting February 18, the talks will focus on issues facing Montreal neighbourhoods grappling with rapid demographic change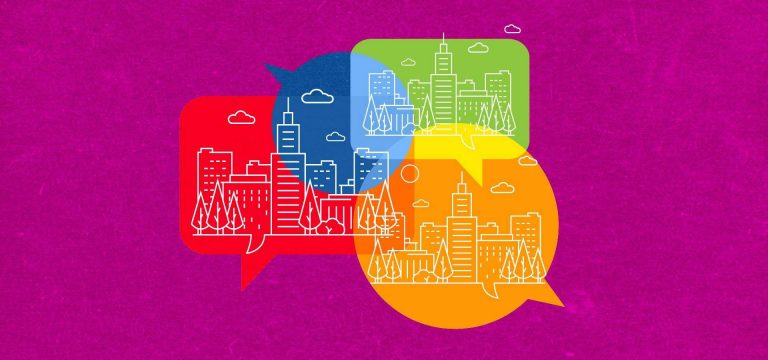 So all of a sudden, a Lululemon store opens down the street and your favourite family-owned restaurant shuts down after 60 years. Sound familiar?
Whether it happens by steady creep or sudden tsunami, gentrification is something most people in cities will be familiar with, especially residents in poor and racialized neighbourhoods.
Some will consider this progress, while others will see injustice as vulnerable residents are pushed out by rising rents and neighbourhoods lose their local flavour to the benefit of private developers and entrepreneurs.
Cue the start of a complex set of discussions about the purported inevitability of displacement and the debatable benefits of social mixing.
How can those who have built neighbourhoods continue to enjoy them? Can we preserve local identities? Who gets to experience a sense of belonging in cities? And how can we manage urban development responsibly while ensuring that residents are actually heard in relation to what happens where they live?
These are just a few of the issues that the University of the Streets Café winter-spring 2020 conversations will touch on.
"We intentionally stay away from the terms lecture, workshop or presentation, because our exchanges that are not as linear as you may find in those settings," says Alex Megelas, responsible for the series and programs coordinator for Concordia's Office of Community Engagement.
"Our goal is to get to a point where folks are riffing off of each other, build a shared understanding of what's at stake, and envision the ways in which they can have an impact on our city."
The University of the Streets Café's website describes its gatherings as being "much like the conversations you'd have with family and friends, except with more people and slightly more structure."
The program has hosted over 500 public conversations since it began in 2003.
"These gatherings are becoming more and more important in a world that can feel isolating and discouraging," says Jennifer Dorner, manager of the Office of Community Engagement.
"The chance to meet people face to face, to share stories, and come up with a way forward can be very empowering for individuals and communities and can lead to a healthier society."
Megelas adds that the goal is to ask questions that are important and relevant to Montrealers, "and we do it through conversations at community centres, coffee shops and co-ops."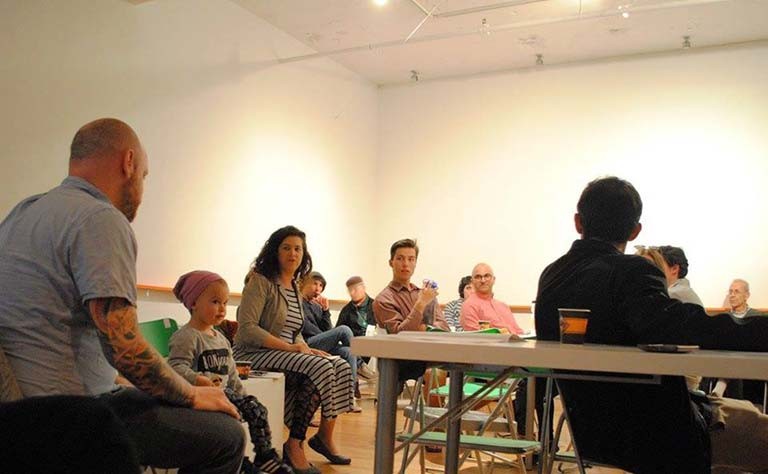 Our communities
This term's series of six conversations, from February 18 to April 28, will be based around the theme of "Our Communities." They will focus primarily on what's happening in the Saint-Henri and Montréal Nord neighbourhoods.
The series will feature a number of guest speakers and are the result of collaborations with two groups: Montréal Nord's Librairie Racines 2.0 and Solidarité Saint-Henri.
The discussions will broach other topics as well, including urban planning, labour rights, systemic racism and how police engage with homelessness.
Here is a preview of two of the six conversations to look out for:
Racialized and Gentrified Neighborhoods: How can we hang on to the neighborhoods that we have built?
February 18, 7 to 9 p.m., Librairie Racines 2.0, 5118 de Charleroi St.
The inaugural conversation in the series takes a look at how racialized communities are fighting to stay put in neighbourhoods that are facing structural and economic changes.
The talk is co-organized with Librairie Racines 2.0.Guest speakers will include Librairie Racine's Gabriella Garbeau, Bochra Manaï of Montreal Nord community group Paroles D'ExcluEs and urban and social geographer Ted Rutland, associate professor in Concordia's Department of Geography, Planning and Environment.
The conversation will be moderated by Montreal community organizer and artist Ralph Joseph.
From Consultation to Genuine Participation: What's preventing communities from truly controlling their urban planning?
February 25, 7 to 9 p.m., Centre Récréatif, Culturel et Sportif St-Zotique, 75 Rue du Square Sir George Étienne Cartier
This conversation, co-organized with the CDC Solidarité St-Henri looks at the disconnect between imposed urban development strategies and the experiences of people in targeted neighbourhoods. Does lip service to resident engagement mask bureaucratic control? How can we hang on to our communities when those with more social capital express an interest in shapping them?
Guest speakers will include St Henri residents and community organizers. The conversation will be moderated by Élise Ross-Nadié (Concordia MA Communication Studies student).

Learn more about the University of the Streets Café winter-spring 2020 conversations and Concordia's Office of Community Engagement.
---