Public conversations address gentrification and marginalization
OCT. 1: Concordia's University of the Streets Café launches its fall programming on community belonging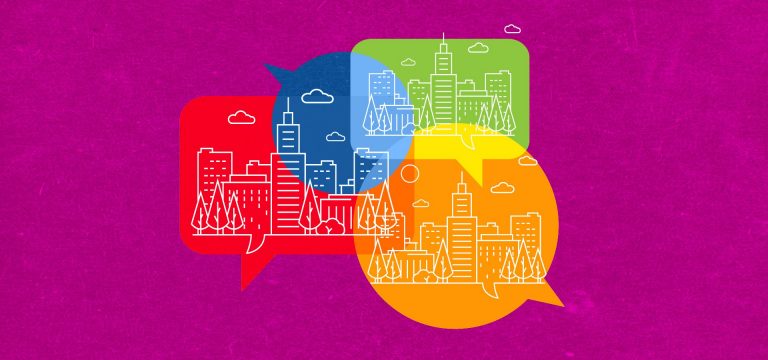 University of the Streets Café — Concordia's public conversation series — is launching its fall programming in October.
Under the theme of Our Communities, six public conversations will take place at Bâtiment 7, a heritage industrial site in Montreal's Pointe-St-Charles neighbourhood which has become an active community-led centre.
How can we fight the rise of Islamophobia in our communities? How does urban agriculture change our cities for the worse? How is gender justice reflected in the cooperative movement?
All of these questions and more will be starting points for thought-provoking discussions of prevalent issues — such as gentrification and xenophobia — facing Montreal communities today.
"Through the theme, we wanted to look at who gets to experience community belonging," says Alex Megelas, programs coordinator for the Office of Community Engagement. He stresses that, in the case of many residents in increasingly gentrified neighbourhoods, a sense of belonging is much more fragile than it might be for others.
"Connecting to a community is about having access to public spaces that you feel comfortable in, that are a reflection of your values and your culture and that are accessible to you and excite you," Megelas says. "That sense of community and belonging is something important that we need to be able to maintain."
These issues are not simply connected to housing development, but are also affected by socioeconomics and politics, Megelas adds.
"We have a lot going on right now that is disproportionately affecting members of the Muslim community and persons of colour. So, how is that sense of belonging affected when, all of a sudden, you realize that your religious expressions are going to be invoked as a means of preventing your social participation?"
'There is value in asking questions'
Megelas points out that while we are witnessing the emergence of intolerance toward religious and ethnic communities in Montreal, this intolerance has been a recurrent part of the contemporary Quebec context.
"It warrants asking what it is about our context and our Quebec politics that allows for these waves to emerge every few years," he says. "In the first conversation on October 1, we're going to look at how we can combat Islamophobia in our communities."
If he could see participants take away one thing from the public conversation series this fall, Megelas hopes individuals can increasingly see themselves as having the capacity to affect change.
"I want the people who attend our conversations to view themselves as potential active contributors and to shift the public narrative around this," he says.
Megelas says that his favourite parts of hosting these conversations is seeing attendees come together — engaging in further conversations, staying in touch and connecting each other with beneficial resources.
"They come all the way down to our conversations because they see value in asking the questions that we're posing," Megelas says. "When we close it up, folks don't typically go home right away."

Find more information about University of the Streets Café and their upcoming public conversations here.

---