Discover how Synthetic Biology is reshaping our world at 4TH SPACE
Current programming showcases research from Concordians who are leading the way in this rapidly emerging field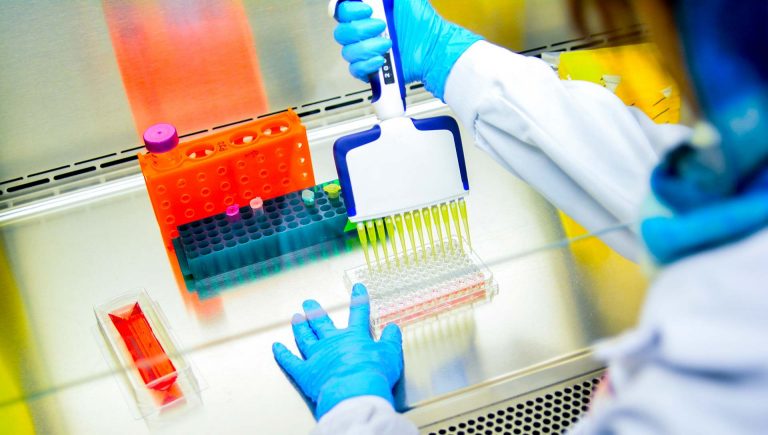 In labs and classrooms across the university, researchers and students are rethinking, recreating, and reinterpreting biological systems to create high-value applications in human health, agriculture, chemistry, and environmental technologies.
They are Concordia's synthetic biologists.
For most, the term synthetic biology is relatively new. The rapidly developing and remarkably interdisciplinary area of research fuses the design principles of engineering with the tools of biology to build new organisms that can help solve some of the world's most pressing problems.
From January 20 to February 21, 4TH SPACE is hosting "Rethink, Recreate, Reinterpret," a program that spotlights the innovative work Concordians are contributing to this field.
Promoting a better understanding of synthetic biology is central to the program's mandate. Interactive installations help facilitate engagement with some of the field's basic principles, while public talks, classes, and roundtables with researchers, students, and community partners will foster open discussions around some of the field's main questions and concerns.
Promoting understanding through engagement
Concern about the misunderstanding or mischaracterization of what synthetic biologists do is emerging as rapidly as the field itself.
"People from outside our field might think that we are a powerful group of researchers designing new micro-organisms, fighting each other over patents, all to try to make big money," says Kenza Samlali, a PhD candidate at Concordia's Centre for Applied Synthetic Biology (CASB) and member of the Microfluidics Lab led by Steve Shih, assistant professor in the Department of Electrical and Computer Engineering.
"But the synthetic biology community is in fact really small and wholesome," Samlali adds.
"Our field is still developing, and we're continuously figuring out what and why we are doing the things we do. Being part of the synthetic biology community carries a responsibility of having two-way inclusive interactions with society about the applications and impacts of the technologies we develop."
Interactive installations
Committed to advancing public understanding of the field, Samlali has helped 4TH SPACE develop installations that audiences can interact with to better grasp its basic theories and tools.
Big, bright transilluminator tables invite visitors to look at samples of genetically modified material, like engineered strains of yeast, just as scientists would in a lab setting but on a grander scale.
A lifesize, lego-inspired game walks visitors through the process of using cells to build a new protein using the programming principles and coding logic behind SBOL (Synthetic Biology Open Language).
And it's not just synthetic biologists who are concerned with public understanding of the field. At Concordia, researchers in the Department of Journalism are investigating the way media representations of synthetic biology are evolving and their affect on public perception.
Pouria Nazemi and Taylor Kann, MA candidates in the department studying under Professor David Secko, have worked with 4TH SPACE to develop installations that invite viewers to engage with and think about these media representations through large-scale reproductions and projections in the space.
A space for discussion
Several events throughout the month welcome the Concordia community and public alike to learn more and talk about the new technologies being developed by synthetic biologists and their societal applications in an open format.
On January 27, the class Synthetic Biology and Industrial Applications, offered through CASB, will be holding a session at 4TH SPACE aimed at research trainees but open to all. It will focus on stakeholder considerations and communication in the design of application-based products.
Video interviews and tours with researchers from CASB will also be projected in 4TH SPACE throughout the program, offering the community a behind the scenes look into the labs and facilities where synthetic biology research is happening at Concordia, including Canada's only Genome Foundry.
Researchers interviewed for the program are:

On February 13, District 3 Innovation Center is holding its next Biotalk Café at 4TH SPACE. Jordan Young, Associate Director, Biology at Repare Therapeutics, will discuss the now-famous CRISPR technology and how it can enable the quest for effective cancer therapeutics.
Two other workshops with District 3 – one on design thinking and another on human practice in synthetic biology – are in the works.
All day on February 19, Brico Bio, a shared community lab dedicated to the democratization of biotechnology, is hosting a mini bio-hackathon at 4TH SPACE, followed by a discussion.
Last year, Concordia's iGEM (International Genetically Engineered Machines) competition team, developed a biosensor tattoo that detects fentanyl in the body. The team will be holding several events in 4TH SPACE throughout the program.
These include an Introduction to SynBio and DNA Extraction workshop, a session on how to confront the ethical challenges posed by synthetic biology with other iGem teams and assistant professor Brandiff Caron, a session on sensitivity training, one that will activate 4TH SPACE's SBOL game, and another to announce and develop their project for the 2020 competition.

Visit the 4TH SPACE website to learn more about these and other events, and to view the complete list of programming at Concordia as it becomes available.
---