Concordia students use synthetic biology to tackle the opioid crisis
The university's iGEM team introduces Quantifen, a biosensor tattoo that detects fentanyl in the body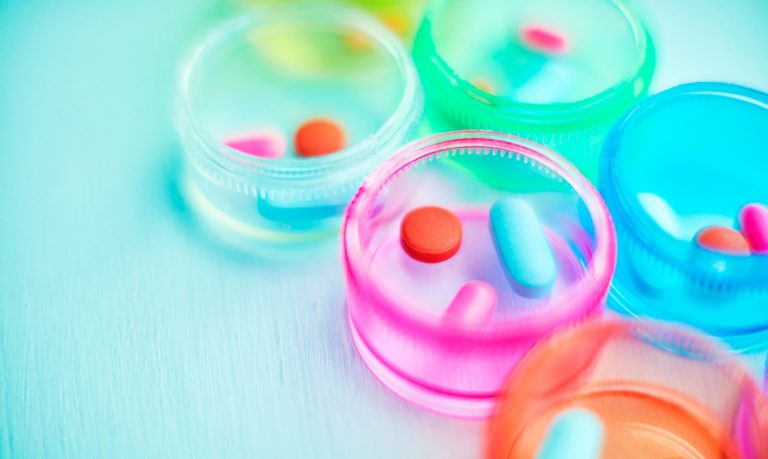 Between January 2016 and March 2019, more than 12,800 opioid-related deaths occurred in Canada.
In response to the ongoing crisis, Concordia's iGEM (International Genetically Engineered Machines) team has created Quantifen, which takes aim at the fentanyl scourge with a biosensor tattoo.
"We were made aware of the number of accidental overdoses from the synthetic narcotic fentanyl," says co-team leader and biochemistry student Lancia Lefebvre. "We wanted to focus our efforts on a product that could help prevent these accidental overdoses post-consumption."
Undergraduate student Lefebvre and graduate student Kathy Mu (BSc 19) lead a team of nine other undergrads from diverse departments — biology, biochemistry and electrical and computer engineering — and in Fine Arts. They are mentored by graduate students and their principle investigator, Aashiq Kachroo, assistant professor in the Department of Biology.
The team is gearing up to present Quantifen at the iGEM 2019 Giant Jamboree, to be held in Boston from October 31 to November 4. The international synthetic biology and biological engineering competition engages hundreds of teams and thousands of students, primarily undergraduate, who are building genetically engineered systems.
A powerful, covert killer
Fentanyl is a synthetic opioid 100 times more powerful than morphine. According to Health Canada, it takes less than 2 milligrams for an adult to overdose.
Fentanyl's lethal nature is also due to its underhanded presence in other street drugs; the majority of deaths occur in people unaware that it has entered their body.
Since 2013, a spike in the illegal use of fentanyl, owing to its potency and low production cost, has amplified the opioid crisis to epic proportions. The amount of deaths in Canada caused by fentanyl and related substances rose 21 per cent from 2016 to 2018.
The Canadian Institute for Health Information reports that since 2013 the growth of fentanyl poisonings in younger adults, aged 25 to 44, was 62 per cent and in youth, aged 15 to 24, was 53 per cent.
Although fentanyl is often cut into other opioids like heroine, "they have found fentanyl traces in cocaine, MDMA and even marijuana," Lefebvre says.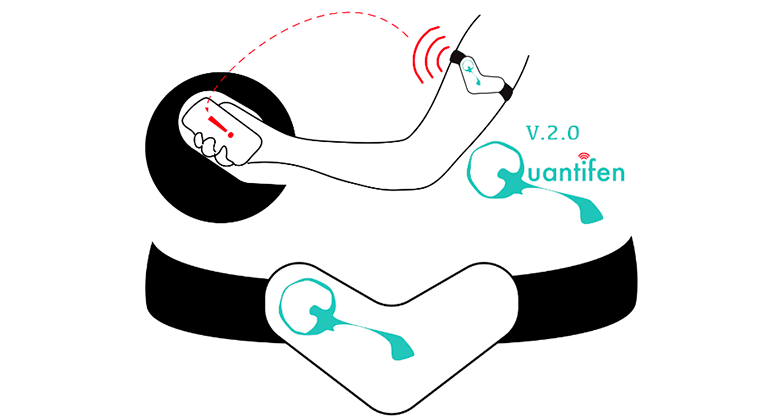 Quantifen wearable biosensor prototype design V.2.0 | Courtesy of Concordia's iGEM team
How Quantifen works
Quantifen's technology employs a detection system that uses a temporary tattoo, similar to a Fitbit, to identify if fentanyl has entered the body.
A smartphone alert is emitted to the drug user, their loved ones or emergency services, indicating that the street drugs they ingested are contaminated, putting them at risk of an overdose.
The temporary tattoo consists of a non-invasive biosensor adapted to determine whether fentanyl is present in sweat and tissue fluids around skin cells.
"The hydrogel swells as sweat enters it, pulling small molecules and fentanyl, if present, into the layer with the biosensor," Mu explains.
"When our biosensor binds to fentanyl, proteins are expressed that couple to electrochemical reactions creating a colour change or an electrical signal," thereby turning on "the system."
When that system is on, the printed circuit board housed in the 3D-printed tattoo casing communicates with a smartphone via the app to signal that fentanyl has been detected.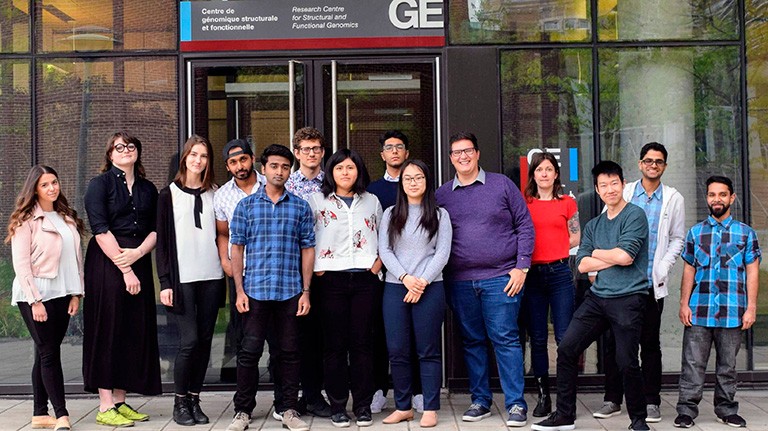 Concordia's iGEM team hopes to win more funding so that they can continue to perfect their product.
Taking it international
Concordia's iGEM team is doing everything it can to prepare for the Giant Jamboree in Boston.
iGEM medals are awarded if certain criteria are met and, if so, all teams can technically receive gold. "There are also grand prizes that are awarded for everything from software to human practices," Lefebvre explains.
In late September the team hosted a Mini iGEM Jamboree at Concordia, in which teams from Université Laval and Queen's University presented their projects, current progress and poster sessions.
"All teams were very excited to attend," says Lefebvre. "They gave great talks, and judges gave excellent feedback that we believe will truly help teams better their presentation."
Above all, Concordia's iGEM team hopes to win more funding so that they can continue to perfect their product and optimize their design to give an output signal as quickly as possible — and hopefully one day make Quantifen available to the public.
The iGEM team is generously supported by Concordia and the SynBioApps NSERC-CREATE program.

NOV. 04, 2019 UPDATE: Concordia's iGEM team earned a collegiate gold medal at the iGEM 2019 Giant Jamboree.

Learn more about the multi-disciplinary research at Concordia's Centre for Applied Synthetic Biology and Genome Foundry.
---