Concordia grad student researches secondary lymphedema among breast cancer patients
Jesse Whyte compares the results of healthy women with those who have developed the side effect following treatment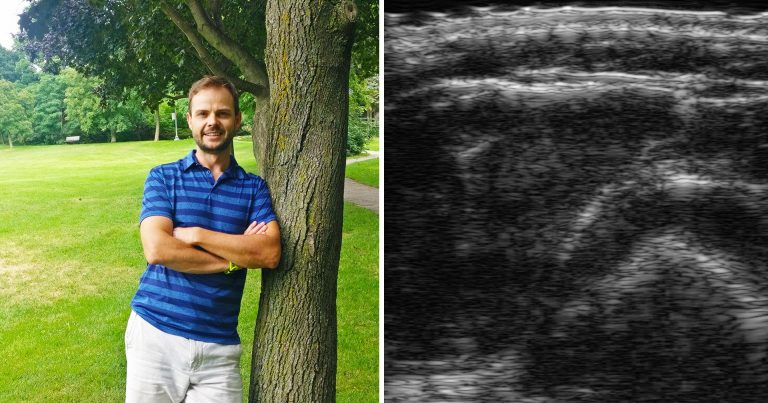 Jesse Whyte (BSc 08) was already established as a certified athletic therapist when he decided to return to Concordia in 2016 to pursue research as a graduate student.
He's now in his fourth year of the master's program in exercise science.
Whyte's research looks at women who have undergone breast cancer treatment and developed secondary effects. His thesis supervisor is Robert Kilgour, professor in the Department of Health, Kinesiology and Applied Physiology.
"Through my research, I compare tissue characteristics of women with stage 2, unilateral breast cancer-related lymphedema — BCRL — to their unaffected arms and healthy control arms," Whyte says.
As he explains, BCRL, a secondary lymphedema, occurs when lymph vessels are unable to drain fluid. Contrary to primary lymphedema, a genetic condition, secondary lymphedema is a side effect of other diseases and their treatments.
"The aim of my study is to advance our understanding of secondary lymphedema and its effects on tissues," Whyte says.
"We already know that a breakdown in the lymphatic network causes secondary lymphedema, but how the body responds to the resulting tissue changes requires more research. A better understanding of these modifications will help professionals choose more effective treatment protocols for patients."
At the 2019 National Lymphedema Conference in Toronto in November, Whyte delivered an oral presentation titled, "Breast Cancer-related Lymphedema Affects Handgrip Strength But Not Skeletal Muscle Thickness."
The research showed that handgrip strength measured in the breast cancer-related lymphedema group was significantly less than in the healthy control group despite the measured muscle thickness being the same.
"One possible reason is muscle quality, which is lower in the BCRL group than in the control group," Whyte says. "I am currently working on presenting the results for all of the other measurements so I can finish writing my thesis."
Whyte continues to work as an athletic therapist, specializing in cancer rehabilitation and teaching healthy movement habits to people of all ages and backgrounds.
"I have opened my own studio in Montreal West called ReFitMTL," he says. "I am hosting classes for cancer patients, the young at heart and children, where we address movement and balance to encourage a safe and active lifestyle."

Learn more about the Department of Health, Kinesiology and Applied Physiology.
---