'Keep an open mind, look up and reach out': Three academics discuss what inspires and motivates their work
To mark International Women's Day, leading scholars from Concordia offer advice on how to build a rewarding academic career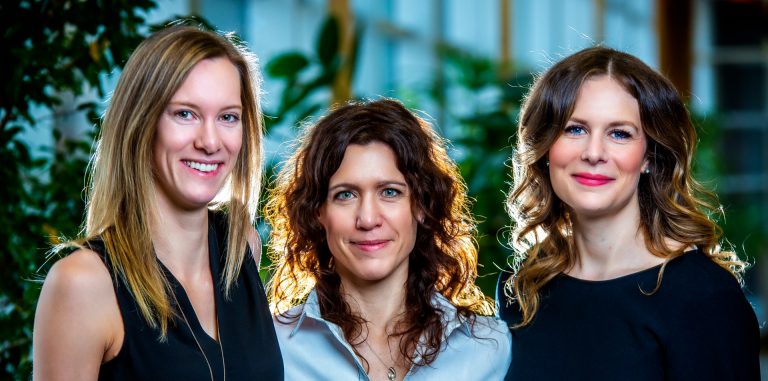 What are the makings of a successful career in academia? To mark International Women's Day, we asked three pioneering women from the Department of Health, Kinesiology and Applied Physiology to discuss their professional journey and look at what's ahead for the newly renamed department.
Look for satisfying experiences
Véronique Pepin
Associate Professor and Chair
When the previous department chair Richard Courtemanche finished his second mandate, Pepin's colleagues approached her about taking on the role. The department had never had a female chair and, in the words of Pepin's colleague Robert Kilgour, "it was high time."
"I received tremendous support from faculty and staff. That really motivated me," says Pepin. She adds that being a mother of a young daughter made her wonder if it was the right time for her.
"My daughter's stepmom gave it a nice spin: she said it would be great for Juliette because she would see firsthand that a mother can aspire to a leadership role."
Pepin says she is continuing the work that began with her predecessor. This extends to new hires, curriculum review and development, new academic programs and amping up research.
Jacqueline Camley was hired as an Extended Term Appointment in the spring of 2018 and Maryse Fortin has been hired into a tenure track position as Assistant Professor in Musculoskeletal Health Interventions.
In addition to two new honours programs, a new PhD in Health and Exercise Science will be available in Fall 2019. And research is a big focus.
"The amount of principal-investigator funding secured by faculty members from this unit has tripled in the past 10 years," says Pepin.
"We want to keep this going. New faculty hires will play an important role; we want to further promote the research culture within the department at all levels, starting with our undergraduate cohorts. With the new honours programs and the upcoming PhD program, we find ourselves in a great position to achieve this goal."
This academic year also marks the 30th anniversary of the Athletic Therapy program and the fifth edition of Born to Run, a fundraising event benefiting the David H. Jones Memorial Scholarship in Athletic Therapy. This scholarship is awarded to an undergraduate student in the Athletic Therapy program with a strong commitment to research and was named for laboratory instructor David Jones, who worked in the department for two decades.
Alongside the Born to Run fundraiser, the department is also hosting the Concordia Research and Education for Athletic Therapy Excellence (CREATE) conference from May 16 to 17, 2019.
What are some of the lessons you hope to pass on to women interested in this line of study as well as in pursuing leadership positions within higher education?
Véronique Pepin: I think having clarity about why you want to pursue what you are pursuing is fundamental. Gather information about your dream position to see if there is an actual fit, experience it through volunteering, internships, or assistantships, and seek mentorship from people in the field.
I am also a big believer in regular re-evaluations. We change over time, and so does our environment. Sometimes, minor adjustments can be enough; other times, a major reorientation may turn out to be the best option.

Choose your environment wisely and look for satisfying experiences; if a collaboration always leaves you disappointed or frustrated, it is a call for action.

Lastly, I would recommend constantly looking for ways to develop or maintain your self-confidence. Academia can be great, but it can also be abrasive at times. If you don't invest in your wellbeing, self-doubt and cynicism can set in.
Keep an open mind, look up, reach out, and get some tools to overcome your limitations and enjoy the ride.
I have gone from seeking help for coping with anxiety to taking hip-hop dance classes as a way to literally learn to 'put my foot down.' No shame. Whatever helps you remain positive through uncertainty.
It's important to be a cooperative team member
Angela Alberga
Assistant Professor
Angela Alberga recently received a University Research Award for her interdisciplinary research program that focuses on understanding how institutional, community and societal factors affect weight-related issues — including obesity, eating disorders, physical inactivity and weight stigma — in children and adults.
Although she always loved working with children, she never considered a research career until taking one of her all-time favourite courses, Pediatric Exercise Science with Joanna Komorowski as an undergrad here at Concordia. Alberga teaches the same course today.
"Komorowski also offered me my first research assistantship here at Concordia," Alberga says. "I owe my research inspiration entirely to her."
What have you learned in your roles as a professor and as a researcher? In what ways do they inform and support each other?
Having a research mindset can help inform our day-to-day practices as professors and faculty members. When I first started teaching here at Concordia I felt like I was testing all of my new in-class activities and lectures with my students every time I taught!
Those 'mini trials' taught me what worked and didn't work in teaching and learning and I continue to 'pilot test' and inform my teaching practices every year.
I think it's also important to be a cooperative team member as a professor and researcher. We often work together in teams serving on committees, faculty meetings, grant proposals and manuscripts.
Working with great students and colleagues who are collaborative and open-minded makes research and the field of academia so fun and inspiring.

In what ways can researchers make the world a better place?
I think it's important for us to continuously self-reflect by asking ourselves, 'what is the bigger picture of our work?' and/or 'what is the clinically meaningful question that needs to be answered that can better society?'
By keeping this in the back of our minds and engaging with the very people who are affected by the disease or condition we are studying (i.e. patient-oriented research), we can be sure to help address real concerns that affect people in their daily lives.
I also think it's important to devote some of our time to knowledge translation to ensure that the important work that we do is being shared with the public and the media, and reaches the audiences we intend to reach with our research.

What advice would you give students who want to conduct meaningful research but are having trouble finding their focus?
I would encourage students to do some deep soul searching to really discover what they're naturally curious about in society and what topic intrigues them in their day-to-day lives.
That inspiration can come from anywhere, anything or anyone, it would just be important to pay attention to it and gain as many work and research experiences as possible.
I think the most important thing is for students to stay true to themselves and work on something that keeps them interested and happy throughout the research process.
Every day that I teach, I learn something new
Jacqueline Camley
Extended Term Appointment
Jacqueline Camley received a Dean's Award for Excellence in Teaching in November 2018. Extremely active growing up, she knew she wanted to do something with physical literacy and education. Camley was inspired to pursue athletic therapy in university after working as a volunteer kinesiology student with the Brock University women's hockey team.
Her teaching style is interactive. She incorporates live and video demonstrations, case studies and real-life examples in order to reach a variety of learning styles. She says it's important to take student feedback to heart, and apply it.
Do you incorporate any of the teaching methods used by some of your favourite professors and mentors in your own teaching?
Many of my professors at Sheridan College focused on the why and how of the information we were learning. I try to get the students to understand the why and how of their assessments, injuries, rehabilitation techniques so they are not just memorizing the information.
Instead, I want them to truly grasp how the technique will test what it needs to test, or how rehabilitation will help with the specific injury. One of the most annoying things one of my old professors would say is, 'it depends' whenever we asked her a question.
As a student, this is not the answer we want to hear but as a teacher it is a common saying. I try to make sure my students recognize that each client/patient/athlete is different so depending on how they present, 'it depends' on what we will do.

What is your favourite thing about what you do?
Each day is different. When I walk into the classroom, I get excited about the material I am going to teach. I enjoy seeing the students understand the concepts and ask questions for better understanding. Every day that I teach, I'm also learning something new.

Find out more about Concordia's Department of Health, Kinesiology and Applied Physiology.
---