Concordia researcher investigates lower back pain in hockey players
Maryse Fortin recommends preseason screening to assist teams with their injury prevention programs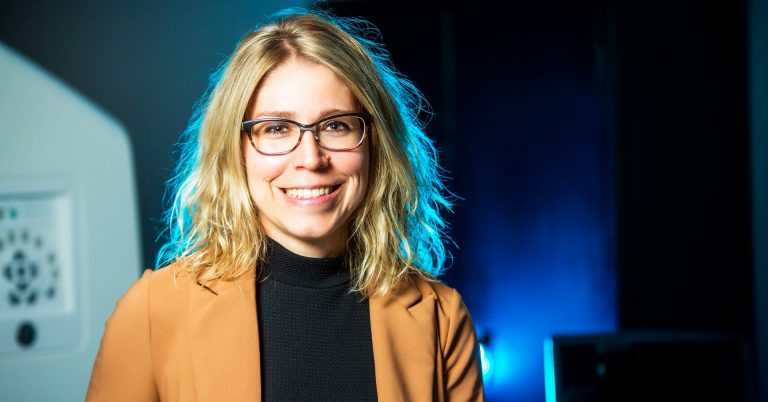 When many people think of hockey injuries, concussions are the first thing that comes to mind.
However, hockey players are also at increased risk for lower back pain (LBP), according to new research from Maryse Fortin, assistant professor in the department of Health, Kinesiology and Applied Physiology (HKAP), housed within the Faculty of Arts and Science.
The study was co-authored by Hassan Rivaz, associate professor in the Department of Electrical and Computer Engineering, housed within the Gina Cody School of Engineering and Computer Science, along with Amanda Rizk and Stephane Frenette of of Concordia's PERFORM Centre and Mathieu Boily of the McGill University Health Centre's department of diagnostic radiology.
With hockey season around the corner, Fortin breaks down what her team discovered.
"Given the high rates of LBP seen in hockey players, I wanted to examine how the lumbar multifidus (LM) muscle presents in these athletes," says Fortin.
The LM muscle, located deep within the spinal muscle structure, is small, but plays a key role in lumbar support.
"When we see subjects present with LBP, this muscle may be smaller than normal, and contain fatty tissue," explains Fortin.
A demanding sport
"In hockey, we see many core movements which target the LM muscle," says Fortin.
These movements include skating, changing direction and checking. The LM muscle also needs to be strong to accommodate players who spend most of the game flexing their hips, knees and spine.
"Holding a forward-flexed position, as hockey players frequently do, increases the demands placed on the LM muscle," Fortin explains.
Fortin hopes the study will improve knowledge of the challenges hockey places on the LM muscle, both for players and for the people who work with them.
"What is it about hockey that can lead to LBP, and how can we improve things for players with this condition? These are the questions I'm interested in."
To examine how the LM muscle is affected in hockey players, Fortin did not have to look far. She enlisted 32 ice hockey players from the Concordia University Stingers – 18 females and 14 males – for her study.
During the preseason, each player participated in a 30-minute testing session, including a series of ultrasound images of the LM muscle, both at rest and contracted.
Results showed the muscle size or cross-section area (CSA) was significantly smaller in players reporting LBP four weeks before beginning the study. The muscle's thickness at rest was also found to be significantly smaller in players who reported LBP up to three months before the study.
The study found that LM morphology was dependent on hockey players' weight, height, and total lean muscle and bone mass (obtained from a DEXA scan). BMI was not used as an indicator, since its efficacy is limited in measuring muscle vs. fat mass in elite athletes.
"The study is important because it reveals deficits in lumbar multifidus morphology in athletes with low back pain using low-cost, easy-to-use and widely-available ultrasound imaging," says co-author Rivaz.
Widespread pain
Fortin and her team are recommending enhanced pre-season screening assessment of the LM muscle, which they hope will assist teams with their injury prevention programs.
Of course, back pain can happen on and off the ice, and is not limited to the NHL or elite varsity athletes. Over 80 per cent of the general population has or is likely to experience LBP at one point in their lives.
Fortin's next project will be a research study based out of PERFORM, looking at LBP in the general population.

Read the cited paper, "Ultrasonography of multifidus muscle morphology and function in ice hockey players with and without low back pain."
---