Concordia researchers evaluate their work to improve literacy rates in Kenya
During a recent trip to the Trans Mara region, members of the Centre for the Study of Learning and Performance witnessed promising developments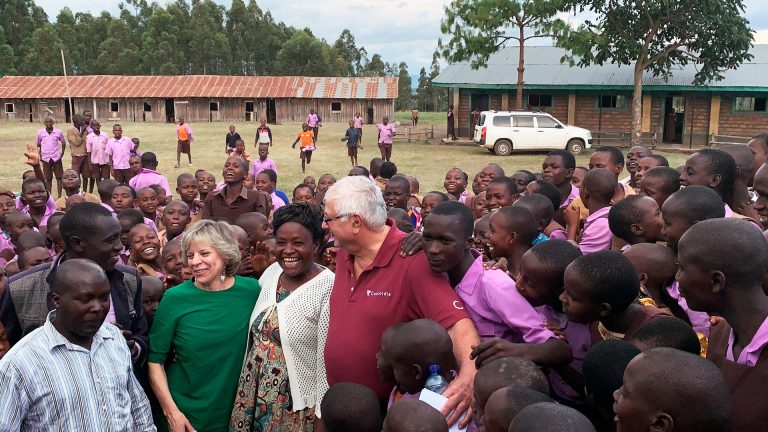 Concordia researchers from the Centre for the Study of Learning and Performance (CSLP) visited the Trans Mara region of Kenya in May to see firsthand how their hard work on reducing illiteracy in the area was paying off.
They were evaluating the impact of the Learning Toolkit Plus (LTK+), a suite of evidence-based pedagogical software for teaching English and French literacy, mathematics and other skills that the CSLP introduced in this region in 2015.
The centre has implemented the software in 27 primary schools across Kenya, including in Trans Mara, which is located in the southwest part of the country. More than 3,600 Kenyan students are now taught fundamental literacy skills through the LTK+ and its ABRACADABRA software.
According to UNESCO, approximately 750 million adults around the world are illiterate, with 102 million of them between the ages of 15 and 24. And even more are under-literate, says Philip Abrami, CSLP founder and a professor emeritus of education in Concordia's Faculty of Arts and Science.
"Basic literacy skills are the single most important predictor of personal success, economic development and national success," he says.
"We wanted to take the literacy tools we have developed in Canada and make them available without charge to those portions of the world where the need is great."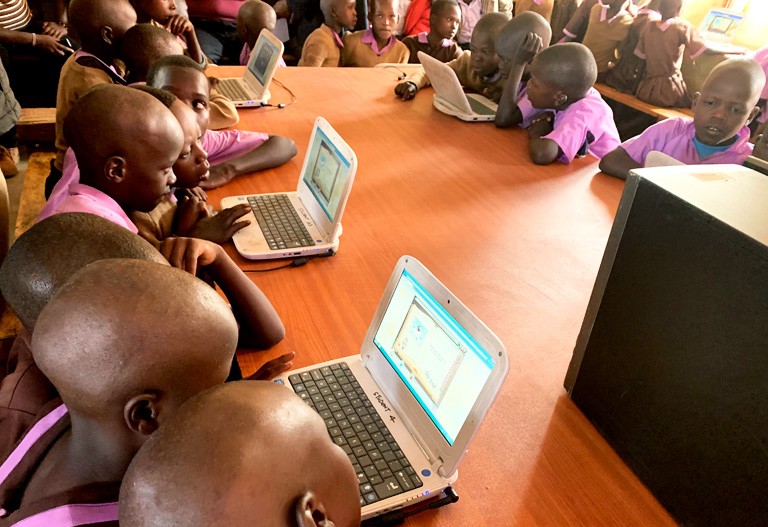 Local champions
The CSLP has been working with various agencies within the Aga Khan Development Network in Kenya since 2012. A few years ago it partnered with World Vision Canada and World Vision Kenya to expand to the Trans Mara region of Kenya.
World Vision, the global relief, development and advocacy organization, supplied technology, such as Raspberry Pi servers equipped with the CSLP-developed software, to schools in Kenya's remotest regions.
Abrami's team has focused on training teachers on the software and associated pedagogy to ensure a high-quality implementation.
"In our third year in the Trans Mara region we were really struggling to get the teachers on board with using the software," says Anne Wade, manager of the CSLP. "Within the last year it's taken off, primarily due to some local champions that took hold of this project and ran with it."
Wade notes many teachers who have been trained on the software haven't previously had any technology skills.
"These teachers showed so much courage in taking this on," she says. "Not only is it the challenge of learning how to use the computer but using the software in a lab setting where you have upwards of 100 students, yet only 15 computers. Teachers have to figure out classroom management during their literacy lesson."
Wade adds that in this remote region, along with a World Vision Coordinator, the CSLP has hired one local teacher to be an ambassador for the LTK+. The teacher has embraced the technology with real enthusiasm, conducting outreach to other schools and supporting other teachers learning how to use the LTK+.
Now that the CSLP has gotten buy-in from Kenyan teachers, Abrami says, it's starting to see promising developments. The team has tracked national exam scores in communities that have had high implementation rates.
"We're very pleased with the strong results over the last couple of years."
Watch the video of the CLSP team's visit to several schools in Trans Mara, Kenya, in May:
Competency-based curricula
Leigh Glynn-Finnegan, the CSLP's creative director, edited together a video of the team's visit to multiple schools in Trans Mara in May. In it, Abrami and Wade can be seen surrounded by hundreds of school children from the region.
"When we passed among them they all crowded around us so they could touch our skin. They had never seen a white person before," Abrami says. "That's how remote these communities are."
Abrami and Wade's visit, and the growing success of the LTK+ software, coincided with a reforming of Kenya's educational curriculum to a competency-based system.
"This is something we've had in Quebec since 1999 and our tools were developed with this type of curriculum in mind, so they align very well with the reforms that are unfolding," Wade explains.
The LTK+'s literacy software takes what she calls a "balanced approach" by encouraging students to develop four broad skill areas — alphabetics, fluent reading, comprehension and writing.
"What we see in Kenyan classrooms is that teachers may not feel comfortable with how best to teach in all four areas," Wade says. She cites an example of instructors who might rely too heavily on reading to students at the expense of fundamental alphabetic skill development.
"Through this software we're trying to provide a structure for teachers to ensure they address all of these important skill areas."
'The kids are capable of great things'
The results from schools with high uptake have demonstrated the power that the instruction format can have.
"What we've learned from the teachers who have really adopted the software we've developed is that poor performance in the area has all to do with the instructional delivery system and not the children," Abrami says.
"The kids are capable of great things and that's an especially important lesson for us. It's one that keeps us moving forward and looking to work with other remote regions."
The CSLP currently has its LTK+ software in schools in Hong Kong and China, with research projects underway in Nanjing and the Hunan province. The centre is looking at expanding to Rwanda, Tanzania, Uganda, and is hoping to use the French adaptation of ABRACADABRA in Senegal and other Francophone African countries.

Read about the UNESCO prize the Centre for the Study of Learning and Performance received for the Learning Toolkit in 2017.

---