Concordia's draft shared vision for a digital strategy puts people before technology
The proposed roadmap identifies 11 possible projects to steer through today's new digital realities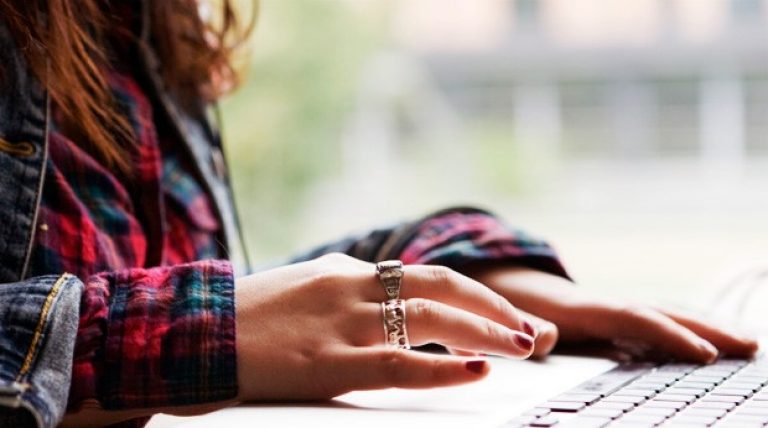 "When it comes to developing a next-generation digital culture at Concordia, we need to be bold and transformative," says Guylaine Beaudry, vice-provost of Digital Strategy and university librarian.
"We need to make sure that we are optimizing our existing technology. We need to support people in strengthening their digital capabilities and skills. This is particularly important in today's reality where our day-to-day activities are becoming increasingly digital," Beaudry says.
That's why Concordia launched a project earlier in 2018 to develop a university-wide digital strategy, one of the transformation projects included in the larger Strategic Directions Initiative.
The draft shared vision and roadmap of 11 proposed projects were unveiled on October 5, 2018, at a morning community presentation on the Sir George Williams Campus and later at the afternoon meeting of Senate.
"One of the common themes that emerged from our consultations and environmental scan is the need to put people before technology," says Beaudry. "We need to think differently about our users, and that is why we are focusing on a user-experience approach."
One of the results of the consultation process was the development of a series of personas, available in a handbook, that helps to do just that.
"These personas are based on research and provide us with a better understanding of the user-experience from the perspective of our students, faculty and staff members," she says. "These will guide our thinking going forward."
Summary of key findings
Beaudry provided an overview of the key findings of the consultation activities.
These include a fragmented information architecture that does not meet the needs of the user; inefficient internal processes with little onboarding for students, faculty and staff on how to use the available technology; better use of existing technology instead of more technology; the need to strengthen people's digital skills and capabilities; enhancing collaboration both internally and externally; and increasing awareness among students about data privacy and how Concordia uses student data.
Key findings related to teaching and learning revealed that 76 per cent of student respondents agreed that digital skills are important to their chosen career. However, only 29 per cent agreed that their program prepared them for the digital workplace.
Student respondents also saw recordings of courses as a useful complement to the in-class component. Those who experienced more advanced uses of digital technology in their courses reported being more satisfied with digital teaching and learning. However, many reported not having a wide range of experience in terms of digital technology in the classroom.
Faculty members were divided about online learning. Some thought it was a good complement while others believe there is no substitute to the in-person relationship.

Roadmap proposes 11 projects
The draft roadmap is comprised of 11 proposed projects grouped under five themes that address many of the key findings from the consultation and research phase.
"We are now asking our community to provide feedback on these 11 projects," says Beaudry. "Our goal is to shorten the list to between five and seven projects that would be undertaken."
The five themes are:
People: digital skills and capabilities
Teaching and learning
Improving processes and services
Data: use and access
Collaboration capacity
People: digital skills and capabilities
Two projects are being proposed to support members of the community in strengthening their current digital skills:
The digital skills and credentials project will provide students, faculty and staff with an opportunity to adopt a practice of continual digital skills and capabilities development throughout their academic and professional careers. This will involve developing a common framework, an online self-assessment tool and an open and secure credential tracking system.


The digital onboarding project will develop a series of short courses and interactive tutorials with content customized to orient newcomers to Concordia's environment in line with the responsibilities of a person's new role. Members of the community will be guided through these over a finite period of time to ensure that the necessary skills are acquired in a useful and timely manner.
Improving processes and services: users at the centre
The consultation findings found that overall the community does not feel that Concordia offers a seamless and integrated experience across its platforms. Many of the digital services look and feel completely different from one another.
"This is challenging for students, especially new ones, as they have a narrow window of time to learn how to navigate our digital environment and their usefulness is short lived," says Beaudry.
The major process review and redesign proposed project will focus on enhancing processes to better answer the needs of users. The transformation of processes and services will take maximum advantage of the digital, while answering the users' needs for human interactions.
Teaching and learning
There are five proposed projects related to teaching and learning:
Collaboration capacity
There are two proposed projects:
The collaboration platform project will help reduce the barriers that impede our ability to collaborate with each other and people outside our organization.


The enabling peer networks project will provide one or more open-access digital collaborative spaces for creating, hosting, and sharing a repository of online learning modules (including videos) for faculty, staff and students on any questions, tips, or topics to share and learn from.
Data: Use and Access
The widespread use of digital tools in university teaching and administration increases opportunities to use data for improving both learning and university administration.
The data governance, standards and analytics capacity project will enhance discoverability and data integrity across Concordia's data domains through the adoption of data standards and a transparent data governance program.
This will support effective data stewardship and better learning outcomes and will involve piloting a new environment with modern self-service tools for all stakeholders.
Community invited to provide feedback
Students, faculty and staff are invited to provide their feedback by November 9 in three ways:
Learn more about the digital strategy, or Concordia's Strategic Directions Initiative.
---