'It's an exciting time to be here': Concordia's provost provides an update on the strategic directions
Graham Carr says the university needs to sustain the momentum created by projects and initiatives launched so far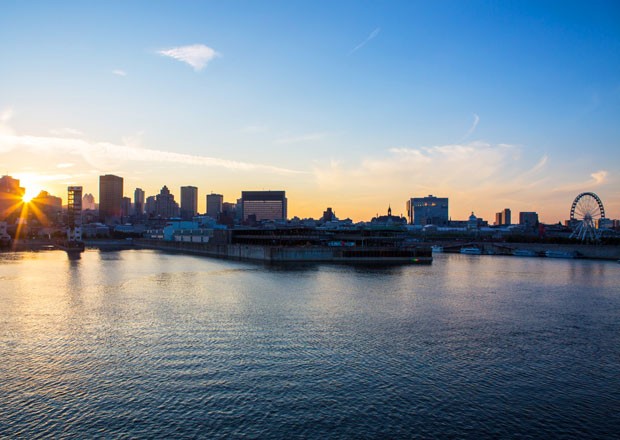 Montreal 2050 looks at how global cities are changing. | © Concordia University, photo by Lisa Graves
It's been four years since Concordia embarked on a process to think about its future and determine the road ahead.
The process involved a series of consultation activities that included Idea Cafés, the speaker's series The Future of the University and Future of Learning, brainstorming sessions with academic and administrative leaders, and a student survey.
The result: nine strategic directions, and a game plan that identifies priority actions Concordia is taking to become a future-ready, next-generation university.
"These directions are fundamental to achieving our ambition to be a next-generation university," said Graham Carr, provost and vice-president of Academic Affairs, in his update on strategic directions at the September 14, 2018, Senate meeting.
"Our first year saw remarkable progress with tremendous engagement and plenty of ideas," said Carr. "This led us, in year two, to take a step back and think about the themes and values we saw emerging in the planning and execution of our 'first moves.'"
This reflection led to the articulation of five guiding principles to support planning and decision-making moving ahead: position globally, partner meaningfully, integrate for impact, deliver on innovation and augment the student experience.
2016-17: Year one recap
Among the many achievements of year one was the decision to create — for the first time in many years — a new university department.
"The new Department of Chemical and Materials Engineering represents a key investment in engineering and computer science at Concordia. The timing converges perfectly with the creation of the Gina Cody School of Engineering and Computer Science, but it also speaks to our desire to build across the university by connecting developments in engineering with new frontiers of chemical and materials sciences," noted Carr.
"One of the strategic directions is to double our research and this depends, in part, on attracting top quality PhD fellows. That's why we made investments to offer a Horizon Postdoctoral Fellows program, which has been a runaway success," he said.
Among the 59 postdoctoral students who have been recruited so far by the School of Graduate Studies, 49 are international students.
"This is significant because it means Concordia's reputation is reaching beyond the borders of Montreal, Quebec and Canada," Carr added. "As a result, we're seeing increased interest from postdoctoral candidates from around the world who want to study at Concordia."
Another initiative launched in 2016-17 was the successful Public Scholars program in partnership with the Montreal Gazette.
The program provides 10 doctoral students, chosen from across the university, with training to support them in sharing the significance of their emerging research with the wider community. The second cohort began the program in May 2018.
Carr said the creation of the Institute for Urban Futures in the Faculty of Fine Arts is particularly important because it highlights the university's focus on cities, a theme that is not only articulated in the embrace the city, embrace the world strategic direction but throughout all nine directions.
Since 2016, the institute has organized programming on the culture of cities and social justice. It has hosted urban futurists in residence, organized a public art competition and offered a summer school.
The work of the institute dovetails well with Concordia's growing global leadership in the field of smart, sustainable cities and communities, connecting to some of the university's outstanding work in geography and urban planning and smart buildings, and in emerging areas such as real estate management.
In 2016, with the help of a $100,000 gift from alumnus and former member of the Board of Governors Brian Neysmith (BSc 66) and his wife, Carolyn Neysmith, the university launched the Concordia University Press at a time when the traditional model of scholarly publishing is under pressure.
"This was a bold move with deliberate purpose of creating a new press that would differentiate itself by being digital and open access," said Carr.
Since its inception, the press has received an additional gift of $250,000 from the Birks Family Foundation to support its work. It also signed a distribution and marketing agreement with UBC Press and announced its first book series, Media before 1800.
2017-18: Year two recap
In year two, the university decided to concentrate on five areas of investment with a sustained commitment to Indigenous reconciliation.
Health Institute
"In 2017-18, we took steps to advance our goal to make health research and creative activity, and health learning, more visible at Concordia through the creation of a health institute," Carr said.
Christophe Guy, vice-president of Research and Graduate Studies, and his team led a series of brainstorming sessions and workshops with health-based researchers, artists and creative people across the institution.
The outcome was the identification of five areas where Concordia can differentiate itself as an important university doing health-based research: health and well-being; applied physiology, health and technology; preventive health; health policy and governance; and biomedical fundamentals.
Earlier this year, a new PhD program in exercise was launched and the Department of Exercise Science was renamed the Department of Health, Kinesiology and Applied Physiology.
"These are a few examples of how we are trying to reposition Concordia — a university without a medical school — as a university that can make a valuable contribution to health research that will benefit the community at large," Guy said.
Montreal 2050
Another priority identified in 2017-18 was Montreal 2050.
This project brings together faculty and researchers from across the institution with external partners to imagine what the city of Montreal might look like in the future and what it should do to better prepare for the future. As well, the project is also looking at how global cities around the world are changing.
"We undertook a strategic hiring exercise that allowed all faculties to put forward proposals to hire researchers and artists focused in an area that would advance our commitment to smart, sustainable resilient cities and communities," Guy said.
Concordia also made the strategic decision to apply to the Canada Excellence Research Chairs program (CERC), the most prestigious chair competition in Canada.
"We were successful in being awarded a CERC in smart, sustainable and resilient cities and communities," said Carr. This positioncomes with $10 million in federal funding spread over seven years.
Carr noted that the university has also forged several partnerships with the City of Montreal, industry partners who work in the solar energy field, and community groups including those affiliated with the Institute for Urban Futures. It collaborated with McGill University on designing an energy efficient house for the 2018 Solar Decathlon China competition.
"These achievements support our strategic direction to double our research as well as the direction to teach for tomorrow by creating new transdisciplinary learning opportunities for our students," Carr said.
Digital strategy
Under the leadership of Guylaine Beaudry, vice-provost of Digital Strategy and university librarian, Concordia launched a project to articulate a digital strategy, one of the first universities in the country to do so.
"What is a digital strategy for a next-generation university? That was the main question we posed last year," said Carr.
To answer this question, students, faculty and staff were invited to participate in public consultation activities. These included discussion groups, individual interviews and a student survey. An environmental scan was also conducted.
To engage the community in conversations about Concordia's digital future, the President's Speaker Series on Digital Futuresbrought to Concordia thought leaders who shared their unique perspectives and insights.
Moving this strategy forward is one of the main priorities in 2018-19. A draft vision and roadmap will be unveiled at community presentations on October 5 and 12 as well as through a webinar on October 15.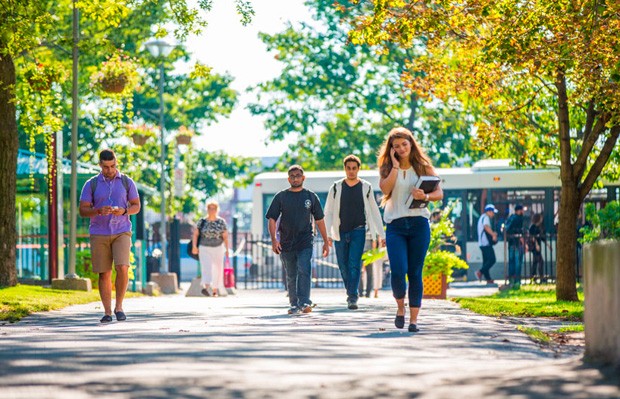 Summer@Concordia
"We've been experimenting over the last two years by hosting international summer schools and bringing people to Montreal," Carr said.
"Our course offerings have expanded in the summer but we know there is more potential to offer credit and non-credit courses," he said. "We are looking at how we can offer our students classes that fit better with their schedules so they can graduate more quickly."
That is why Concordia is developing a strategy to make the institution an active and thriving university 12 months of the year. This strategy is being led by Anne Whitelaw, deputy provost and vice-provost of Planning and Positioning; Paula Wood-Adams, dean of Graduate Studies; and Roger Côté, vice-president of Services.
Next-generation learning
"Concordia is moving ahead with innovative ways to create next-gen learning opportunities for our students," said Carr.
He cited several examples that include the new PhD in health and exercise science, a new a cross-faculty graduate program in nanoscience and nanotechnology, new online courses in chemical and materials engineering, and an online undergraduate certificate in sustainability.
"One of the emerging themes of our strategic directions has been online learning. In fact, we are seeing an explosion in online course development," he said.
This has included the establishment of the first online master's program in music therapy and the university's initial bilingual online course about Quebec society being offered this fall.
"We are also working on a proposed undergraduate micro-certificate in applied language studies, another curriculum innovation experiment," Carr said. "The KnowledgeOne team is also partnering with Ubisoft to deliver an open access course, available to anyone in the world, on rational game design."
Next-gen learning also encompasses renewed emphasis on lifelong learning. This, said Carr, is reflected in the appointment of Isabel Dunnigan earlier this year as associate vice-president of Lifelong Learning.
"The reality is that people around the world are seeing changes in the workplace, and the need for re-accreditation and to develop news skills," he said. "That's why we are working to create a set of robust course offerings for these potential learners and to support them in their lifelong need for professional retraining and development."
Indigenous Directions Leadership Group
"We continue to place a major focus on Indigenous directions," said Carr. "This not only includes how we recruit and support our students but how we connect with their respective communities and how we reflect internally on the relationship between indigeneity in Canada and course offerings."
The Indigenous Directions Leadership Group (IDLG) has been actively carrying out its mandate to recommend priority areas in which the university can improve its responsiveness to the Truth and Reconciliation Commission's Calls to Action.
Among the outcomes of the IDLG's work include creating the new position of senior director, Indigenous Directions; the hiring of Donna Kahérakwas Goodleaf as the Indigenous curriculum and pedagogical advisor with the Centre for Teaching and Learning; and the hiring of Geneviève Sioui as Concordia's first Indigenous community engagement coordinator.
A draft action plan will be shared with the community this fall for campus-wide conversation.
2018-19: Going forward
"As we enter into year three of strategic directions, we want to sustain the momentum we have already achieved with the projects and initiatives we've launched," said Carr.
"In addition, we need to follow our guiding principles to improve our positioning internationally, develop deep and meaningful partnerships, and innovate in graduate student training, experiential learning, student mobility and alumni engagement."
With respect to Concordia's international standing, Carr noted that the university continues to make great strides in several prestigious rankings.
For example, Concordia is the top university in Canada and among the top 150 international universities under 50, according to the Times Higher Education Young University Rankings 2018.
The Economist ranked the John Molson Executive MBA second in Canada and 64th in the world in its Which MBA? Executive MBA Ranking.
Concordia advanced six spots to take 10th place among Canada's engineering schools in the Maclean's 2018 Program Rankings, while computer science advanced three spots into 11th position.
The Faculty of Fine of Fine Arts placed among the top 10 per cent of art design schools in the 2018 QS World University Rankings by Subject, released earlier this year.
"It's an exciting time to be at Concordia," said Carr. "We can be proud of the achievements we have made to date under our Strategic Directions Initiative and look forward to making more progress in the year ahead."
---