It's full steam ahead for Concordia's emerging digital strategy
Community consultations are now underway. Plus, in April — international experts weigh in on AI, economic development and deep learning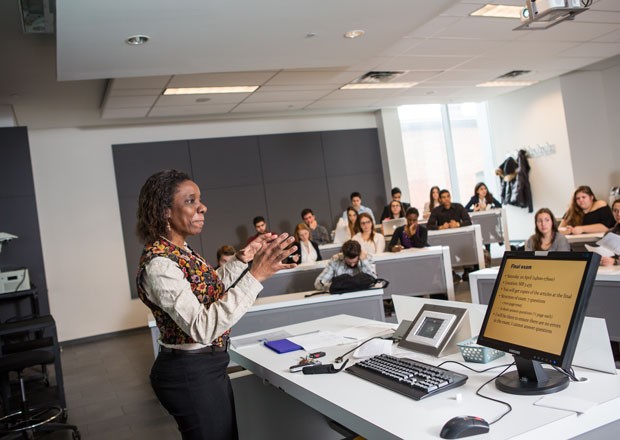 What does it mean to be a student or learner in our new digital era?
How can professors be supported as they embrace the digital, and what will this mean for how they teach or conduct research? How can students develop their digital literacy?
Finding the answers to these questions is part of a current project to develop Concordia's first digital strategy.
"We have an opportunity to transform our institution," says the project's leader Guylaine Beaudry, Concordia's vice-provost of Digital Strategy and university librarian.
"Almost all jobs in the future are going to be embedded in the digital," she says. "It's a reality we — as a teaching, learning and research institution — must address if we are going to equip our students with the skills and knowledge to thrive in this new environment."
The project recently launched its consultation process, which includes a series of exploratory focus groups with students, faculty and staff.
This will be followed by one-on-one interviews and creative workshops. In addition, there will be a survey for students to gather information on their digital experience. The survey goes live on March 5, for three weeks.
"We are now gathering input and insights from all the members of our community so we can develop a next-generation digital culture that will be grounded in our strategy," says Beaudry. "Listening to our students, faculty and staff is an important part of this process."
Developing a university-wide digital strategy is just one of the transformation projects being undertaken this year as part of the Strategic Directions Initiative.
The goal is to deliver a shared vision and implementation road map in May 2018, which will reflect the ideas and feedback generated through the consultation activities as well as the Concordia President's Speaker Series on Digital Futures.

What's next: AI, economic development and deep learning

"We've had tremendous response to our speaker series. Guests have been sharing their insights in dealing with current and emerging digital realities in different sectors," says Beaudry. "This, in turn, is helping to start conversations on campus."
Speakers to date have included Marie Josée Lamothe from Google; Kevin Chan from Instagram and Facebook; award-winning filmmaker Félix Lajeunesse; and Francis Baillet from Ubisoft.
On April 5, Concordia welcomes Michelle d'Auray. She is ambassador and the permanent representative of Canada to the Organisation for Economic Co-operation and Development (OECD).
On April 19, Shannon Vallor explores what we can learn from artificial intelligence (AI) and how we can effectively use it to harmonize machine and human values. She is the William J. Rewak Professor of Philosophy at Santa Clara University.
The last speaker in the series is Yoshua Bengio. The world-leader and expert on deep learning — and author of the bestselling book on that topic — is coming on April 24. He is also a full professor in the Department of Computer Science and Operations at the Université de Montréal, and head of the Montreal Institute for Learning Algorithms.
Find out more about the Concordia President's Speaker Series on Digital Futures. And take part in upcoming consultation activities!
---