'My goal is to develop a next-generation digital culture at Concordia'
University librarian Guylaine Beaudry is the new vice-provost of Digital Strategy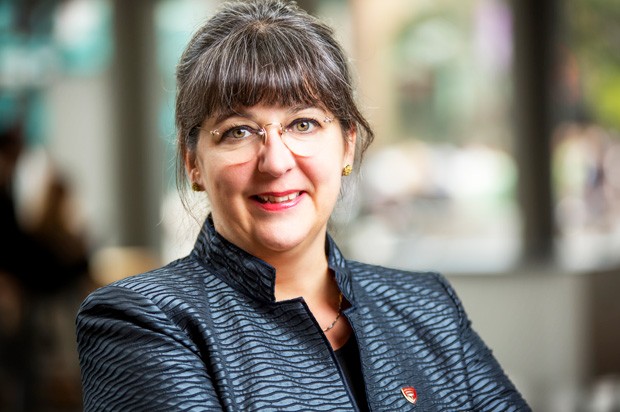 What is Concordia's digital identity and how can it help advance the university's academic and research mission? Does the university community use technology in ways that reflect its collective needs and aspirations?
Is Concordia following, keeping up or leading in this period of rapid, disruptive technological change?
Guylaine Beaudry, university librarian and the newly appointed vice-provost of Digital Strategy, intends to find out.
In her dual role, reporting to Graham Carr, provost and vice-president of Academic Affairs, Beaudry will embark on a series of institution-wide consultations and fact-finding missions to chart the kind of digital culture and identity the university needs to support current and future students, faculty and staff.
While taking on her new mandate as vice-provost of Digital Strategy, Beaudry will continue to serve as university librarian.
"I'm thrilled to welcome Guylaine to this new role in the university," Carr says.
"There are many reasons why I'm excited about this appointment. First, as university librarian, Guylaine has been at the forefront with her team in providing our community with outstanding library spaces and services. Her commitment to students and her capacity to lead and deliver projects in a collaborative manner will be instrumental in helping Concordia develop a digital strategy.
"Second, if we reflect back on the dramatic changes that have happened in higher education in the past 10 years, there are few sectors that have been more transformed by digital change than libraries.
"And third, Guylaine is extremely engaged and well-regarded in national conversations about digital leadership in Canada. She is well versed in the research data management challenges facing our researchers and students, and keen to position Concordia as a leader in an area that, let's face it, is a key expression of what it means to be a next-generation university."
Beaudry provided further insight into her combined position as university librarian and vice-provost of Digital Strategy.
'We need a shared vision'


How do you see your new role fitting with your existing one as university librarian?
There are many parallels between my current job and my expanded role as vice-provost of Digital Strategy.
Much like the Concordia Library, the university's physical and digital spaces are fundamental to academic success, creation and the advancement of knowledge.
Over the years, I've worked with a large cross-section of Concordians, from senior leadership to students and alumni. I've come to understand and support their evolving learning and research needs through next-generation library spaces, collections and services.
This was driven by careful planning and university-wide consultation to determine the vision and roadmap for the future of the Concordia Library.
Similarly, the digital strategy project team will monitor global trends and identify directions and best practices in the worlds of higher education, research and complex organizations.
Can you elaborate on your first steps?
My goal is to develop Concordia's digital strategy as a next-generation university.
To do so, I will oversee institution-wide consultations on the changing digital reality and our aspirations. Full-time and part-time faculty members, librarians, professional and support staff, current and future students; all will be invited to share information about their everyday work, goals, problems and practices.
This conversation is crucial to the development of a shared vision and the requirements for Concordia's digital strategy.
Once we've completed the consultation process, a detailed roadmap will be developed.
Throughout the project, I'll work closely with the university's chief information officer, Marc Denoncourt and his team at IITS, who are doing a lot of excellent work to oversee and drive the evolution of our information systems and technology infrastructure.
How can Concordians help define the university's digital identity?
In the coming months, there will be ample opportunity to participate in discussions about the types of digital environments that facilitate and transform how we learn, work and how we teach, create and disseminate knowledge.
It's an exciting time in academia right now. There's no question that digital experiences are interwoven with our lives at the university.
We need to develop a shared vision for Concordia's digital strategy and align it with Concordia's next-generation identity.
The roadmap ahead will be equally important as we set out to define a culture that supports Concordia's ability to experiment boldly.
Ultimately, the goal is to provide all current and future students with the very best opportunities for success, while ensuring that our learning, teaching and research community has the tools it needs for the digital culture and the digital economy.

Find out more about Concordia's 9 Strategic Directions.
---