Concordia University launches investigative journalism institute
Former journalist-in-residence Patti Sonntag will lead large-scale public interest reporting projects
Today, Concordia launches the Institute for Investigative Journalism, led by Patti Sonntag, a former managing editor in The New York Times' News Services division.
The institute is the first of its kind in Canada. Headquartered in Concordia's Department of Journalism, it's the host institution for the National Student Investigative Reporting Network (NSIRN), which connects major media outlets with journalism students and faculty from across Canada to investigate and report on large-scale public interest stories.
"This is the blueprint for a new model of journalism that serves the public interest through cooperation, not competition," says Sonntag, a Concordia alumna (BA 00).
Media partners on the current project include Global News, The National Observer, and the Toronto Star. Higher education partners on the Fall 2018-19 project include Carleton, Humber College, Mount Royal University, Ryerson University, University of King's College, the University of Regina and the University of British Columbia.
These unprecedented collaborations are a new model for fostering investigative reporting in Canada, and addressing news poverty in many regions — a result of lost advertising revenue for local and regional media.
According to Sonntag, this has far-reaching consequences as industry and government go unchecked in sparsely populated areas that are now out of the reach of many journalists.
"Ours is a radical new approach to a national problem," she says. "It is fitting that the Institute is being led by Concordia, which has a long history of collaborative, experiential learning."
Proven success
The launch of the Institute for Investigative Journalism is the culmination of a partnership between the Department of Journalism and Sonntag that began when she became Concordia's first journalist-in-residence in 2016. She was asked to engage students in a large-scale investigation in the public interest.
Sonntag's first project took a small cohort of journalism students to Baie-Comeau to investigate the effect an infestation was having on Quebec's forestry industry. More than 10 months of reporting and data gathering led to the publication of the in-depth investigation in The Walrus.
Soon afterward, Sonntag was awarded the Michener-Deacon Fellowship for Journalism Education, for a project that involved creating an investigative student network.
Through that award, she learned of the work of Toronto Star reporter and Ryerson instructor Robert Cribb, who had received a Michener the previous year for a similar project, and had been working on building a network for some time.
They teamed up, and their combined momentum led to the network's pilot national project, "The Price of Oil," which united dozens of reporters, editors, students and faculty across Canada to expose negligence in the oil and gas industry, resulting in more than 70 publications and broadcasts to date.
Supported by the Corporate Mapping Project, "The Price of Oil" earned several national and international awards and nominations, including an honourable mention from the Sidney Hillman Foundation, which grants one of this country's most prestigious reporting awards, the Canadian Hillman Prize.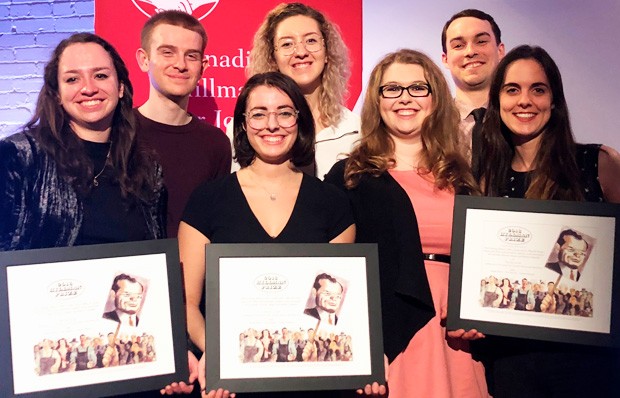 Students from Concordia, Ryerson and the University of Regina accept the Hillman Prize. From left: Emma McIntosh (Ryerson), Robert Mackenzie (Ryerson), Kelsey Litwin (Concordia), Morgan Bocknek (Ryerson), Sawyer Bogdan (Ryerson), Matthew Gilmour (Concordia) and Caitlin Taylor (University of Regina).
Continued momentum
"With the remarkable success of 'The Price of Oil,' it made sense for Concordia's Faculty of Arts and Science to take a leadership role in creating an Institute where these in-depth investigations can happen," says André Roy, dean of the Faculty of Arts and Science.
"I am thrilled to see the core principles of our Faculty embodied in this new Institute: innovation, collaboration, and alternative approaches to teaching and learning."
Journalism chair David Secko, says the creation of the institute is a continuation of the department's mission, to provide students with the diverse skills they need to be newsroom ready and fulfill their passion for journalism.
"The Institute and network will provide unparalleled educational experiences while serving the community by covering complex stories that have a profound effect on the public," he says.
Students at all the participating universities will work under the close supervision of their professors, meeting regularly with the larger group while taking advantage of mentoring and leadership from professionals from all forms of media. The institute's large-scale investigations will take place over two semesters, giving students the time and resources to delve deeply into the material.
The objective is to create a unique collaborative learning experience where skills and research are shared across institutional and provincial boundaries — skills that Canadian journalists will need in the years ahead, Sonntag explains.
"And at a time when newsroom budgets are shrinking, the faculty, students and professional journalists are undertaking projects that provide rigorous reporting for remote and underserved communities," she adds.
"This work will engage expertise across the group of universities and media companies, drawing on cutting-edge research by faculty at member institutions. As network members work in cross-university teams, they will also build skills in areas such as data and solutions journalism — the latter a relatively new approach that encourages journalists to look at how similar problems have been solved elsewhere and adapt those findings for their own community."
What's next
For its next project involving the student network, the Institute for Investigative Journalism will facilitate a collaboration between an unprecedented eight university journalism departments from coast to coast, as well as four national English media outlets and potentially others in French and English media. International partnerships are also taking shape.
"Canadians have a unique, perhaps unmatched talent for collaboration," Sonntag says. "And the dedication to public service demonstrated by the students, faculty and journalists contributing to this national network has been incredible, absolutely inspiring. All of us are looking forward to seeing what we can accomplish together in the years ahead."
As the Institute for Investigative Journalism takes shape, it is actively seeking additional partners. Interested parties should contact Patti Sonntag for more information.

Find out more about Concordia's Department of Journalism.
---