What happens when 50 reporters and 3 media outlets team up to investigate the price of oil?
Concordia helms a nationwide student-powered investigative journalism project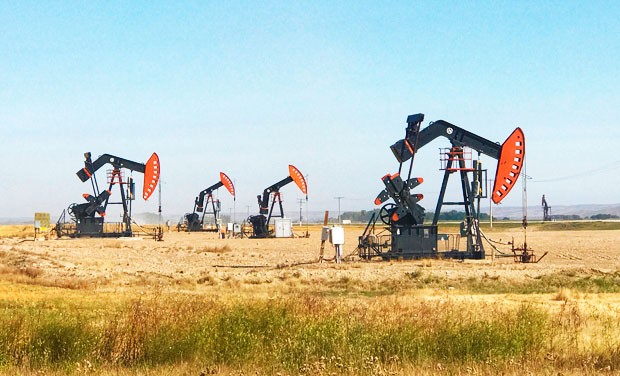 Patti Sonntag: "The reporting raises serious questions for industry and government." | Photo by Robert Cribb

When investigative journalists team up to chase down a story, there is strength in numbers.
Witness the unprecedented national collaboration of more than 50 journalists and editors from three Canadian media outlets, four journalism schools and a think tank — all reporting to the project's headquarters in Concordia's Department of Journalism.
The first report from the team's ongoing exposé on Saskatchewan's oil industry came out October 1 in the Toronto Star, Global News and the National Observer.
Patti Sonntag (BA 00) managing editor for The New York Times' News Services division and visiting lecturer at Concordia, was the project lead. She emphasizes the significance of her team's investigation.
"The reporting raises serious questions for industry and government — such as, 'Why not inform the public about these toxic emissions?'" she says.
"Many residents were reluctant to come forward. They thought the repercussions would be too severe. There are community pressures to remain silent."

'Ready for any newsroom'
Sonntag launched the project, "The Price of Oil," nine months ago with an initial grant from the Michener Awards Foundation and classroom resources from the university. A second grant followed from the Corporate Mapping Project.
Working in partnership with Robert Cribb, a Toronto Star journalist who was the previous year's Michener-Deacon Fellowship winner, Sonntag created a team of student reporters from four journalism schools: Ryerson, Concordia, the University of Regina and UBC.
"The students got on-the-spot training in how to achieve the level of excellence needed for a newsroom," Sonntag says.
"Now they have a solid grounding in the techniques of data journalism, and they've applied them to a story that's getting national play," says Sonntag, who completed a double-honours degree in English and writing at Concordia, with a minor in Film Production.
"The students are ready for any newsroom."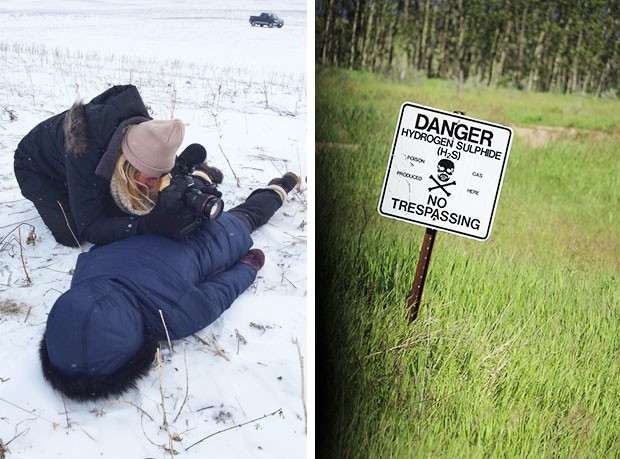 Student journalist Janelle Blakley (left) uses colleague Brenna Engel as a makeshift tripod. Poison gas sign (right) photographed by Michael Wrobel.

David Secko is an associate professor and chair of the Department of Journalism. He is thrilled with the outcome, adding that one of the department's main goals is to train students to be the next generation of investigative journalists.
"Patti Sonntag has led the charge, bringing her experience at The New York Times to Concordia to transform how we teach. The students gained new skills in data journalism and an appreciation of what it takes to find, develop and polish an investigation that will be published," he says.
"Investigating large-scale projects is essential training, especially if we want students to continue to help advance discussions and public inquiries into issues of social import and under-reported stories."

The smoking gun
Following up on a tip from a colleague at the Corporate Mapping Project, Sonntag and the large team uncovered alarming breaches in responsibility on the part of both the oil industry and the Saskatchewan provincial government. The result is an exposé that could have far-reaching health and policy implications.
Students worked with seasoned broadcasters, reporters and editors from the Toronto Star, Global National and the National Observer. Together they examined thousands of industry and government documents, analyzed terabytes of data and delved into dozens of Freedom of Information requests. They also interviewed hundreds of residents and oil industry players.

Good for the résumé
Matt Gilmour completed the Graduate Diploma in Journalism at Concordia in April. He was one of four Concordia students in his department chosen to work on the team.
"We aggregated and analyzed data, populating spreadsheets and ledgers — more specifically, we mapped oil wells in Saskatchewan, discovering which ones got tax breaks," he explains.
"Everyone's work fed into the bigger picture. We learned so much alongside veteran reporters and professionals."
Now employed by Montreal radio station CJAD 800, Gilmour says he valued the experience of contributing to a story that mattered.
"There's the moment where you realize it's not just a pocketbook story; it's a human story. And people's lives are affected," he adds.

A national student investigative reporting network?
Encouraged by the success of their first large-scale collaboration, Sonntag and Cribb are setting up an organization devoted to providing investigative support to newsrooms and covering underreported stories called the National Student Investigative Reporting Network.
Sonntag believes it has great potential to bring vital public interest stories to Canadians, but it needs funding.
"It's excellent work experience for the students, and it serves the community by pursuing underreported stories.."

Find out more about Concordia's Department of Journalism.
---