Concordian Patti Sonntag of The New York Times lands a top Canadian award
The 2016 Michener-Deacon Fellowship is a 'feather in the cap' for the university's first journalist-in-residence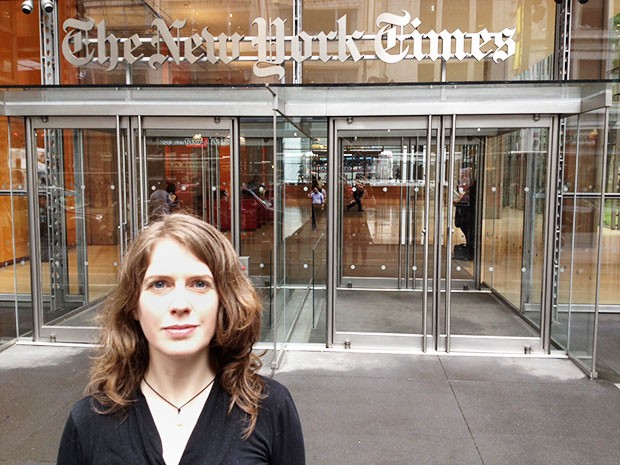 Patti Sonntag — a managing editor in the News Services division of The New York Times, as well as a Concordia alumna and the university's journalist-in-residence — has won the Michener-Deacon Fellowship for Journalism Education, one of Canada's top awards in the field.

The Michener Awards Foundation announced today that His Excellency the Right Honourable David Johnston, Governor General of Canada, will present the annual fellowship to Sonntag and other honorees in a Rideau Hall ceremony on June 17.
The Michener-Deacon Fellowship is dedicated to the advancement of young journalists. It enables an industry professional to spend time teaching or mentoring students at a recognized Canadian journalism school.
"It's remarkable to see an alumna like Patti — who went through our English and Creative Writing programs — achieve international success, then come back to Concordia and win an award in journalism education," says André Roy, dean of the Faculty of Arts and Science.
"This is another feather in the cap of one of the country's most celebrated journalism departments."

Sonntag graduated from Concordia in 2000, then served as an intern at The New Yorker prior to joining The New York Times.
This winter, she led a small cohort of third- and fourth-year Concordia journalism students in an investigative data journalism project about the use of natural resources in Canada. The Michener-Deacon Fellowship will allow her to take the initiative further.
"I'm delighted to have the opportunity to continue the work my students and I started last semester," Sonntag says. "We had a great time while we were completing our investigation, and I'm looking forward to the next one."
Citing The Data Journalism Handbook, Sonntag describes data journalism as "the new possibilities that open up when you combine a traditional 'nose for news' and the ability to tell a compelling story with the sheer scale and range of digital information now available."

According to Brian Gabrial, chair of the Department of Journalism, "Patti launched a truly innovative journalism project during her semester in the department. In that time, she gave her students an amazing opportunity to hone their investigative skills, which will pay off for them professionally."
Sonntag hopes the project will lay the foundation for a new data journalism certificate program at the university.
"I'm very grateful to Concordia and The New York Times for supporting me as we explore the possibilities," Sonntag says.
This marks the second time in two years that there's been a Concordia connection to the Michener-Deacon Fellowship.
In 2014 Francine Pelletier, one of the most recognizable names in Canadian journalism, spent a term at Concordia leading data-journalism workshops and other related activities. Pelletier won the Michener-Deacon Fellowship in May of that year.

Read about Patti Sonntag's inaugural term as journalist-in-residence at Concordia.
---