Investigative project The Price of Oil gets honourable mention for top national journalism award
Collaborative team of 50+ students, editors and journalists lands national acclaim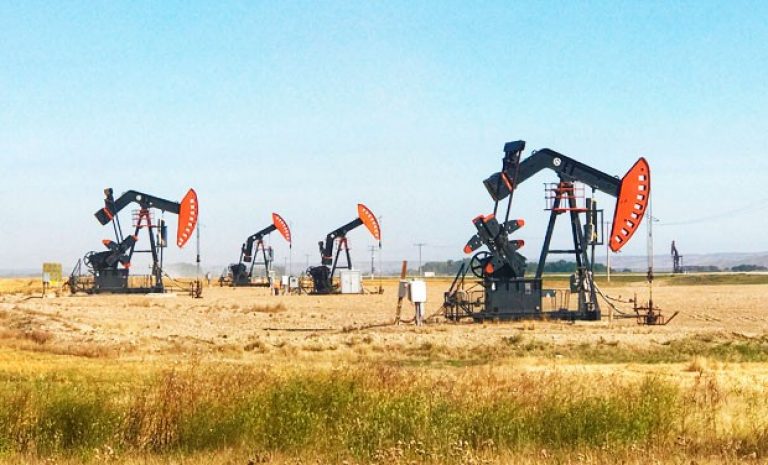 The team behind a large-scale investigative journalism project — including nine Concordia students and the university's first journalist-in-residence, Patti Sonntag — received an honourable mention from the 8th Canadian Hillman Prize judges today.
Awarded annually, the prize honours excellence in journalism "in service of the common good." This year's winners were Jayme Poisson and David Bruser from the Toronto Star, for their investigative reporting into mercury poisoning in northwestern Ontario's Wabigoon River.
The Concordia-based investigation, "The Price of Oil," was one of only two projects to receive an honourable mention. It raised serious questions about government oversight of the oil and gas industry in Saskatchewan and Ontario.
An unprecedented nationwide effort, the project involved more than 50 journalists and editors from three Canadian media outlets, four journalism schools and a think tank — all reporting to its headquarters in Concordia's Department of Journalism.
The team worked collaboratively to bring the investigation to the public. The first report came out on October 1, 2017, in the Toronto Star, Global News and the National Observer. To date, the project has produced more than 70 publications and broadcasts.
"It is impressive to see news organizations serving the public interest through cooperation, not competition, leveraging each other's strengths and connections," said Alex Dagg, Canadian board member of the Sidney Hillman Foundation.
A moving and deeply rewarding experience
Patti Sonntag
Sonntag, a Concordia grad (BA 00) and a managing editor in The New York Times' News Services division, was the project lead.
"This is one of Canada's highest journalism awards. All of us who have been taking part in The Price of Oil reporting are deeply honoured to receive this recognition," she says.
"Our collaboration in the public interest has been a moving and deeply rewarding experience — our shared interest fueling our continued reporting."
The project was initially funded through Sonntag's Michener-Deacon Fellowship grant, with support from the Corporate Mapping Project.
Student reporters working on The Price of Oil were given a crash course in newsroom reporting, and put to work alongside reporters including: Mike De Souza of the National Observer, Carolyn Jarvis of Global News, and Robert Cribb, a Toronto Star journalist who also teaches at Ryerson.
From classroom to newsroom
Cribb is proud of the project's success. "This is a prestigious honour recognizing the public interest value of the collaborative investigative reporting model we are inventing," he says.
"The bridges it is building between journalism classrooms and newsrooms serves young journalists, major newsroom and, most importantly, the public."
David Secko, chair of the Department of Journalism, is also delighted with the impact of the large-scale investigative collaboration.
"It has been amazing to see the group of students, professors and journalists work together, reporting, with Patti Sonntag coordinating," he says.
"The students rave about their experiential learning experience, as Concordia pushes to teach the next generation of investigative journalists to examine key issues in the public interest."
Matt Gilmour (GrDip 17) joined the project as a graduate diploma student at Concordia, and continued working with the team after graduating — he is now a student in the department's MA program.
"The department allowed us to work on a project of exceptional quality, which was great for developing our professional skills," Gilmour says.
"This is a great award, and to receive this kind of recognition at this early point in our careers is really just the icing on the cake."
Coming soon: more investigative reporting
Sonntag and Cribb have together created the National Student Investigative Reporting Network . They plan to host and foster one such collaboration every year, with planning for the next national project already under way.
"We are all immensely proud of our students, and this recognition speaks to what they have achieved with this project," says Sonntag.
"Concordia's journalism department and all those who are collaborating on 'The Price of Oil' deserve credit for supporting journalism students as they take part in investigative reporting of this calibre."
The Canadian Hillman Prize awards ceremony takes place on March 28 in Toronto.
Learn more about Concordia's Department of Journalism.
---