Biology professor is studying a territorial dispute between villagers in Cameroon and elephants
Concordian Robert Weladji hopes to find a solution to the destruction and negativity caused by the giant mammals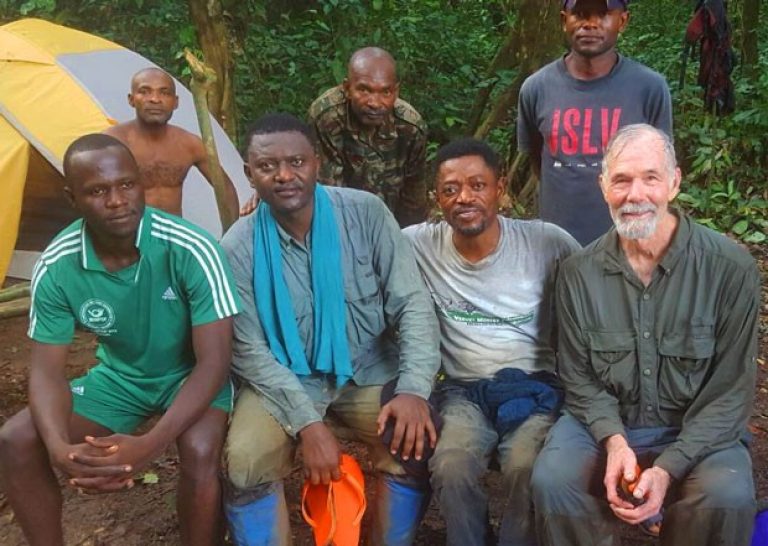 For years, the elephants of Campo-Ma'an National Park in Cameroon have been wandering onto the farms of villagers who reside nearby, causing damage to their properties.
"For the people who live around that park, farming is their livelihood — it's their only source of income," says Robert Weladji, an associate professor in Concordia's Department of Biology.
"Now they have a negative perception of elephants, so we're trying to change that."
Weladji recently paid a visit to Cameroon to study the conflicts between the giant mammals and humans in the southern part of the country. He also plans to return this spring.
The project is part of a larger research partnership between Concordia and Zoo de Granby with assistance from Mike Loomis, a former veterinarian at the North Carolina Zoo.
Improving human-elephant relations
By tracking the elephants' paths, Weladji hopes to determine why the giant animals are travelling outside of the park area, and what can be done to mitigate the issue safely. His objective is to find a way for the villagers and elephants to live in harmony.

Campo-Ma'an National Park is a rainforest that spans 700,000 hectares, including the buffer area around the park. The park itself is 264,064 hectares.
Working in this setting is relatively new to Weladji. He has conducted research on elephants before, but mainly in savannahs, which are more open, making wildlife easier to spot.
Vegetation in rainforests, by comparison, is extremely dense and camouflaging. Adding to the challenge, Weladji and his crew were there during rainy season. It rained every day during the two-week expedition.
"To walk or move — I had water up to here!" he says, pointing to his chest. There was also the potential to run into other wildlife, such as snakes, gorillas, and crocodiles.
To be able to track an elephant's movement patterns through satellite collar, the team first needed to dart the animal with a tranquilizer and tag it with a neck collar.
The collar contains a GPS that connects to a satellite system. From there, the elephant's path can be downloaded remotely and analyzed. The tagging process is safe for the animals, but must be done quickly.
By the 10th day, Weladji's team had spotted a group of elephants by following their footprints and dung, which were even harder to see due to the rainy weather. However, when it came to getting the materials ready to dart one, a crew member had forgotten the tranquilizing drug.
As a result, the crew had to make the one-day trek back to their most recent base camp and start the elephant search all over again. The second time out, they didn't spot any elephants. Even worse, Loomis had a nasty fall which resulted in a severe shoulder injury, and they had to end the expedition.
"Being in such a risky environment and getting no outcome can be discouraging," Weladji says. "But we are going back — nothing will stop us."
'You have to put your fears aside'
During the next tagging trip in the spring, Weladji's team is hoping to apply mitigation measures at the farms, such as putting well-known elephant repellants such as beehives or chili pepper plants on fences.
One of Weladji's PhD students will conduct interviews with the villagers who have been affected by the elephants. He will be assisted in the field by a technician from Zoo de Granby, an active partner in the research project.
"I'm hoping that this type of project will attract more students to Concordia," Weladji says. "Tropical conservation is not highly covered. It's a niche that we are trying to bring to Concordia."
In terms of appealing to potential students from diverse backgrounds, Weladji says he admires Concordia for its multiculturalism.
"Having colleagues and students from all over the world makes you feel at home. To me, that makes Concordia special," he says. "You feel part of the community."
His advice to students interested in doing similar work is to be outgoing and unafraid of a good challenge. Teamwork and organization are crucial, but most importantly: participants must know that things won't always go as planned.
"Even though you're travelling far and it's dangerous, you have to put your fears aside," he says. "You have to care about wildlife, conservation and biodiversity — but we also do this to make sure knowledge is out there."

Learn more about Robert Weladji's work with the Zoo de Granby.

---